It is not every day that you meet a college student who is already working in the field, putting what was learned in the classroom to practice in a real-world, applied setting. But Mariah Antigone, an undergraduate student at the University of Wisconsin–Madison, is not like most students. In addition to pursuing double majors in environmental studies and nursing, Mariah is also a registered nurse, and currently working full-time at a long-term acute care hospital, caring for recovering COVID-19 patients.
"When the [COVID-19] surge started happening over the holidays, I just had a feeling it wasn't going to end well," said Mariah. "And so, I thought… I feel like I need to do more to help out."
Mariah is working with "post-COVID patients," who she said have recovered enough to leave the hospital, but who need therapy and are far too sick to go home. At the same time, Mariah is taking 10 credits at UW–Madison this semester. Her schedule is rigorous and challenging. Yet, Mariah embraces the opportunity to practice nursing while also advancing her education.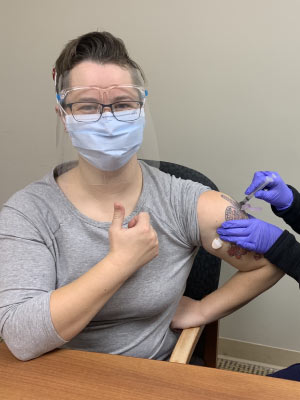 "I feel lucky to be at UW–Madison every single day," said Mariah. "It was never a given that I would even attempt college, much less the University of Wisconsin–Madison, and so I am extremely grateful to be here and very happy with how the Nelson Institute in particular has treated me throughout my journey."
Mariah grew up in a rural town outside of Stevens Point, Wisconsin. Neither her parents nor grandparents received a college degree and she said there was always a skepticism of higher education in her family. Growing up, she never felt that college was something "for her."
After graduating from high school, Mariah studied at a local technical college to become a paramedic. She went on to work as a paramedic for several years, which she loved, but she knew there was something missing. Witnessing medical emergencies day in and day out revealed health inequities that she could no longer ignore.
In response, Mariah shifted her focus to preventative care. She enrolled in a two-year nursing program, and upon completion, she became certified as a registered nurse.
"Nursing allowed me to really explore social factors related to health — healthcare through the entire spectrum, from birth to death… in the home-based setting and in the psychological setting," said Mariah. "I loved that. It helped me start out on that path towards ending up at UW–Madison studying environmental [studies], as well as nursing."
In 2017, when Mariah was 28 years old, she decided to return to school to study nursing at a four-year university. But she also desired to broaden her educational insights and study subjects beyond just nursing. When she was admitted to UW–Madison, Mariah said the Nelson Institute's environmental studies major provided exactly what she was looking for.
"Once I found the Nelson Institute, I realized 'this was it' because it addressed those interdisciplinary questions that had been rolling around in my head for 10 years," said Mariah. "What is it that makes health? How does the health of the environment interplay with the people that live in that environment? How can we prevent problems before they happen? And how can we deal with those problems after they occur without just focusing in on one aspect?"
Pursuing two majors is not the "fast-tract" option, but for Mariah, it is worth taking the extra time to build a meaningful and multifaceted education. In addition to expanding the breadth of her knowledge, she said her environmental studies courses are also often directly relevant to her work as a nurse.
"What I learned within the Nelson Institute immediately, within my first semester, made me a better practitioner," said Mariah.
Within the first two weeks of her Nelson Institute education, Mariah said she was already applying what she learned in the classroom to her work as a nurse. She was enrolled in Environmental Studies 315: Limnology-Conservation of Aquatic Resources and the course began with a lesson on how lakes stratify depending on the temperature and density of the water. Just a few days later, Mariah was applying this knowledge when giving a patient a plasma infusion that had backed up into an IV bag.
"I looked at what could have been a really big problem and I was able to say — Oh, I actually know the physics behind how this fluid is going to respond… I know how to get it there more efficiently because I'm studying environmental studies and not just nursing," said Mariah. "I think that's a great example of no matter how obscure the environmental studies course, I have learned something that applies to my day-to-day life."
In addition to her two majors, Mariah is also pursuing certificates in food systems and global health, which have allowed her to explore health through a lens of food, culture, and public health systems. She has especially enjoyed taking courses from Monica White, professor of Environmental Justice with a joint appointment in the Nelson Institute for Environmental Studies and the Department of Community & Environmental Sociology.
"My classes with Professor White have been extremely helpful," said Mariah. "The whole focus of her research is food systems, and how it effects underprivileged communities. It fit in so well with everything I've been wondering about since I first started in healthcare. I really loved learning from her."
Mariah is also a member of the Nelson Institute's Community Environmental Scholars Program (CESP), a program that provides students with the opportunity to work with community-based environmental organizations and apply their environmental education in ways that have a positive local impact.
Diversity is a core value of CESP. The program aims to support and unite students of different perspectives, cultures, ethnicities, economics, and backgrounds, in part by providing personalized instruction and community-based learning, but also through the financial support of CESP scholarships. As a nontraditional student from a rural upbringing, Mariah is just one of many underrepresented students that the program serves. Now in her third semester in CESP, Mariah said participating in CESP has been her "most positive" Nelson Institute experience.
"I have loved CESP," said Mariah. "CESP embodies what the Nelson Institute stands for, because it is so diverse and you have people from so many different backgrounds, but it manages to bring everything together into a cohesive story about who we are as students and as humans, and what our place in the world is and how we can affect the world."
Fostering connection and a sense of community is central to the CESP mission and something that Mariah values most about the program. She expressed great appreciation for the CESP staff, who she said are "amazing teachers" who have the "special gift" of being able to teach while at the same time encouraging students to grow and take ownership of their work.
Rob Beattie, the CESP director, said that student-led teaching and community service are central features of the program. Each semester CESP recruits a new cohort of students to form a team that is responsible for teaching several sessions, something that Beattie said helps CESP students "build a sense of belonging" and reflects their commitment to public service.
"This idea — that you learn and grow as a community by teaching yourself and your peers, is central to [CESP's] philosophy," said Beattie. "It also embodies some of the best practices of effective community engagement. We put trust in our community — the CESP students — to create an effective and supportive environment, to communicate transparently with us and their fellow students, and to share networking resources and ideas with one another. It has been a challenge to make this model of student-centered learning work with online classes and remote community service projects, but our amazing students like Mariah have kept the program strong."
Mariah said that these opportunities to connect with other students in the program has been one of her greatest joys. CESP attracts a diverse mix of students who are pursuing a wide range of different majors. This diversity provides an opportunity for Nelson Institute students to foster unique relationships, learn from each other, and expand their understanding of environmental studies.
"My fellow students at CESP are just fantastic. I think they really embody what it means to be a UW–Madison student," said Mariah. "[They have] the passion for social justice and for the environment, and the dedication to take the knowledge that they learn and bring it into whatever their field of practice is — and we have really diverse fields of practice in our students at the Nelson Institute! I have been trying to recommend the CESP program to everyone I can. It's just been so great for me."
Looking to the future, Mariah said that she is "open to whatever comes her way." She is considering going to graduate school for public health and agroecology, which may keep her in Madison for a while longer if she pursues UW–Madison programs.
But for now, Mariah feels comfortable not knowing exactly where her path may lead.
"I've moved around a lot and I've had a lot of different experiences, and I think that's taught me that I don't need to set my plans in stone. So, we'll see. We will see."
This open approach is something that has defined Mariah's academic journey. As a returning adult student who is also working full-time, her journey diverges from the traditional academic route. But Mariah likes it that way. In fact, she recommends it. When given the opportunity to offer a bit of advice, Mariah encouraged students to not be afraid to forge their own path — to make decisions that break away from people's preconceived expectations.
"Don't hold yourself to somebody else's arbitrary schedule," said Mariah. "There's no need to be in a hurry. My advice is do what you want to do when you want to do it… When you break out of the mold of someone else's arbitrary schedule, you find that you benefit in ways that you really don't expect."