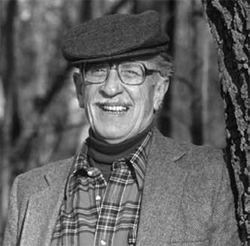 Wisconsin conservation pioneer Harold "Bud" Jordahl was the architect of much of the conservation policy framework that we take for granted today.
The Knowles-Nelson Stewardship Fund, the Apostle Islands National Lakeshore and the Gaylord Nelson Wilderness, the Northern Great Lakes Visitor Center and much more exist due in large part to his efforts.
Jordahl was also an inspiring professor of urban and regional planning, cooperative extension and environmental studies who influenced the careers of hundreds of students. The Jordahl Lecture has been established to honor his legacy and continue his work into the future. This annual event will define the latest thinking in public lands acquisition, stewardship and science.
Past Jordahl Lectures
This is an accordion element with a series of buttons that open and close related content panels.
2021: Shelton Johnson - Rebuilding Yesterday: The Power of Untold Stories
October 14, 2021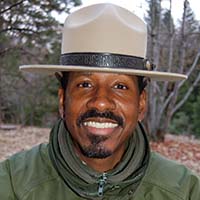 Yosemite National Park Ranger Shelton Johnson joined us virtually to discuss the stories we tell and how those stories are critical to better diversity, equity, and inclusion in our national parks.
Johnson was joined by moderator and Nelson Institute Community Partnership Liaison James Edward Mills. Together, they will lead us in an exploration of the ways in which untold stories challenge perceptions of history and how that reconfigures our vision of the present.
Johnson was born in Detroit, Michigan in 1958, the son of a seamstress and a soldier. His maternal and paternal grandparents were Black Indians from Oklahoma Territory and South Carolina respectively. He had one older brother and they all lived together with his maternal grandparents in Motown. Due to his dad's military career Johnson also lived for three years in England and later Germany where the Bavarian Alps first awakened his sense of wonder.
Johnson attended Detroit's Cass Technical High School in 1976 and graduated with a diploma in Classical Music. By 1977 he was a college student at Wayne State University in Detroit, eventually transferring to the University of Michigan where he received a BA in English Literature in 1981 and won a Major Hopwood Award in poetry.
After college, Johnson briefly served in the U.S. Peace Corps in Liberia, West Africa teaching 7th grade English before returning to the United States to attend the MFA Program in Creative Writing (poetry) at the University of Michigan. After a year as a graduate student in this program he spent the following summer working for a concessionaire in Yellowstone National Park.
The summer of 1984 sparked his eventual career with the National Park Service and by 1987 he was a National Park Services Ranger at the West Entrance to Yellowstone National Park.
After five years in Yellowstone, Johnson worked at several parks including Washington, D.C., Great Basin National Park, and finally Yosemite National Park where he was introduced to the park's African American history, including the relatively unknown legacy of the Black troops who served in both Yosemite and Sequoia National Parks.
For the past 25 years Johnson has worked on connecting African Americans, and other people of color, to the National Parks, using history as a tool for social change. Black people are the one ethnic group in the U.S. least likely to visit a National Park and changing that fact has become the foundation for Johnson's passion to forge a bridge between the African American community and America's Best Idea.
That work has received media coverage in publications ranging from the New York Times to Ken Burns and Dayton Duncan's PBS documentary film, "The National Parks, America's Best Idea" in 2009, and "The Oprah Winfrey Show" in 2010.
2020: Midy Aponte - The Return to Belonging and Reclaimed Narratives About These Lands
October 8, 2020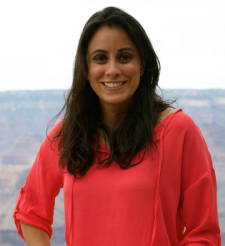 A discussion with Midy Aponte, chief experience officer at Spitfire Strategies, as she discusses the current reckoning of our nation's history and highlights the role of communication in reexamining our collective relationships with the land, and each other.
As a communication strategist, Aponte has devoted her career to driving national narratives on important issues. From income inequality and environmental justice, to health equity and cultural preservation, Aponte is nationally recognized for her ability to advance issues using creatively conceptualized and smartly implemented communication tactics.
Aponte is also a persistent advocate for the preservation of American Latino culture and history. A daughter of Cuban immigrants, Aponte served as the founding executive director of the American Latino Heritage Fund of the National Park Foundation, where she built a nonprofit fund that inspires awareness of historic preservation, outdoor recreation, and conservation among American Latino audiences.
Aponte is an alumna of the National Hispana Leadership Institute's Executive Leadership Program (Class of 2011) and the United States-Spain Council's Hispanic Leaders Program (Class of 2014). Currently, Aponte serves on several nonprofit boards, including the Alaska Wilderness League and the Latino Community Foundation of Colorado, and is a member of the GreenLatinos network and the Diverse Environmental Leaders National Speakers' Bureau.
2019: Storytellers - Year of the Environment Jordahl Public Lands Lecture Special Event
October 10, 2019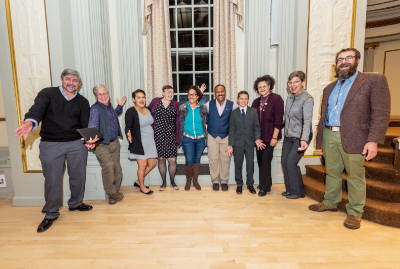 Held in conjunction with the 50th anniversary of the Nelson Institute and the 50th anniversary of Earth Day, this special storytelling event featured diverse voices sharing personal stories about the importance of public lands. From stewardship to recreation, this meaningful discussion highlighted public lands and the impact they have on our lives.
Featured Speakers
Althea Berstein, 18-year-old EMT
James Mills, Fellow of the Mountain & Wilderness Writing Program, and recipient of the Paul K. Petzoldt Award for Environmental Education
Curt Meine, a Senior Fellow with the Aldo Leopold Foundation and the Center for Humans and Nature; a Research Associate with the International Crane Foundation
Ali Muldrow, co-executive director of GSAFE, an organization for LGBTQ+ youth
Jackson Nesbit, an 8th grade student at Cardinal Heights Upper Middle School in Sun Prairie, Wis.
Bill L. Quackenbush, Ho-Chunk Deer Clan Member, Tribal Historic Preservation member, and Officer Cultural Resources Division Manager
2018: Tim Palmer - Wild and Scenic Rivers: An American Legacy
October 17, 2018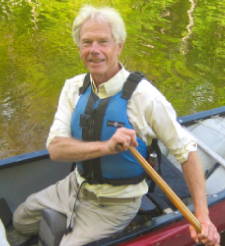 In celebration of the 50th Anniversary of the National Wild and Scenic Rivers Act, Tim Palmer discussed the history and essential policies of a unique program while showing spectacular photos of designated rivers from his publication "Wild and Scenic Rivers: An American Legacy." Palmer also shared his thoughts on the future of the world's premier system for the protection of natural rivers.
The National Wild and Scenic Rivers System was created by Congress in 1968 (Public Law 90-542; 16 U.S.C. 1271 et seq.) to preserve certain rivers with outstanding natural, cultural, and recreational values in a free-flowing condition for the enjoyment of present and future generations. Harold "Bud" Jordahl helped to write the act with U.S. Senator Gaylord Nelson. The Upper St. Croix and Namekagon rivers in Wisconsin were among the first rivers to receive that designation.
Tim Palmer is the author and photographer of 25 books about rivers, the environment, and adventure travel. As a writer, citizen conservationist, and environmental planner he has been involved in the Wild and Scenic Rivers system almost since its founding.
2017: Carolyn Finney - Ten Thousand Recollections: The Possibility of Us and the Land on Which We Stand
October 19, 2017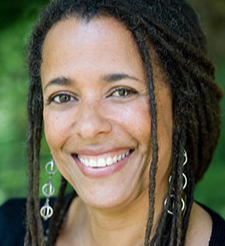 Carolyn Finney, PhD, is a writer, performer and cultural geographer. As a professor in Geography at the University of Kentucky, she is deeply interested in issues related to identity, difference, creativity, and resilience. In particular, she explores how issues of difference impacts participation in decision-making processes designed to address environmental issues. More broadly she likes to trouble our theoretical and methodological edges that shape knowledge production and determine whose knowledge counts.
Carolyn is grounded in both artistic and intellectual ways of knowing – she pursed an acting career for eleven years, but a backpacking trip around the world and living in Nepal changed the course of her life. Motivated by these experiences, she returned to school after a 15-year absence to complete a BA, MA, and PhD. The aim of her work is to develop greater cultural competency within environmental organizations and institutions, challenge media outlets on their representation of difference, and increase awareness of how privilege shapes who gets to speak to environmental issues and determine policy and action.
Carolyn has appeared on the Tavis Smiley show, MSNBC, NPR and has been interviewed for numerous newspapers and magazines. Most recently an interview with Carolyn in the Boston Globe was cited as one of the top ten ideas/stories of 2014. Along with public speaking, writing and consulting, she serves on the U.S. National Parks Advisory Board that is working to assist the National Park Service in engaging in relations of reciprocity with diverse communities. Her first book, Black Faces, White Spaces: Reimagining the Relationship of African Americans to the Great Outdoors was released in 2014 (UNC Press).
2016: Jonathan Jarvis - History, Heritage, and the National Parks: Promoting the Relevance of the American Narrative
October 10, 2016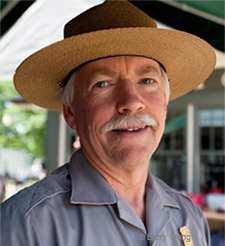 Jonathan Jarvis began his career with the National Park Service in 1976 as a seasonal interpreter in Washington, D.C. Today, he manages the very agency whose mission is to preserve America's most treasured landscapes and cultural icons.
Jarvis's 39-year career has taken him from ranger to resource management specialist to park biologist to superintendent of parks such as Craters of the Moon, North Cascades, Wrangell-St. Elias, and Mount Rainier. Before being confirmed as the 18th Director of the National Park Service on September 24, 2009, Jarvis served as regional director of the bureau's Pacific West Region.
Today, he is responsible for overseeing an agency with more than 22,000 employees, a $3 billion budget, and more than 400 national parks that attract more than 280 million visitors every year who generate $30 billion in economic benefit across the nation.
Jarvis has reinvigorated the National Park Service's role as an international advocate for protected areas and is a recognized world leader in cultural and natural resource management.
Managing the National Park Service on the eve of its centennial in 2016, Jarvis has focused on several key areas that are critical for the future: enhancing stewardship of the places entrusted to the Service's care; maximizing the educational potential of parks and programs; engaging new generations and audiences, and ensuring the welfare and fulfillment of National Park Service employees.
"America's National Park System is a gift from past generations to this and succeeding generations," says Jarvis. "And while the challenges we face today-like climate change, shrinking open space, habitat destruction, non-native species, and air and water pollution-could not have been imagined when this agency was established in 1916, our mission remains the same: to preserve this nation's natural and cultural heritage, unimpaired for the enjoyment of this and future generations."
2015: Timothy Egan - Still the Geography of Hope: How Public Land Can Restore the Soul, and the Environmental Movement
October 22, 2015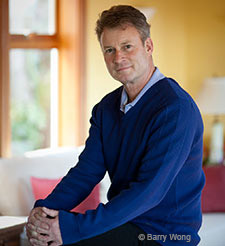 Timothy Egan is an acclaimed writer and veteran chronicler of the West whose interests range wide across the American landscape and American history. He is a Pulitzer Prize-winning reporter, a popular columnist, and a National Book Award-winning author.
His weekly online column for The New York Times, the popular "Opinionator," is consistently among the most read pieces on the NYT site. Before that, he worked as one of the newspaper's national correspondents, roaming the West and serving as its Pacific Northwest correspondent. In 2001, Egan was part of the Pulitzer Prizewinning team that wrote the series "How Race Is Lived in America."
Egan is the author of several books, including The Big Burn: Teddy Roosevelt and the Fire That Saved America, a New York Times bestseller and winner of the 2009 Pacific Northwest Booksellers Award. The Big Burn is also the inspiration for a new documentary also titled The Big Burn to be aired on The American Experience (PBS) in early 2015. Egan's book The Worst Hard Time: The Untold Story of Those Who Survived the Great American Dust Bowl, a work Walter Cronkite called "can't-put-itdown history," won the 2006 National Book Award for nonfiction. (Egan is featured prominently in Ken Burns' acclaimed 2012 film, The Dust Bowl.)
His most recent book, a "riveting biography" (Boston Globe) of the famous photographer of American Indians, Short Nights of the Shadow Catcher: The Epic Life and Immortal Photographs of Edward S. Curtis, was named one of the best books of the year by Publishers Weekly and was awarded the 2013 Andrew Carnegie Medal for Excellence in Nonfiction. The Wall Street Journal said, "Egan fills his chronicle with bright turns of phrase and radiant descriptions, making both places and people come alive … A sweeping tale about two vanishing ways of life."
This third-generation Westerner is also the author of The Good Rain: Across Time and Terrain in the Pacific Northwest, a text consistently voted one of the essential books about the region. It won the Pacific Northwest Booksellers Association Award. "When it comes to this spectacularly mildewed corner of the American linoleum, Timothy Egan gets it right," commented Tom Robbins.
Egan also wrote Lasso the Wind: Away to the New West, a New York Times Notable Book of the Year which won the Mountains and Plains Book Seller's Association Award, and Breaking Blue, a true crime account of the nation's longest running murder investigation. On this latter book, Tony Hillerman said, "I wish I had written it. No one who enjoys mystery can fail to savor this study of a classic case of detection." Egan has also penned a novel, The Winemaker's Daughter, a story of wine, love, fire and betrayal, and has been a regular contributor to BBC Radio with his series of vignettes on American life.
Tim Egan is working on a new book about Thomas Francis Meagher, a 19th-century Irish rebel who was banished by the British and sent to Tasmania and eventually escaped to America and fought for the Union in the American Civil War as general of the Irish Brigade.
2014: William Cronon - American Wilderness, Past, Present, and Future: A Historical Meditation
October 21, 2014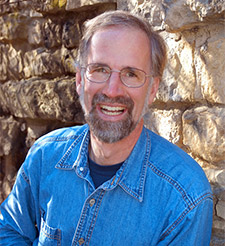 In celebration of the 50th anniversary of the 1964 Wilderness Act, which has protected more than 100 million acres of U.S. public land, it's well worth pondering this remarkable achievement. Cronon traced the changing meanings of wilderness in American history, and argued for its ongoing importance today and in the future.
William Cronon studies American environmental history and the history of the American West. Cronon's research seeks to understand the history of human interactions with the natural world: how we depend on the ecosystems around us to sustain our material lives, how we modify the landscapes in which we live and work, and how our ideas of nature shape our relationships with the world around us. His first book, Changes in the Land: Indians, Colonists, and the Ecology of New England (1983), was a study of how the New England landscape changed as control of the region shifted from Indians to European colonists. In 1984, the work was awarded the Francis Parkman Prize of the Society of American Historians.
In 1991, Cronon completed a book entitled Nature's Metropolis: Chicago and the Great West, which examines Chicago 's relationship to its rural hinterland during the second half of the nineteenth century. In 1991, it was awarded the Chicago Tribune 's Heartland Prize for the best literary work of non-fiction published during the preceding year; in 1992, it won the Bancroft Prize for the best work of American history published during the previous year, and was also one of three nominees for the Pulitzer Prize in History; and in 1993, it received the George Perkins Marsh Prize from the American Society for Environmental History and the Charles A. Weyerhaeuser Award from the Forest History Society for the best book of environmental and conservation history published during the preceding two years.
In 1992, he co-edited Under an Open Sky: Rethinking America's Western Past, a collection of essays on the prospects of western and frontier history in American historiography. He then edited an influential collection of essays entitled Uncommon Ground: Rethinking the Human Place in Nature, examining the implication of different cultural ideas of nature for modern environmental problems, published by Norton in the fall of 1995.
Cronon is working on a history of Portage, Wisconsin, from the end of the last Ice Age down to the present. It will explore how people's sense of place is shaped by the stories they tell about their homes, their lives, and the landscapes they inhabit. He is also completing a book entitled Saving Nature in Time: The Environmental Past and the Human Future (based on the Wiles Lectures which he delivered at Queens University in Belfast, Northern Ireland , in May 2001) on the evolving relationship between environmental history and environmentalism, and what the two might learn from each other.
In July 1992, Cronon became the Frederick Jackson Turner Professor of History, Geography, and Environmental Studies at the University of Wisconsin­Madison after having served for more than a decade as a member of the Yale History Department. In 2003, he was also named Vilas Research Professor at UW-Madison, the university's most distinguished chaired professorship.
Cronon has been President of the American Society for Environmental History, and serves as general editor of the Weyerhaeuser Environmental Books Series for the University of Washington Press. During the spring of 1994, he organized and chaired a faculty research seminar on "Reinventing Nature" at the University of California's Humanities Research Institute in Irvine, California. In January, 1996, he became Director of the Honors Program for the College of Letters and Science at the University of Wisconsin-Madison, a post he held until 1998, and from 1997-2000 he served as the founding Faculty Director of the new Chadbourne Residential College at UW-Madison. Cronon chaired UW-Madison's Lakeshore Nature Preserve Committee from 2004-2007, leading its first-ever strategic planning process and leading the team that created its prize-winning website. He is a founding faculty fellow of UW-Madison's Center for Culture, History, and Environment (CHE), created in 2006, and served as its Director from 2007-11. He has been a member of the Governing Council of The Wilderness Society since 1995, and of the National Board of the Trust for Public Land since 2003. He served as President of the American Historical Association during 2012.
Born September 11, 1954, in New Haven , Connecticut, Cronon received his B.A. (1976) from the University of Wisconsin, Madison. He holds an M.A. (1979), M.Phil. (1980), and Ph.D. (1990) from Yale, and a D.Phil. (1981) from Oxford University. Cronon has been a Rhodes Scholar, Danforth Fellow, Guggenheim Fellow, and MacArthur Fellow; has won prizes for his teaching at both Yale and Wisconsin; in 1999 was elected a member of the American Philosophical Society' and in 2006 was elected a Fellow of the Wisconsin Academy of Sciences, Arts and Letters as well as the American Academy of Arts and Sciences.
2013: Terry Tempest Williams - Voices from the Land: An Evening with Terry Tempest Williams
October 22, 2013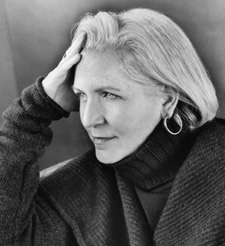 Terry Tempest Williams has been called "a citizen writer," a writer who speaks and speaks out eloquently on behalf of an ethical stance toward life. A naturalist and fierce advocate for freedom of speech, she has consistently shown us how environmental issues are social issues that ultimately become matters of justice. "So here is my question," she asks, "what might a different kind of power look like, feel like, and can power be redistributed equitably even beyond our own species?"
Williams, like her writing, cannot be categorized. She has testified before Congress on women's health issues, been a guest at the White House, has camped in the remote regions of Utah and Alaska wildernesses and worked as "a barefoot artist" in Rwanda.
Known for her impassioned and lyrical prose, Terry Tempest Williams is the author of the environmental literature classic, Refuge: An Unnatural Histor y of Family and Place; An Unspoken Hunger : Stories from the Field; Desert Quartet; Leap; Red: Patience and Passion in the Desert; and The Open Space of Democracy. Her book Finding Beauty in a Broken World, was published in 2008 by Pantheon Books. She is a columnist for the magazine The Progressive.
In 2006, Williams received the Robert Marshall Award from The Wilderness Society, their highest honor given to an American citizen. She also received the Distinguished Achievement Award from the Western American Literature association and the Wallace Stegner Award given by The Center for the American West. She is the recipient of a Lannan Literary Fellowship and a John Simon Guggenheim Fellowship in creative nonfiction. In 2009, Terry Tempest Williams was featured in Ken Burns' PBS series on the national parks.
Terry Tempest Williams is the Annie Clark Tanner Scholar in Environmental Humanities at the University of Utah. Her writing has appeared in The New Yorker, The New York Times, Orion Magazine, and numerous anthologies worldwide as a crucial voice for ecological consciousness and social change. She and her husband, Brooke Williams, divide their time between Castle Valley, Utah and Jackson Hole, Wyoming. Her most recent book, When Women Were Birds, was published in Spring 2012.
2012: Dayton Duncan - Lands for the Public: America's Best Idea
October 17, 2012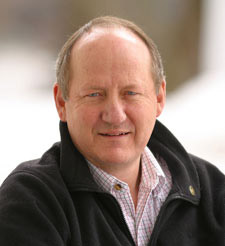 Dayton Duncan is an award-winning writer and documentary filmmaker. He is the author of eleven books and the writer and producer of numerous documentaries directed by filmmaker Ken Burns, including Lewis & Clark: The Journey of the Corps of Discovery; Horatio's Drive; The National Parks: America's Best Idea; and The Dust Bowl, which will air on PBS in November.
Duncan was also a consultant on Burns' award-winning series for public television, The Civil War, Baseball and Jazz; consulting producer for The War; and co-writer and consulting producer of The West and Mark Twain.
Previously, Duncan served as chief of staff to New Hampshire's governor, deputy national press secretary for the Mondale presidential campaign, and national press secretary for the Dukakis campaign. President Clinton appointed him chair of the American Heritage Rivers Advisory Committee and Interior Secretary Babbitt appointed him a director of the National Park Foundation. Duncan serves on the board of the Student Conservation Association and the Conservation Lands Foundation.
A native of Iowa, Duncan graduated from the University of Pennsylvania and was a fellow at Harvard's Shorenstein Center for Press, Politics and Public Policy. He holds honorary doctorates from Franklin Pierce College, Keene State College, and Drake University. He lives in New Hampshire with his wife and two children.