Everyone's Earth: Conversations on Race and Environment is a lecture series that showcases and promotes voices of color, highlighting the issues at the intersection of diversity and environmental justice. The series is designed to raise public awareness around issues and opportunities related to diversity and inclusion across the environmental spectrum.
Everyone's Earth events are conducted one or more times each year, either as standalone lectures or coupled with other Nelson signature events, such as Tales from Planet Earth film events and the Nelson Institute Earth Day event.
Past Everyone's Earth Lectures
This is an accordion element with a series of buttons that open and close related content panels.
2022: The Material Elements of Enslaved People's Mobility — The Way to Freedom
November 2, 2022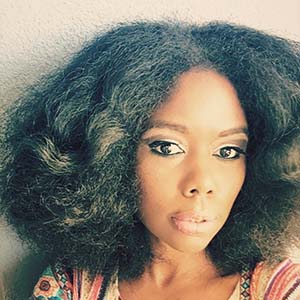 For enslaved freedom seekers near the Great Dismal Swamp, there were numerous environmental convergences that arose in areas that could have been potential sites of refuge and reconnaissance. The intersections of these paths in terms of social, political, and economic costs of escape into the wilderness is the subject of this talk. Interspecies encounters transformed into interspecies cooperation for those liberation seekers who developed a committed yearning to survive. It was The Way to Freedom.
The Way is a metaphor for the mysteries, possibilities, yearnings, and receiving of surviving turbulent terrain in search of freedom. Attendees of this talk — presented by Christy Hyman, assistant professor of human geography at Mississippi State University —received a multilayered discussion of historical Black geographies, the natural world past and present, and contemporary issues of ecological sustainability as it pertains to these elements.
2021: Voices of National Leadership in Anti-Racism in the Outdoors
September 30, 2021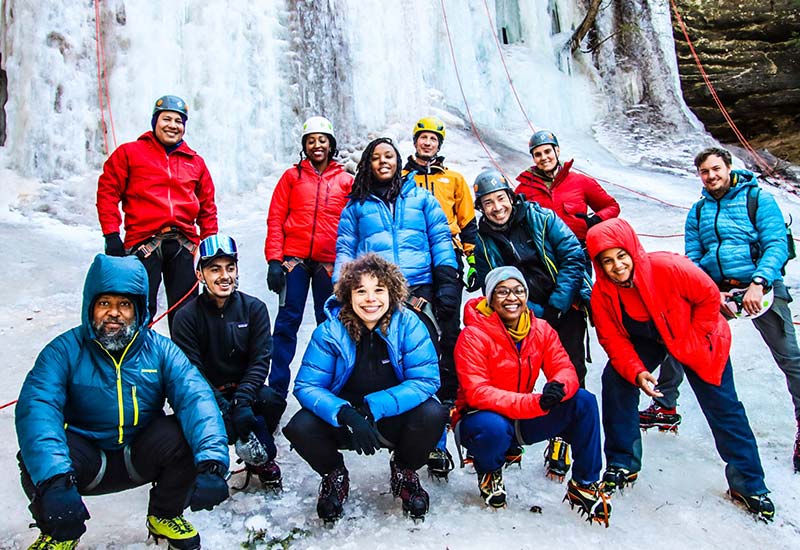 This event featured a conversation with those leading the nation's effort to address racism and the outdoors. Together, we explored ways we can increase diversity and equity as it relates to outdoor accessibility and engagement. Leaders also showcased a recently developed Anti-Racism in the Outdoors Resource guide.
Goals of the event:
Raising awareness of the importance of anti-racism in the outdoors, including the Anti-Racism in the Outdoors guide
Challenging concepts and ideas that marginalize people in nature and the outdoors
Elevating the voice of national organizations and leaders working on this topic
Speakers
James Edward Mills (moderator)
Community Partnership Liaison, Nelson Institute for Environmental Studies; Founder, The Joy Trip Project
James Edward Mills is a 2014 fellow of the Mountain & Wilderness Writing Program of the Banff Centre in Alberta, Canada, and the 2016 recipient of the Paul K. Petzoldt Award For Environmental Education. As a freelance journalist and an independent media producer in a career that spans more than 20 years, he specializes in sharing stories about outdoor recreation, environmental conservation, acts of charitable giving, and practices of sustainable living.
He has worked in the outdoor industry since 1989 as a guide, outfitter, independent sales representative, writer, and photographer. He is the author of the book, "The Adventure Gap: Changing the Face of the Outdoors," and the co-writer/co-producer of the documentary film, "An American Ascent."
Mills is a contributor to several outdoor-focused print and online publications such as National Geographic Adventure, Rock & Ice, Alpinist, SUP, Elevation Outdoors, Women's Adventure, the Clymb, Park Advocate, High Country News, Appalachia Journal, The Guardian, Outside Magazine, and Land & People.
With skills in audio storytelling, Mills' radio production credits include Wisconsin Public Radio, the Public Radio Exchange, American Public Media's Marketplace, and the Public Radio International programs "To The Best of Our Knowledge" and "The Tavis Smiley Show."
In recognition for his work in sharing the important history and legacy of the Buffalo Soldiers and their efforts at the dawn of the National Park Service, James was named a Yosemite National Park Centennial Ambassador in 2016.
In 2020, Mills' book, "The Adventure Gap," was named by Outside Magazine as one of the 10 "Outdoor Books that Shaped the Last Decade."
Currently a faculty assistant at the University of Wisconsin-Madison's Nelson Institute for Environmental Studies, James teaches a summer course for undergraduate students on diversity, equity, and inclusion in outdoor recreation and public land management called Outdoors For All.
Christopher Kilgour
Founder, Color in The Outdoors
Christopher Kilgour has spent his entire life working with and for organizations that focus on diversity, equity, and inclusion for BIPOC, LGBTTQ+, people with disabilities, and other historically marginalized or underrepresented communities.
Color In the Outdoors (CitO) is an outdoors DEI (diversity, equity, and inclusion) activity and advocacy organization focused on creating and supporting opportunities for these communities. CitO is for anyone who has never spent time outdoors and doesn't know where to start, who has spent time outdoors but didn't have a good experience in the process, or who considers themselves an avid lover of the outdoor world and wants to continue to expand their experiences and skill sets.
Kilgour also works for the University of Wisconsin–Madison, where he helped create and now manages the tribal programs component for the Information Technology Academy (ITA), a multi-year, pre-college prep program. He also serves on the Division of Information Technology Equity and Diversity Committee. During his time in this capacity, he has been awarded the University of Wisconsin "Wisconsin Idea" award for his outreach and collaboration in tribal communities as well as the Janet Plato Award for Diversity Equity and Inclusion.
Through his leadership and involvement with numerous organizations like the Dane County Minority Affairs Commission and the City of Madison Equal Opportunities Commission, Kilgour continues to work on moving the DEI needle forward.
Claudia Pineda Tibbs (they/them)
Advisory Board, Latino Outdoors; Sustainability Manager, Monterey Bay Aquarium
Claudia Pineda Tibbs is a first-generation Salvadoran-American, scientist, birder, nature lover, ocean conservationist, and sustainability professional. Tibbs' outreach and advocacy work stem from their professional experience as a bilingual science educator, ocean conservation communicator, and environmental sustainability leadership.
Tibbs centers their environmental conservation and sustainability work on the belief that individual and collective action are necessary for ensuring the needs (healthy food, clean air and water, shelter, work, happiness, respect, and a sense of belonging) of all people and our planet are being met now and in the future.
Tibbs strives to increase opportunities for BIPOC (Black, Indigenous, and People of Color) to develop their own environmental identity and conservation ethic in order to develop a sense of agency and advocate for environmental justice policies impacting frontline communities and communities of color.
Corina Newsome
Community Engagement Manager, Georgia Audubon Society
Corina Newsome began her career in the field of wildlife conservation as a zookeeper and is now an avian conservationist who connects people with birds across the state of Georgia.
Having experienced the hurdles faced by Black, Indigenous, and Peoples of Color in wildlife conservation, Newsome's mission is to center the perspectives and leadership of historically marginalized communities in wildlife conservation, environmental education, and exploration of the natural world.
Newsome is a recent graduate from Georgia Southern University with a master of science in biology.
Organizing Partners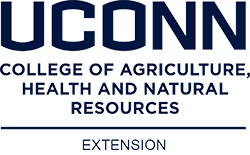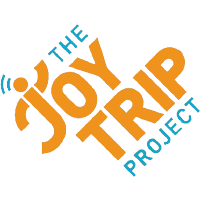 Supported By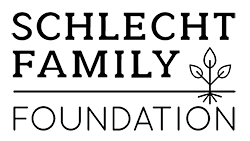 2020: J. Drew Lanham - Coloring the Conservation Conversation
November 12, 2020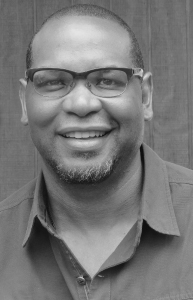 At this virtual edition of Everyone's Earth, J. Drew Lanham discussed what it means to embrace the full breadth of his African American heritage and his deep kinship to nature and adoration of birds. As an ornithologist, college professor, poet, author, and conservation activist, Lanham offered unique perspectives that expand our awareness of the natural world and progress our moral responsibility forward in new ways. By examining how conservation is both a rigorous science and evocative art, Lanham invites diversity and race to play active roles in celebrating our natural world.
A native of Edgefield, South Carolina, J. Drew Lanham is the author of The Home Place: Memoirs of a Colored Man's Love Affair with Nature, which received the Reed Award from the Southern Environmental Law Center and the Southern Book Prize, and was a finalist for the John Burroughs Medal.
He is a birder, naturalist, and hunter-conservationist who has published essays and poetry in publications including Orion, Audubon, Flycatcher, and Wilderness, and in several anthologies, including The Colors of Nature, State of the Heart, Bartram's Living Legacy, and Carolina Writers at Home.
An Alumni Distinguished Professor of Wildlife Ecology and Master Teacher at Clemson University, he and his family live in the Upstate of South Carolina, a soaring hawk's downhill glide from the southern Appalachian escarpment that the Cherokee once called the Blue Wall.
2018: Eddy Harris - River to the Heart: Film Screening and Discussion
October 30 and November 1, 2018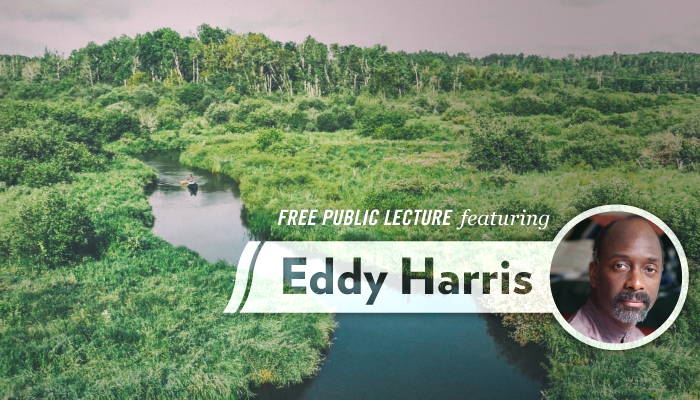 An in-depth exploration of the cultural and environmental issues faced by those living along the Mississippi River, River to the Heart, follows Harris as he paddles the full length of the Mississippi in a canoe for the second time in 30 years. During his journey, Harris explores magnificent landscapes, encounters people from all walks of life, and delves into topics such as diversity, inclusion and outdoor access equity. Harris also showcases the cultural and environmental changes that have occurred along the Mississippi over the past three decades, sharing insight into race relations, socioeconomic issues, environmental challenges and how our shared human connection to nature can help to bring about understanding and unity.
Following the screening of this inspiring film, Harris answered questions and facilitated a community discussion of the film as well as the opportunities and challenges surrounding race, the environment and access to outdoor recreation equity.
2017: Natasha Bowens - The Color of Food: Reflecting on our Food Movement
September 20, 2017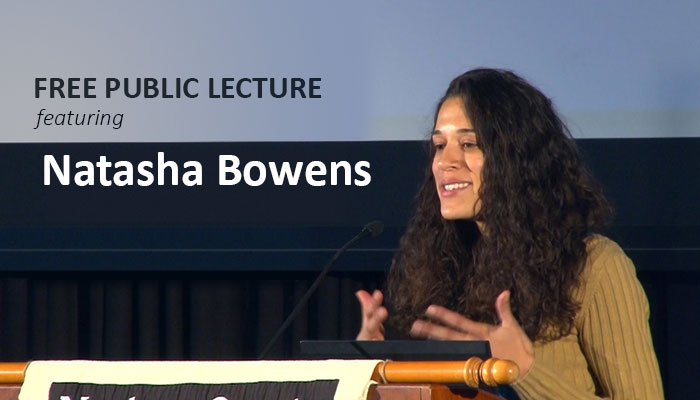 Natasha Bowens, author of the book The Color of Food: Stories of Race, Resilience and Farming, challenges us to reflect on our movement for good food and food justice. Her lecture explored issues of justice and inclusivity in our movement while amplifying the role of communities of color and challenging the status quo of agricultural identity.
Through sharing stories of farmers of color, Natasha teaches us that the good food movement is about more than buying local and protecting our soil – it's about digging deep and discovering that true food sovereignty means a place at the table for everyone.
Natasha Bowens is an author, grower and community activist who focuses on building empowerment and community through food and storytelling. The Forward Review calls her book, The Color of Food: Stories of Race, Resilience and Farming, "a trailblazing look at the past and present of North American farming" through the eyes of farmers of color. Natasha spent five years gathering stories and portraits of farmers and food activists from Black, Latina, Asian and Native communities across the country – stories that invite us to dig deep into race, culture and community.
Her work has garnered national attention such as The Atlantic, Mother Earth News, VICE, YES! Magazine and NPR. She has shared her work across the country from Purdue, Tuskegee and Harvard to the National Organic Farming Association and the USDA. She currently resides in Frederick, Maryland with her husband and one year old daughter where she runs community gardens as well as gardening and cooking programs in Frederick's public housing communities. She is also breaking ground on a woman-owned fruit and flower farm.
2017: Break the Cycle: The Power of Food to Interrupt the Revolving Door of Prisons
April 24 and May 2, 2017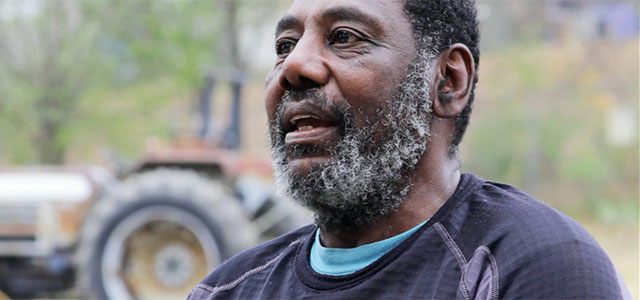 This documentary film screening examined the interconnections between race, mass incarceration and urban agriculture. The April 24 event included a panel discussion, and the May 2 event featured a conversation facilitated by Fabu Phillis Carter.
Building Food Justice Capacity in South Madison is a four-year community-university partnership that uses food as a strategy to break cycles of systematic incarceration of minorities by our criminal justice system. The partnership asks the question: How could improving healthy food access in South Madison simultaneously facilitate effective reentry for formerly incarcerated people?
Cinematography and Editor: Nyal Mueenuddin
Producers: Mattie Naythons, Jamie Trapp, Katie Faryniarz, Mackenzie Marcus, and Carrie Lierl
April 24 Panel Discussion Participants
Anthony Cooper, Sr., Nehemiah Center for Urban Leadership and Development
Carmella Glenn, Just Bakery, Madison Urban Ministry
Alfonso Morales, Department of Urban and Regional Planning
Robert Pierce, Neighborhood Food Solutions
Dadit Hidayat (facilitator), Nelson Institute for Environmental Studies
2016: Lauret Savoy - Trace: Memory, History, Race, and the American Landscape
November 3, 2016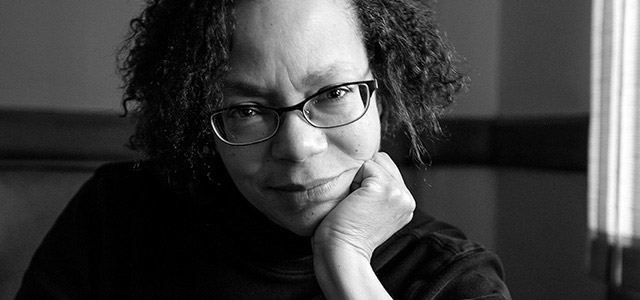 Lauret Edith Savoy's life and work draw from her need to put the eroded world into language, to remember fragmented pasts into present. A woman of African American, Euro-American, and Native American heritage, she explores the stories we tell of the American land's origins – and the stories we tell of ourselves in this land. For her, writing of the complex intertwinings of natural and cultural histories is a way of seeking home among the ruins and shards that surround us all. The work is as necessary as breath.
Lauret's latest book is Trace: Memory, History, Race, and the American Landscape (Counterpoint Press), which won the 2016 American Book Award from the Before Columbus Foundation. It was also a finalist for the 2016 PEN American Open Book Award and Phillis Wheatley Book Award, as well as shortlisted for the William Saroyan International Prize for Writing. With Alison Hawthorne Deming, she co-edited The Colors of Nature: Culture, Identity, and the Natural World (Milkweed Editions, expanded and revised in 2011). She also compiled and edited Bedrock: Writers on the Wonders of Geology (2006, with Eldridge and Judy Moores), and coauthored Living with the Changing California Coast (2005, with Gary Griggs and Kiki Patsch). Lauret's essays and other writings have appeared in the Georgia Review, Gettysburg Review, Huffington Post, Travel & Leisure, ArtForum, Christian Science Monitor, and Orion magazine, as well as in books such as Moral Ground: Ethical Action for a Planet in Peril.
Lauret is a professor of environmental studies and geology at Mount Holyoke College, a photographer, and pilot. Born in California, and a familial native of Washington, D.C., she graduated cum laude from Princeton University, then received her M.S. in earth sciences from the University of California, Santa Cruz, and Ph.D. from Syracuse University. Winner of Mount Holyoke's Distinguished Teaching Award, she has also held fellowships from the Smithsonian Institution and Yale University. She is a Fellow of the Geological Society of America.
2016: Carolyn Finney - Black Faces, White Spaces
March 1, 2016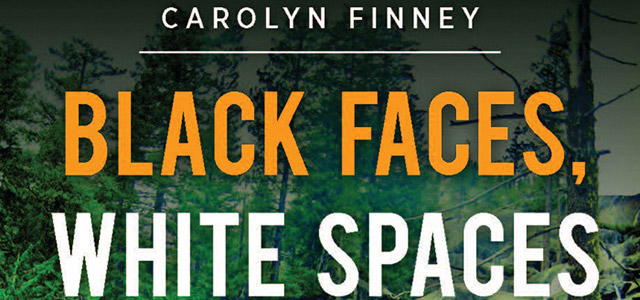 A one-hour, open conversation on themes in Carolyn Finney's book, Black Faces, White Spaces (University of North Carolina Press, 2014), which examines how the environment has been understood, commodified and represented by white and black Americans and others, and asks the question: Why are African Americans represented as they are when it comes to interest in nature, outdoor recreation and environmentalism?
Carolyn Finney was a keynote speaker at the 10th annual Nelson Institute Earth Day Conference.
Roundtable Participants
Gloria Castillo-Posada, Nelson Institute for Environmental Studies
Dantrell Cotton, Nelson Institute for Environmental Studies
Samuel Dennis Jr., Department of Landscape Architecture
Brigitte Fielder, Department of Comparative Literature and Folklore Studies
Alfonso Morales, Department of Urban and Regional Planning
Carolina Sarmiento, School of Human Ecology
Moderator: Anna M. Gade, Nelson Institute for Environmental Studies
2016: James Mills - An American Ascent
April 27, 2016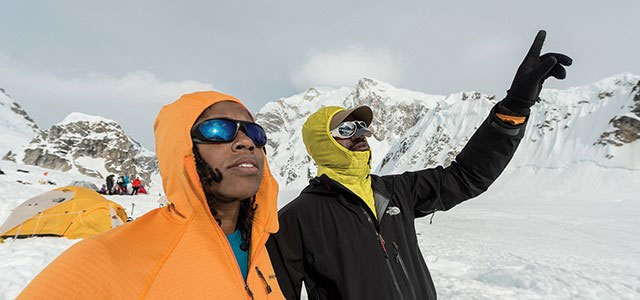 The Nelson Institute hosted a free screening of the award-winning documentary An American Ascent, followed by a discussion with James Mills, a writer for the film and author of the book The Adventure Gap: Changing the Face of the Outdoors.
An American Ascent chronicles the first African American expedition to tackle North America's highest peak, Denali. Concerned that many people of color do not consider the outdoors as a place for them, in June 2013, nine African Americans took on the grueling 20,237-foot peak of the continent's biggest mountain, aiming to build a legacy and become role models for children in urban communities and people of color all over America.
The film won best documentary at the San Diego Black Film Festival, best feature film at the Mountain and Adventure Film Festival, and best feature documentary at the Roxbury International Film Festival.