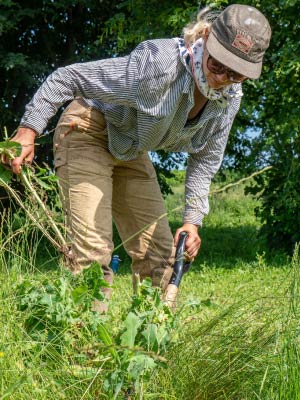 University of Wisconsin-Madison senior and Community Environmental Scholar Calla Norris is exploring her growing passion for conservation through opportunities while obtaining her degrees in environmental studies (Nelson Institute) and people-environment (geography).
Norris decided on this combination of majors because she was interested in studying interactions between people and the natural world.
"People are like a big ecosystem," Norris said, "I wanted to learn more about how to bridge the gap between people and nature, and society and the environment."
She enjoys how broad the topic of environmentalism is but took special interest in prairie restoration because it combines academics with field work and manual labor.
Norris works closely with volunteers at Goose Pond Sanctuary to aid in restoration efforts. She has participated in and even led controlled prairie burns in the area to promote the growth of prairie grass and wildlife and to mitigate invasive species.
Norris works with Goose Pond as a member of Nelson Institute's Community and Environmental Scholars Program (CESP), where students work directly with community members to implement environmental service-learning projects in nearby areas. This program encourages a cohort of students from diverse backgrounds to combine professional development and community service with their knowledge of the environment.
Norris has been participating in CESP for eight semesters and enjoys the real world, hands-on application of concepts she has learned in her classes.
She explains that CESP helped her find a sense of belonging and community at UW-Madison.
"In such a large school, it can be really hard to meet your group of people, and CESP allowed me to do that."
Graham Steinhauer, Land Steward at Goose Pond Sanctuary, has worked with Norris since she began volunteering there.
"Calla was new to prairie restoration when she joined us in 2018. Her enthusiasm, curiosity, and pertinent questions since then are responsible for the dramatic increase in her knowledge of prairie restoration at national, state, and local scales. Dedicated volunteers are invaluable to Goose Pond and other conservation organizations," he said.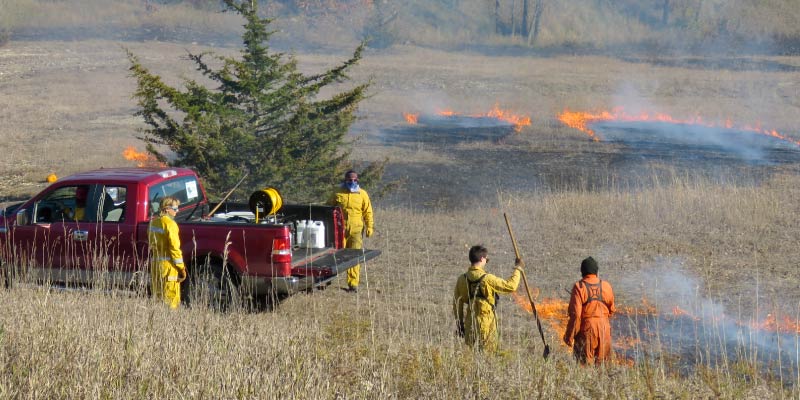 Additionally, Norris participated in the Wild Rockies Field Institute program (WRFI), which included a semester of backpacking through the Colorado Plateau. WRFI creates an immersive outdoor classroom experience where students are taught through experiential learning, a combination of readings and discussions in conjunction with field work and meetings with local community members in the areas they visit.
"It really was that hands-on, tactile learning. We had to carry our textbooks with us, even while backpacking all day," Norris said.
WRFI allowed Norris to consider different perspectives on environmental issues. She explained that something that might seem small to most could significantly impact local towns, communities, and cultures.
For example, Norris learned that the Bears Ears National Monument in Utah, a cultural indigenous site, could lose its title as a monument, meaning that the land would be removed from federal protections and could be used for resource extractions like oil drilling. While this decision would be beneficial economically, it could decimate indigenous land and history.
"People have relied on this land for generations for traditional use and it has a significant cultural importance. Since learning about this, I've been seeking out indigenous perspectives as a way to become more informed and more inclusive," Norris said.
Norris compliments Professor Cathy Middlecamp, CESP Co-Director Robert Beattie and Nelson Institute Undergraduate Advisor Becky Ryan for helping her seek out opportunities with CESP and WRFI.
"I can tell they really care about my wellbeing and success, and that's so special," she said.
Moving forward, Norris is most interested in a career exploring regenerative farming and restoration of environmental resources. She says she hopes to keep learning about the natural world and is remaining open to opportunities that come her way.
"I don't know what I want to be when I grow up, but I want it to be outside," Norris joked.
She advises current and future Nelson Institute students to take advantage of all the resources around them.
"Seize the opportunities and enjoy them. Go a little slower and do whatever you can to get as much out of an experience as possible, that's key in education."
If you are interested in volunteering or learning more about the restoration efforts at Goose Pond Sanctuary, contact Graham Steinhauer for more information.