Carrie Lee Nelson, the widow of Nelson Institute namesake, Wisconsin governor, and U.S. senator Gaylord Nelson, died March 15 at her home in Kensington, Maryland. Nelson was a great supporter of the University of Wisconsin-Madison and the Nelson Institute.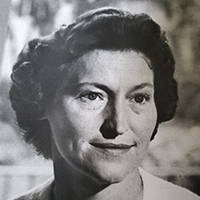 Her daughter Tia Nelson, a Nelson Institute Board of Visitors member emerita and managing director of the Outrider Foundation's Climate Change program, shared memories of her mother's life with the Wisconsin State Journal, stating that it was in her mother's "nature to want to care for others" and that "there was absolutely nothing traditional about the way my mother walked through the world."
The Nelson Institute faculty and staff extend our condolences to the Nelson family.