As summer comes to a close, so does the 2021–22 environmental conservation (EC) and environmental observation and informatics (EOI) cohorts. 
The 29 graduates rounded out their master's of science degrees with exit seminars held in late July and early August that focused on their unique professional projects followed by group Q & A sessions. Seminars ranged in topics from environmental government policy to equitable sustainability practices to mapping tree species in midwestern forests. 
"A strength of the environmental professional programs is the final project experience where each student works directly with a conservation organization," said Sarah Graves, EOI Program Coordinator. "I love these exit seminars because the students share why their individual work supports conservation efforts and their professional goals. It is very rewarding to see how students apply their learning and develop professionally."
Learn more about four of the graduate students by visiting each of their student features.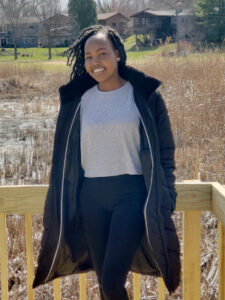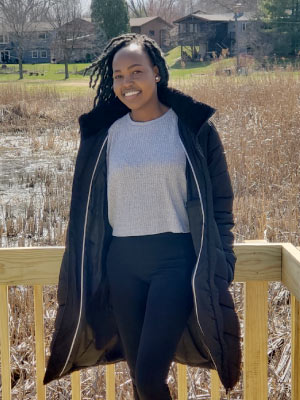 Grace Cheptoo (EOI) – EOI Student Works to Preserve Wildlife at Home in Kenya
Graduate student Grace Cheptoo moved across the world to begin the environmental observation and informatics (EOI) program at the Nelson Institute in May of 2021. Her journey to the Nelson Institute, though, was nothing short of a "wild" ride.
"The program is incredibly well packaged and I'm so grateful for the opportunity to participate in it," Cheptoo said. "I can't express it enough, it's such a great program and a great fit for me."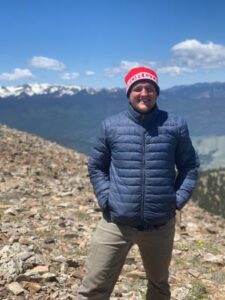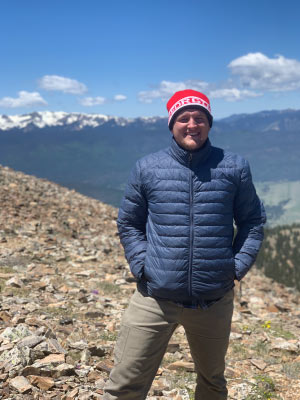 Kevin Ronckowski (EOI) – From the Peach State to the Badger State, EOI Student Works to Monitor and Preserve Wetlands
Environmental observation and informatics (EOI) graduate student Kevin Ronczkowski has always been a Badger fan. Cheering from his home state of Georgia, Ronczkowski jumped at the opportunity to continue his education at the University of Wisconsin-Madison. "My family is from the Wisconsin area," Ronczkowski said. "I grew up a badger fan and always wanted to go to school here."
After completing his undergraduate degree in parks, recreation and tourism management at the University of Georgia, Ronczkowski found the EOI program and moved to Madison two weeks after graduating.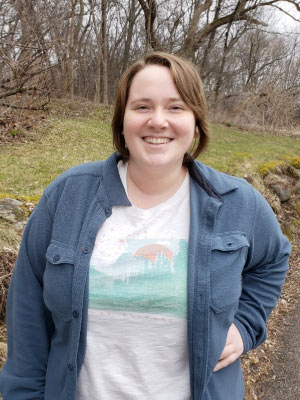 Carrie Lovelace (EC) – EC Student Aspires to a Role in Conservation Planning Despite Facing Adversity
Nelson Institute environmental conservation (EC) master's student Carrie Lovelace has persevered through some of life's toughest challenges while completing her degree. After beginning the program in summer 2020, Lovelace was diagnosed with Hodgkin's lymphoma, a form of cancer that affects the lymphatic system. Despite taking time off from the program to manage her health, Lovelace's passion for protecting the environment remains unwavering.
"Part of why I like this program so much is because it opened up a lot of doors for me and I can choose where I want to go from here in a much broader sense because of what this program has taught me," Lovelace said. "I'm very open to where my future takes me."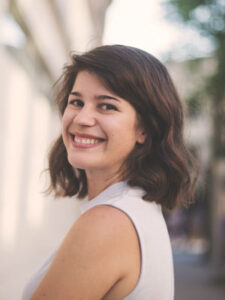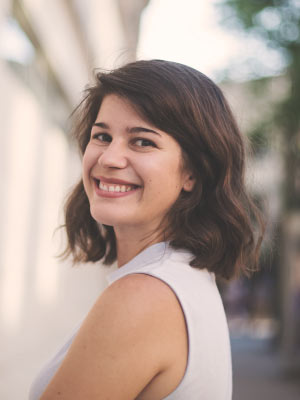 Mary Kate McCoy (EC) – Environmental Conservation MS Student Hopes to Create Change Through a Career in Policy
Starting her career by writing about environmental issues, Mary Kate McCoy found herself wanting to do more to support conservation efforts. "Personally, I had reached a point where I wanted to work more directly with finding solutions to the problems instead of just writing about them all the time," McCoy said.
McCoy's drive for implementing change turned her to the Nelson Institute's environmental conservation (EC) program, a 15-month degree that teaches students how to apply practical interdisciplinary skillsets to a broad range of careers in conservation. "It felt like a really good way to meld my interest in the environment with my love and experience with storytelling," McCoy said. "I had the communications background and was looking for more of a science background."
With 15 months of interdisciplinary course work under their belts, the graduates will enter the world ready to make change in their prospective fields. With pressing environmental challenges becoming increasingly prevalent, taking action and providing perspective is crucial to developing a better tomorrow. 
"If any prospective students are curious about what they can do with this degree, I encourage them to read some of the stories of individual students and to contact us! We are happy to discuss your interests and professional goals and how they could be supported in our programs," Graves said.
Learn how to be the difference and apply to the EC and EOI programs. Applications for summer 2023 are now open.