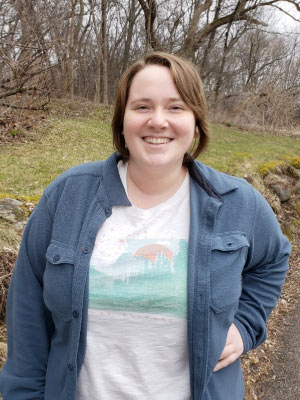 Nelson Institute environmental conservation (EC) master's student Carrie Lovelace has persevered through some of life's toughest challenges while completing her degree. After beginning the program in summer 2020, Lovelace was diagnosed with Hodgkin's lymphoma, a form of cancer that affects the lymphatic system. Despite taking time off from the program to manage her health, Lovelace's passion for protecting the environment remains unwavering.
Lovelace was first introduced to the study of the environment while working towards her undergraduate degree at University of Wisconsin–Eau Claire. She studied political science with a minor in environment, society, and culture. Upon completing her undergraduate program in 2018, she accepted a position as an economic support specialist where she worked with elderly, blind, and disabled individuals to help them obtain social services and coordinate resources for them.
While she enjoyed her work in human services, Lovelace wanted to pursue her interest in conservation through the EC program. A few months into the program, she received her diagnosis. Following discussions with Meghan Kautzer, EC program manager, and Nathan Schulfer, director of international and professional programs, the best option for Lovelace was to take a leave of absence while undergoing chemotherapy and radiation.
"When I was ready to rejoin, Meghan and Nathan were beyond supportive," she recalled. "They were really with me throughout the whole process. They were emailing and video chatting with me throughout my treatment. Their support was wonderful."
After finishing treatment and reaching remission, Lovelace rejoined the program in fall of 2021 with a new cohort of students. Of the many transitions Lovelace needed to make, she noted the pivot from starting as a fully virtual student to being in person this year as both exciting and a good learning experience.
"The transition back into the program went pretty smoothly," Lovelace said. "The cohort I joined was very welcoming and helped make that transition to in-person learning much easier."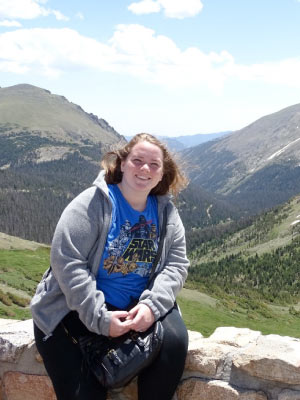 Lovelace noted that the program feels very well-rounded, emphasizing technical skills in geographic information systems (GIS) and conservation planning, as well as communication skills applicable to the field. She sees the program as a challenging but exciting opportunity to develop and refine her skills before entering her career.
"I'm enjoying the challenges of learning about GIS," she explained. "I didn't have any background knowledge [of GIS] going into this program and I really like learning and working through the challenges of picking up the skills."
Lovelace explained that the technical aspect of GIS was the biggest hurdle to overcome, as she had little experience learning about technical systems prior to taking classes at the Nelson Institute.
Outside of the classroom, Lovelace is keeping busy by assisting Jessica Price, the City of Madison's sustainability and resilience manager, in a sustainability project. Part of Mayor Satya Rhodes-Conway's Climate Forward Agenda includes improving energy efficiency in naturally occurring affordable housing, or NOAH. Energy efficiency upgrades in NOAH saves energy, reduces greenhouse gas emissions, and lowers utility bills for low-income residents. Currently, the city works with two local non-profit partners, Sustain Dane and Elevate Energy, to provide energy efficiency upgrades in 100 NOAH units through the Efficiency Navigator program.
This summer, Lovelace is conducting research and policy analysis to help the City of Madison develop a strategic path to scale up and sustain this work. Lovelace is comparing policy strategies from cities across the U.S. that focus on improving energy efficiency in NOAH or similar housing stock and characterizing the state policy framework within which the city's program must fit. Lovelace will provide recommendations for programs or policies that help advance energy efficiency in NOAH in the City of Madison.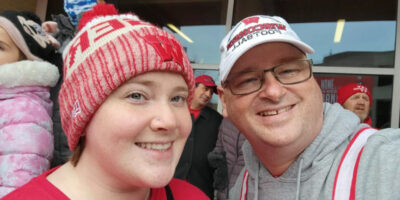 "We're so lucky to have Carrie on the team this summer. Carrie is helping us learn from other cities, understand the elements of successful energy efficiency policies and programs, and make strategic decisions," said Jessica Price. "I'm excited to see where she takes this project!"
Lovelace hopes to bring about conservation and environmental resilience at the city or regional level in her future work. Further, she sees value in emphasizing environmental justice and representation in decision making to environmental issues, two core values she has gained through her time at the Nelson Institute.
"Part of why I like this program so much is because it opened up a lot of doors for me and I can choose where I want to go from here in a much broader sense because of what this program has taught me," Lovelace said. "I'm very open to where my future takes me."
Learn more about the environmental conservation MS and how you can support the program.