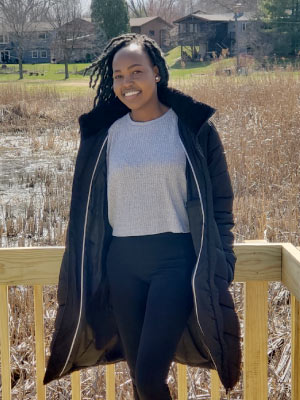 Graduate student Grace Cheptoo moved across the world to begin the Environmental Observation and Informatics (EOI) program at the Nelson Institute in May of 2021. Her journey to the Nelson Institute, though, was nothing short of a "wild" ride.
Before making the move to Madison, Cheptoo worked for Kenya Wildlife Trust, a Kenya-based organization focused on protecting predator species and reducing human-wildlife conflict in Kenya. Though initially appointed for a four-month internship program, Cheptoo accepted a full-time position monitoring lions and cheetahs for the organization.
Cheptoo's workdays began well before sunrise in attempts to observe the wildlife in their most active periods. The animals Cheptoo was tasked with observing — mainly cheetahs and leopards — avoid the sun, making the best time for observation in the early morning and evening. The observation data she collected was used to help approximate population density and understand movement patterns of each species.
Despite growing up in Laikipia, Kenya, a county with a dense wildlife population, Cheptoo found herself uncomfortable in certain situations with the animals. She recalled when driving alone in the field one day, she passed a herd of buffalo and noticed one following her truck.
"I was lucky enough to not run into any issues being followed by the buffalo, but I always prayed I would never be stuck and unable to reach anyone when driving in the bushes" she said. "It was scary at times, but it was always enjoyable seeing all the animals."
As land in Kenya has become more privatized, it has been harder for groups like the Kenya Wildlife Trust to obtain solid data on animal population and movement as access to land decreases. Landowners put up fencing in attempts to keep animals and observers off their property, but this can be harmful to wildlife. Cheptoo noted that cheetahs, for example, are particularly vulnerable and commonly get trapped in the fences intended to keep them off the property. Part of Kenya Wildlife Trust's mission is to aid animals in situations like these and other human-animal conflicts.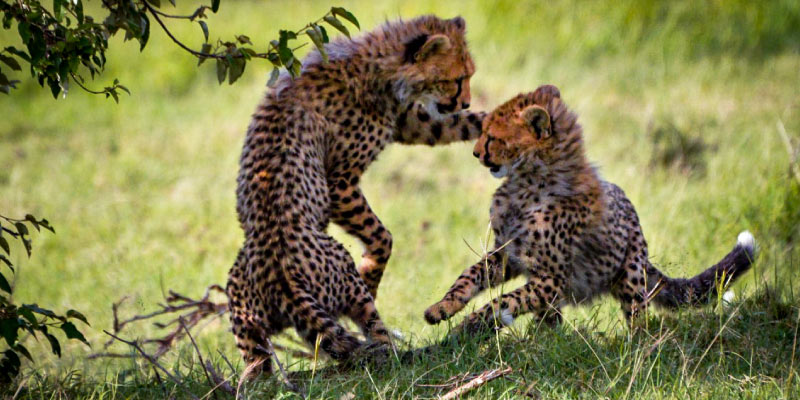 "I loved my work with [Kenya Wildlife Trust]," Cheptoo said. "It was really a good job because they not only did research to help predators, but also did work to help the local communities."
Moving abroad to pursue a master's degree has been an incredibly fulfilling experience for Cheptoo. With an undergraduate degree focused on geography and geographic information systems and a strong passion for conservation, Cheptoo was excited to begin the Environmental Observation and Informatics program.
"The program is incredibly well packaged and I'm so grateful for the opportunity to participate in it," Cheptoo said. "I can't express it enough, it's such a great program and a great fit for me."
"The EOI program is structured in an accelerated format to get students to and through in just 15 months but offers flexibility to go deeper in the areas they're most interested in," shares Meghan Kautzer, EOI program manager. "We work very hard as staff to ensure the program is the right 'fit' for each student that joins us. Their passion and expertise are needed in every area of environmental problem solving!"
"Moving here was so exciting, and it's still exciting. It was always my dream since I was a young girl to study abroad, so I am really happy to be here," Cheptoo recalled. "I still can't believe I'm here."
"EOI is an action-oriented master's degree," said Kautzer. "We provide the in-demand skills that allow graduates to make real change happen in their communities and more broadly. It's inspiring to see the unique and powerful ways EOI graduates apply their training in environmental informatics."
Alongside her studies, Cheptoo works at the UW Center for Health Disparities Research at the UW School of Medicine and Public Health with a focus on looking at how physical environment and social conditions intersect to affect the health of individuals. By looking at neighborhood data, Cheptoo's work seeks to discover health-related disparities that exist at the state and national level.
"This is a field I never thought I would work in and I'm still learning what it really entails, but so far so good. I'm learning a lot and enjoying it so far."
Cheptoo hopes to work for a non-profit organization after graduating in August and hopes to use her conservation and observation informatics skills to impact the community in a positive way and solve environmental problems.
As Cheptoo completes her graduate studies at the Nelson Institute, she is extremely appreciative for the opportunity to move abroad to pursue her educational and professional goals. Inspiring young girls, especially in Kenya, is a goal she carries with her throughout all her work.
"I hope to be a role model for young girls especially in Kenya to help them pursue their dreams." she said. "I know most people are not afforded this opportunity to come study, so my aspiration is to mentor girls and help them reach their goals."
Learn more about the Environmental Observation and Informatics MS and how you can support the program.