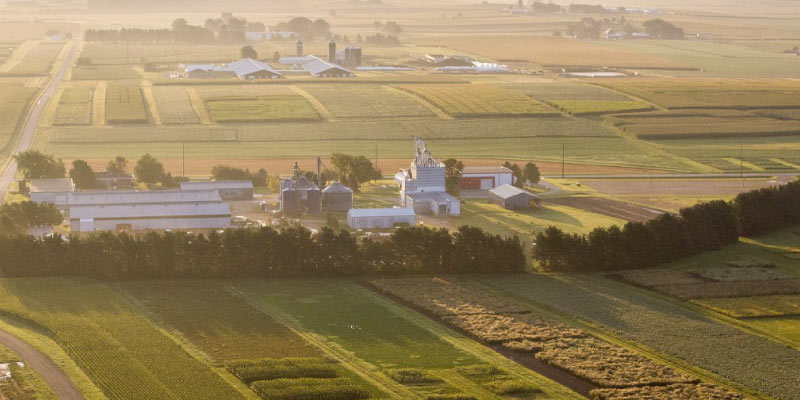 Anyone who's driven through rural Wisconsin — or had their eye pressure checked — is familiar with the idyllic picture of the Midwest: a two-lane road between rolling pastures leading to a little red farmhouse. But a recent study by the American Farmland Trust shows that we're well on our way to losing that landscape — and at our own doing.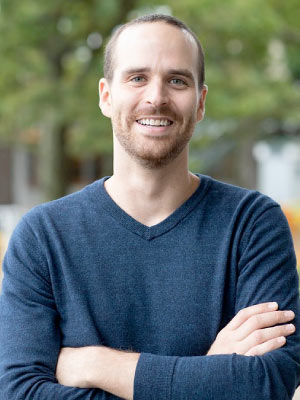 Led by Tyler Lark and Yanhua Xie, researchers in the Nelson Institute's Center for Sustainability and the Global Environment, the study projects that the amount of American farmland is on a dangerous decline. The study was a group effort, Lark says. "It combined the deep expertise of American Farmland Trust, technical support from Conservation Science Partners, and our team's experience mapping and modeling agricultural land use to reveal new insights about the threats and challenges facing our nation's farmland and rural landscapes."
To start, Lark and Xie looked at past trends: they found that in the past 15 years, 11 million acres of farm or ranch land were developed: paved over, built up, or otherwise adapted. Using that data to look forward, the models they developed project that, by 2040, 18.4 million more acres of farmland will be converted if current practices continue. That's roughly the size of South Carolina.
This is a figure that should alarm more than just those whose income relies on farming and agriculture. "Farmland and ranchland do so much more than just feed us," the study reads. "With good stewardship, these lands can also sequester carbon in the soil, protect water quality, and provide habitat for diverse wildlife and native species."
The most farmland in the U.S. that's being lost is in major metropolitan areas. As Midwestern cities such as Indianapolis, Minneapolis, and of course, Madison grow, "Where does that new land come from? Well, we're right in the heart of the corn belt. It's often our best lands that are getting paved over and developed," Lark said in a recent radio segment on Wisconsin Public Radio (WPR).
Land is, naturally, the biggest resource needed for farming. And while new developments are necessary to support the growing population, "the real key is doing that in a smart way," Lark said. "Smart growth is this concept that can help provide some guiding principles, essentially trying to embrace zoning and growth in a compact manner: preserve as much of that farmland, those valuable natural areas, as we can, and then build a little bit more densely or efficiently."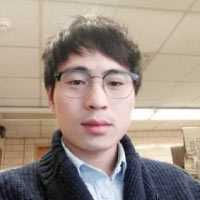 For Xie, what makes this trend so dangerous is that it creates an irreversible problem. "If a farmland is converted, it is very unlikely converted back," Xie says. "That's why we focus on this very irreversible pressure that urban development will have on farmland."
The study ran three scenarios for what the future could look like: "business as usual," "runaway sprawl," and "better built cities." If the business-as-usual trend continues, we'll see the 18.4 million acres of farmland disappear by 2040. In the runaway-sprawl scenario — inefficient new developments, far-flung rural housing, and large lot sprawls — that figure increases by 50 percent. But in the better-built-city model, where support from policymakers and land-use planners results in more efficiently, densely built communities, we can reduce the conversion rate from 18.4 percent to 9.2 percent.
On WPR, Lark stressed that the key to mitigating an irreversible loss of agricultural land is to proactively take action, which is exactly what the study aims to do. "By working together, we were able to produce actionable science that is now being used to guide conservation policymaking and land use planning across the country," Lark says. "It's a perfect example of how the research we do right here at the Nelson Institute and the UW can make an immediate impact that helps support our agricultural industry, protect our open spaces and environment, and provide safeguards for society by ensuring critical land resources remain available for the next generation."
Xie and Lark recently sat down for a Q & A facilitated by Wisconsin Public Radio's Kate Archer Kent. Listen to the full conversation.