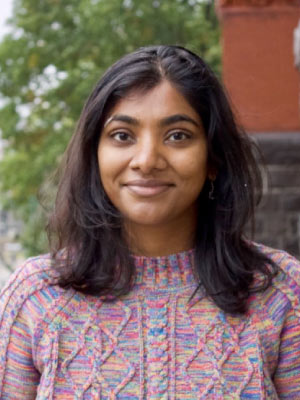 Nelson Institute graduate student Vaishnavi Tripuraneni has been awarded a University of Wisconsin–Madison Teaching Assistant (TA) Award for Exceptional Service. This award recognizes Tripuraneni's service to the educational mission of UW-Madison and her efforts to go above and beyond as a mentor, volunteer, and committee member.
"It feels really good to be recognized for the work I've done," said Tripuraneni, who has been involved with a variety of Nelson Institute initiatives and programs since her acceptance into the Environment and Resources PhD program a few years ago. 
Among her many roles, Tripuraneni has served as a mentor, a graduate representative, and as a co-instructor for the Community Environmental Scholars Program seminar (CESP).
"The CESP program is incredible," Tripuraneni said of CESP, which is a scholarship-based program designed for students who want to link their passion for the environment with a commitment to the community. As a part of the program students engage with a cohort and participate in service-learning projects. 
"CESP targets historically underrepresented and marginalized students in environmental studies, so I instituted a mentorship component into that program, where students who've been in the seminar for three semesters or longer are mentors to those who've just come in," said Tripuraneni. "It really helped with community building and ability of students to reach out and get help, especially during the pandemic."
In addition to instituting the mentorship portion of CESP, Tripuraneni organized weekly graduate student research presentations in the Nelson Institute, represented Environment and Resources students on committees, contributed to clarifying the program description necessary for international student visa processes, worked on a graduate student-advisor guidelines document, and redesigned the graduate student seminar course. Tripuraneni has also been a strong advocate for the removal of graduate student segregated fees and international student fees and is using the money from this award to pay these fees. 
In addition to her volunteer and mentorship work, Tripuraneni is also busy with her PhD research which focuses on the political ecology of agrarian debt in India. This topic is close to Tripuraneni's heart as she spent much of her life in south India. In fact, before coming to the Nelson Institute, Tripuraneni earned a Bachelor of Commerce in Hyderabad, India, which was followed by a one-year degree in Finance from St. Andrews in the United Kingdom. She then came to the U.S. to complete a Master's in Sustainable Systems at the University of Michigan. 
Once she arrived at the Nelson Institute, Tripuraneni spent some time adjusting and searching for the ideal research project. Soon, she connected with Nelson Institute Dean Paul Robbins, who agreed to be her advisor.
"He encouraged me when I went back to India to visit family, to look around the landscape and see what I find. I ended up doing a summer fellowship there for three months cataloging farmer livelihoods, especially in relation to climate change," Tripuraneni said. "I framed my research around what I heard from the farmers. So, it wasn't so much about climate change adaptation, which is what I came in thinking about, but really about people's lives and what mattered to them in the landscape."
Today, Tripuraneni is wrapping up her dissertation which focuses on this topic. But she continues to use this experience as a teaching moment for students. 
"I've been in the PhD program longer than is average," Tripuraneni said. "I changed advisors, it took a while to find funding to go back to India, COVID happened, mental health crises happened, but I want to let students know that if things happen, it's okay, you can still succeed." 
Tripuraneni plans to complete her PhD in 2022 and is looking for jobs. She is particularly interested in post-doctoral research positions that would also allow her to teach.  
"I do really enjoy teaching, and that's something I want to do in the future," Tripuraneni said. "It makes a difference in people's lives. I think it's important to hold a space where students can feel safe exploring their ideas."
As Tripuraneni completes her time as a Nelson Institute student, she is grateful for this Exceptional Service TA Award, which is the culmination of many years of work and a variety of important connections.
"I think it's important to recognize [Nelson Institute graduate advisor] Jim Miller, [Assistant Dean for Advancement] Ann Swenson, [Academic Planner] Tara Mohan, [Financial Manager] Jill Folkerts, [Director for Community Engagement and Alumni Relations] Emily Reynolds, and [Outreach Specialist] Shelly Strom, many of whom have been like family to me, and honestly, I don't think I could do the job I do without them," Tripuraneni said. "[CESP Co-Director] Rob Beattie is one of my biggest teaching mentors. He has made such a difference in how I teach and just in how I go about being a grad student. I'm also grateful to [Gaylord A. Nelson Distinguished Chair in Integrated Environmental Studies] Monica White, [Associate Dean] Anna Gade, and [CESP Instructor] Molly Schwebach. And [Dean] Paul has been my biggest supporter."
Tripuraneni received the award on Tuesday, March 1, during a ceremony at 911 Van Vleck. 
Learn more about the Community Environmental Scholars Program how you can support the program.
Learn more about Environment and Resources and how you can support the program.