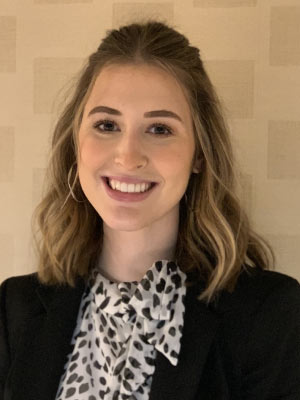 From combatting fast fashion to preventing food waste, undergraduate student Katie Hayes has put her sustainability certificate and consumer behavior major to work.
While growing up in Minnesota, Hayes said her elementary school is what first sparked her interest in sustainability and the environment. "We had a garden program and greenhouses, and it was definitely focused on the environment."
Hayes said she chose to go to the University of Wisconsin-Madison because of her family. "My older brother went to the University of Minnesota, so I wanted to go to the rival, I guess," laughed Hayes. "But as soon as I arrived, I fell in love with the campus."
Like many college students, Hayes went into college with many interests and decided what to pursue after taking some classes her freshman year. "I ended up taking a couple environmental classes just as a one-off," said Hayes. "They sounded interesting, so I took some that focused more on social thinking, and I really liked those. I liked how the classes were really relaxed and everyone there was passionate about the environment, and we got to talk about it."
The sustainability certificate is a 12-credit course load that teaches students how to identify, critically analyze, and propose solutions to the environmental, social, and economic dimensions of sustainability.
Hayes also became passionate about entrepreneurship and design strategy, earning certificates in both fields, and now enjoys focusing on a combined interest that incorporates both of her passions. "Since coming to UW-Madison and learning more about the fashion track, it has really sparked my interest in sustainable fashion."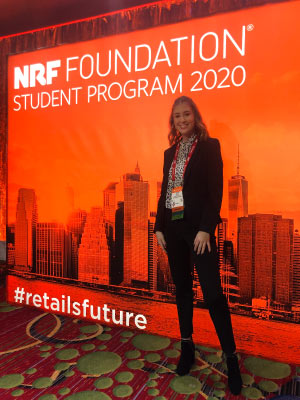 Hayes took her studies into the real world by incorporating what she learned into her hobbies. "In my personal life I really like learning about sustainable brands, the supply chain, and reading articles or watching documentaries about fashion retailers." Hayes also joined Re-wear It Wisconsin, a new club that promotes sustainable fashion on campus, and is the vice-president of the Student Retail Association.
Hayes said she even noticed a more sustainable approach to topics within her consumer behavior, entrepreneur, and design strategy courses. "I know a lot of students in my programs also have that sustainable interest," said Hayes. "I think a lot of people do at this age, and I think learning about it and holding companies along with themselves responsible is incredibly important."
Hayes found that one of her favorite classes, People, Land and Food, was also applicable to a position she held at Hy-Vee as a merchandising intern. "It was really interesting because I got to reflect on my internship about limiting food waste and sustainable practices," said Hayes. "I got to see firsthand how much food waste really comes from a grocery store, so that class was really interesting to learn about that larger issue."
Along with an internship with Hy-Vee, Hayes also interned with the off-price retailer Ross Dress for Less where she learned more about supply-chain aspect of retail. "[Ross Dress for Less] mostly purchases over-production runs from other places. So, in a sense, it's a little more sustainable because they are not running production as heavily, they're just issuing that second life from over-ran clothes."
Most recently, Hayes began an internship at a financial tech company called Sezzle that engineered the buy-now, pay later shopping tool. As a certified B-Corp that concentrates on social and environmental performance, Hayes said Sezzle "is very focused on the environment and even has a Slack channel dedicated to sustainable news."
While she works remotely, Hayes mainly assists with behind-the-scenes integration on the merchant side. "I'm constantly in contact with actual retailers, answering questions and making sure they're getting integrated with Sezzle software," said Hayes.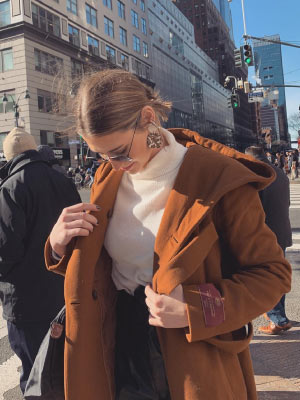 Hayes plans on graduating December of 2021 with her undergraduate degrees and three certificates. "I plan to hopefully stick around Madison and continue working some remote-jobs," said Hayes. "End goal, I'd love move to New York and work at some sustainable fashion brand. That would be the dream."
Hayes encourages anyone interested to pursue a sustainability certificate. "I think it's very manageable and applicable to almost every major, especially with the growing concern for the environment and climate struggle," said Hayes. "I think it's something that can benefit every single major and I couldn't recommend it more. All the classes have been fun and all the professors have been really knowledgeable and so nice to work with."
Learn more about the sustainability certificate and how you can support the program.