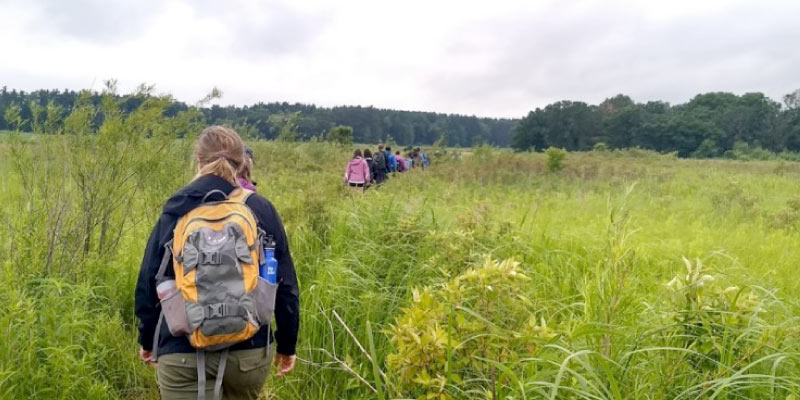 "I shall never be content until the beneficent influence of the university reaches every family in the state." Spoken by university president Charles Van Hise in 1906, this quote laid the groundwork for the infamous Wisconsin Idea, a principle that continues to guide UW–Madison today. Over decades, as society became increasingly global, so did the philosophy's belief that "the boundaries of the university are the boundaries of the state." If you're looking for a living, global example of the Wisconsin Idea, look no further than the Nelson Institute for Environmental Studies' environmental professional programs (EPP), which is celebrating its 10th anniversary this year.
EPP houses two distinct MS programs: environmental conservation and environmental observation and informatics. As professional programs — rather than thesis programs — these courses of study give early and mid-career professionals a fast track to advanced skills and expertise that help them become leaders in their fields. Both programs developed from two previous graduate programs: environmental monitoring and conservation biology and sustainable development. The environmental monitoring program, which offered both masters and PhDs, welcomed its first cohort around 1978, less than a decade after the Nelson Institute was initially established. While the program filled an important need for training students in the growing field of monitoring, it was discontinued in the early 2000s with the last PhD candidates graduating in 2006.
Conservation biology and sustainable development (CBSD) came along later, with its first cohort arriving in 1990. Among its final students (the last graduated in 2014) was Nathan Schulfer, who graduated in 2012 and is now EPP's program director. While earning his degree, he also worked as a program assistant under the program's director, Janet Silbernagel, and played an important role in transforming CBSD into a new offering. By 2011, the program had only a few students, leading to questions of its continued existence. "The program committee, because the numbers were going down, started to say, 'Maybe we should change CBSD to just focus on the professional side of things and leave research to the environment and resources program,' " Schulfer recalls.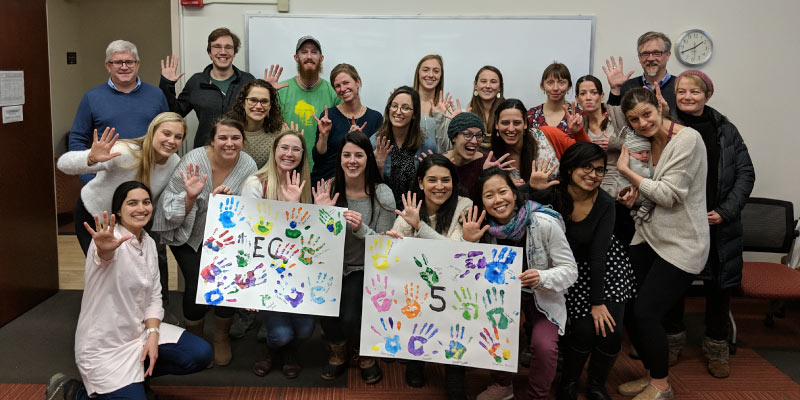 Then in 2012, several events coalesced, creating the perfect environment for a reimagined program. First up, Paul Robbins joined the Nelson Institute as its dean. In Bascom Hall, Rebecca Blank had signed on as the UW's new chancellor. And the Division of Continuing Studies saw an influx of "start-up" funds to help campus units develop what the university calls "131 programs," or programs that keep and capture tuition revenue. "That coming together really accelerated the push to think about a different approach for the CBSD program," says Schulfer.
Robbins, Schulfer, and Silbernagel, along with faculty associates Rob Beattie, Alberto Vargas, and Arlyne Johnson, were all part of the committee that ultimately ushered in the next era of CBSD: environmental conservation (EC), which accepted its first applications in the fall of 2013. "We're creating a new kind of conservation practitioner," said Dean Paul Robbins of the program's creation. "We're going to change the way people do conservation and the way they work with communities. To do that, you have to change the way you train people."
For EC program coordinator and Nelson Institute alumna Meghan Kautzer, the professional nature of the program fills a critical gap in the world of conservation. "We have science, and we will always need more science to back things up and make better decisions, right? But if the science were enough, we wouldn't have the problems we're facing right now," she says. "We need people who are trained, specifically, in taking and understanding the science and putting it to action effectively and efficiently."
Among the first cohort to take these skills into conservation work was Caitlin Williamson, who came to Madison after earning her undergraduate degree in biology and environmental studies at Lawrence University. "The program was exactly what I was looking for," Williamson says.  "I didn't want to do the traditional research route. I wanted to build off the skills I had in my first job with more professional experience." Williamson is now the director of conservation programs at the Natural Resources Foundation of Wisconsin — along with holding Nelson Institute accolades including a Rising Star Alumni Award and a seat on its board of visitors.
With EC up and running, Robbins assembled another working group in 2014–15 to help create a second professional program. The idea was to take aspects from the environmental monitoring (EM) program, which had closed out in the early 2000s. "There is a huge need for it," says Schulfer. "It is an emerging and important space in the conservation field." Since the early 2000s, the sophistication of monitoring technology exploded, and professionals with satellite and drone expertise went from unique to necessary. With input from both EM alumni and industry experts — who shared what skillset gaps they were seeing among applicants — environmental observation and informatics (EOI) opened in 2017.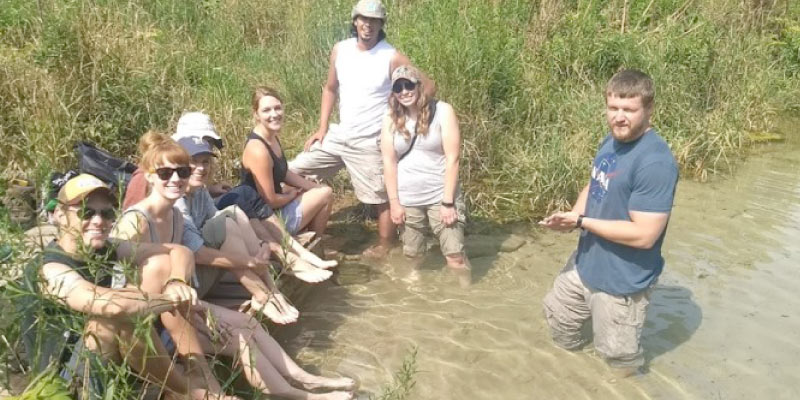 When EOI started, so did program coordinator Sarah Graves. "I am so close to that first cohort because I felt like we were both starting together," she reflects. "It was a lot of exploring for everybody, and I think that was really fun." In its six years, EOI has already grown to a network of 49 alumni. Thinking to the program's future, Graves hopes that it will develop as strong of a legacy as its predecessor, environmental monitoring, had. "Graduates of that program now are leaders in this field. They're who you go to when you think about environmental remote sensing," she says. "I hope that's what we see for EOI alumni — that they will really have made an impact on the field of environmental remote sensing and how to use spatial data for conservation." 
The impact of the Nelson Institute's environmental professional programs is already being felt across the globe; more than 230 students have graduated from both EC and EOI, going to careers that span sectors and the globe. "It is the Wisconsin Idea to its full potential, locally and globally," says Kautzer. "And knowing that the conservation decision-makers are going to be EC-ers and EOI-ers, it gives me a lot of faith."
As the environmental professional programs celebrate their 10th anniversary, the curricula of both programs have become more and more relevant to the current environmental and workforce landscape. "Anyone who is thinking about global climate change, worldwide decline of species, and the fate of our air and water is asking the exact same question: 'What's next?' We answer that question with every graduate from these programs," says Nelson Institute Dean Paul Robbins. "If we have one role in the future, it's preparing these remarkable people to help shape it for everyone's good."