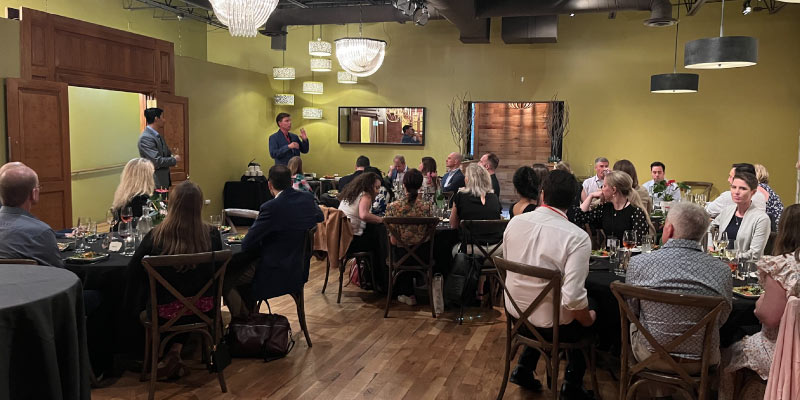 In Kyle Tanger's playbook, the best defense is a good offense. You read that right: instead of blocking problems, start by … well … not having those problems in the first place. This might not work for the Badgers' starting line, but it sure does for corporate sustainability, which has quickly become a top priority for companies. An expert in this space, Tanger helps companies see that big plays score big returns. For about 12 years, the Nelson Institute alumnus has been a U.S. sustainability consulting leader for global consulting powerhouse Deloitte. His job isn't just helping companies adopt more sustainable practices — though that's certainly part of it — but to sell sustainability through a language that businesses understand: profit.
As Tanger explains it, the average cost of emitting one ton of greenhouse gasses into the atmosphere is about $173. "That is the cost of electricity, or the cost of diesel fuel for their trucks, or refrigerants that leak from their freezer cases, or whatever it might be," he outlines. So, if a company were to cut back 1,000 tons of carbon emissions, they'd be looking at $173,000 of cost savings. Sold? So was Walmart, who Tanger started working with in 2006. "Their ambition is to remove a billion tons of emissions from their supply chain. That means 173 billion dollars of costs, prospectively," Tanger says. They coined it Project Gigaton™, which launched in 2017 with an end-date goal of 2030. They're already most of the way there. "Those are the kinds of impacts that are really exciting: when people very deliberately marry the environmental impacts to business impacts. It gets things done quicker."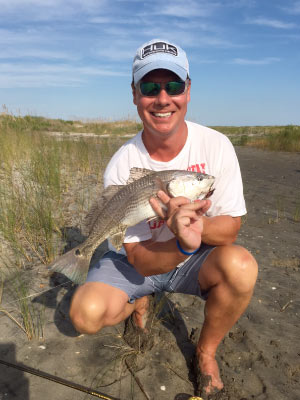 Beyond Walmart, Tanger's client portfolio is as impressive as it is varied. He's worked with food and agriculture companies like Cargill and Tyson, location-based operations like Disney World, and film studios that are looking to clean up their production practices. He's even strengthened his funny bone, helping to write sustainability-related content for Family Guy and the Simpsons Movie. "That was wild, Tanger reflects, "to think that somebody's going to pay you to write about sustainability into movies."
To get companies on board, Tanger's team starts with the business case: this project will lead to X amount in savings or new revenues. It's a crucial starting play, because sustainability projects often require multiple business units who mightn't typically interact or work together. "Sustainability projects are often very cross-functional within a company," Tanger explains. "Having a really strong business case to start is critical to get everybody on the same page [and] get everybody's buy-in."
"We're finally turning sustainability from a defensive strategy into an offensive strategy."
— Kyle Tanger
From there, his team pairs their scientific backgrounds — environmental science, atmospheric chemistry, soil science engineering — with market analyses to ask questions and look for efficiencies. The biggest clue in the hunt for problems? Carbon. "What we find is that carbon … is an incredible proxy for operating efficiency because it occurs in so many different ways. It comes from equipment that leaks, it comes from inefficiencies, it comes from using too much fertilizer," he says. "It's just a great proxy for finding overall operating efficiencies."
Let's say, for example, that Tanger is working with a popular, nationwide restaurant chain that specializes in hamburgers. To find the full carbon impact of one to-go order, Tanger traces it back to the source: beef cattle. "We'll look at all the different things that can happen through that cow's life cycle and how you can influence its feed, grazing practices, waste management practices, even looking at the weight that animals are grown to before they're harvested," he says. "You get a chance to look at every aspect of that life cycle and ask, what could be different? What would it take for something to be different?"
After leading with the potential savings, pinpointing specific efficiencies to tackle, it's time for the next hurdle: literal buy-in. "We have a climate-smart option for you. Are you interested in buying it?" Tanger will ask. "The answer so far has been, 'We're very interested in buying it. We'll pay a premium to buy it.' And that premium is paying for all of these sustainability practices — and it's giving us enough money that we can go back and do the next tier of sustainability practices and reinvest." As the saying goes, it takes money to make money. In this case, it takes money to make both money and a difference. Tanger's own suspicion is that if the aforementioned burger joint increased their menu prices by 10 percent ("Which is a small fraction of what we have experienced with recent inflation, by the way," Tanger points outs), they could cut their carbon footprint in half.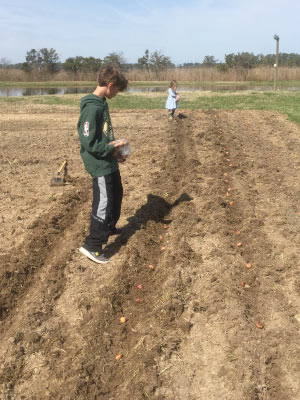 When it comes to corporate sustainability, it's not just increasing a company's bottom line. This is where Tanger's offensive strategy comes in: in recent years, operating sustainably has become critical for brand image and recruitment. These are the initiatives that Tanger considers the "broader calculus" of a company's sustainability practices. "How does this impact the company's brand? How does this impact the perception that company has in terms of their ability to recruit and retain top talent?" he asks. "It's so much fun because we're finally turning sustainability from a defensive strategy into an offensive strategy."
If Tanger's strategy has you ready to sign on the dotted line, you may be surprised to learn that, while a student at UW–Madison, he didn't earn his degree in marketing or sales. "I started in business thinking that's what I needed to do to get a job. I just found myself loving all of my science classes instead." Instead of business, he majored in zoology and biological aspects of conservation, bolstered by an environmental studies certificate in the Nelson Institute. "The [Nelson] program did such a good job of being deliberately varied in the coursework that was required of you," Tanger reflects. "What all of that created, if I look back at it, is it made you a critical thinker and somebody who really examines a challenge and evaluates it."
And it turned out that he didn't need a business degree to get a job; when he graduated, he got an exciting offer from the Wisconsin Department of Natural Resources … with a less exciting salary. "I had been applying for graduate school at the same time and decided, 'Well, why not continue this path and get even more of an education in it so I can hopefully be more effective?' " He went on to earn a master's of public administration in environmental policy and a master's of science in environmental science from Indiana University in Bloomington. 
Now, more than two decades into a career in sustainability and the environment, Tanger reflects on that initial job offer. For him, it's not a bad thing — it shows just how far careers in the environment have come. "A lot of us back in that day would've taken that and said, 'Well, that's just doing environmental work. It's low paying, but at least I like what I do.' Now you can become wealthy by doing what you do. And I think that's awesome," Tanger says. "There's a lot of people that made a ton of money polluting the earth. Why shouldn't we get paid even more for fixing it?"
Kyle Tanger is one of six Nelson Institute alumni award winners. Their stories are featured throughout the Commons magazine and online.