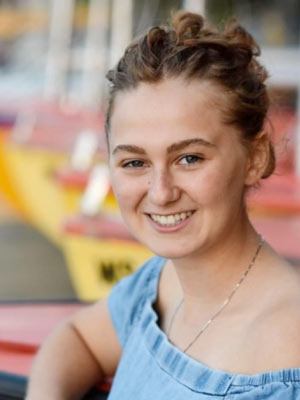 As a rower for the University of Wisconsin-Madison's women's rowing team, undergraduate student Alexandra Bogner spends a lot of time on Madison's lakes. "I've rowed on both Lake Mendota and Lake Monona and have been able to see the ecological challenges that they face and the cultural impact the lakes have on our society," said Bogner.
From Middleton, Wis., Bogner began rowing in high school and chose to continue her sport into college on the lakes she had already spent countless hours on. Her interest in the outdoors and nature led her to the environmental studies major which she has paired with psychology.
"I came into college with a ton of credits and knew I was probably going to do psychology and environmental studies no matter what," said Bogner. She then added another major in agriculture and applied economics after a friend recommended the area of study along with certificates in public policy and leadership. "It was a pretty natural fit," she said.
Bogner said her two other majors have given her a unique point of view on environmental studies. "It's been interesting because economics is a study of greater human behavior and habits, and psychology is more individualistic. I think both of those play a very interesting role in the perspective of environmental studies and vice versa."
For her environmental studies major, Bogner took Environmental Conservation with Professor of Geography Matt Turner. At the end of the class, students were instructed to write a 15-page research paper. "I had never written something that long before," said Bogner. "I ended up writing it about the Clean Lakes Alliance and why it was an effective non-profit agency and how it promotes cultural change."
Clean Lakes Alliance is a local non-profit organization that is dedicated to the safeguarding of waterways in the Yahara River Watershed through community awareness and fundraising.
While talking with a neighbor of hers who was on the Clean Lakes Alliance board, Bogner mentioned the research paper she was writing for her Environmental Conservation class. "She asked if she could read it once I was done, so I ended up sending it to her and she forwarded it to the founder of the Clean Lakes Alliance," said Bogner.
After meeting with James Tye, the founder of Clean Lakes Alliance, Bogner was offered an internship with the non-profit and jumped at the opportunity. "I was brought on as a clinical consultant and I developed a youth education project called Billie the Bluegill," said Bogner.
Billie the Bluegill is a fictional character that "lives" in Lake Mendota and helps "guide students, parents, and teachers through lessons that focus on math, reading/writing, and science." Modules are aimed toward third, fourth, and fifth grade students with subjects focused on the water cycle, leaves and lakes, and how agriculture affects waterways.
Following completion of her internship, Bogner was offered a formal position where she works on a variety of projects and helps with annual campaigns, fundraising, and letter writing. "We're even trying to set up a volunteer day with the rowing team to clean up Lakeshore Path," said Bogner. "It's really fun to have things intersect so much."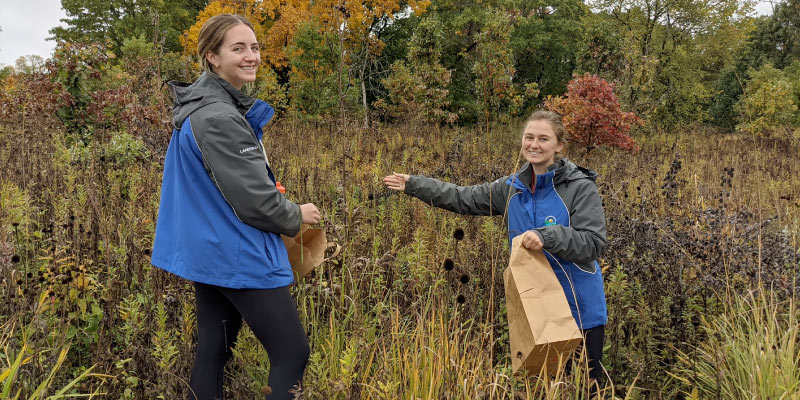 Once Bogner graduates in the spring of 2023, she plans to attend law school. "I think law school will help provide a really interesting perspective on how to run a nonprofit and give insight into lobbying for environmental protections," said Bogner.
Learn more about the environmental studies major and how you can support the program.