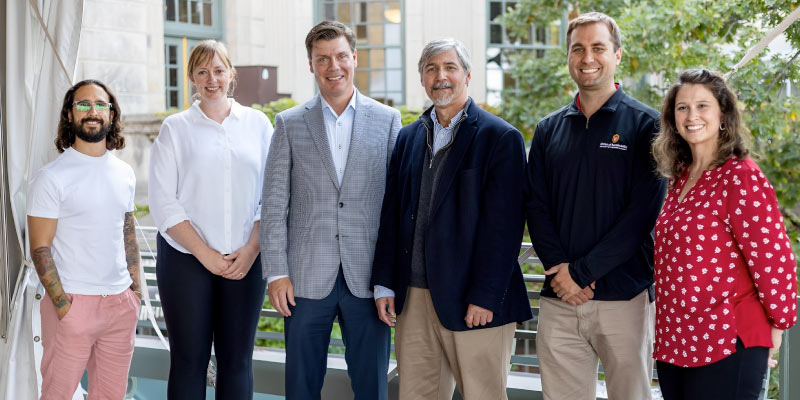 The sun sets over Lake Mendota as a buzz of chatter can be heard from Nelson Institute faculty, alumni, and students attending the 2023 Rendezvous on the Terrace celebration. Unlike recent Rendezvous celebrations, this one marked a special milestone: the 10th anniversary of the Nelson Institute's environmental professional programs!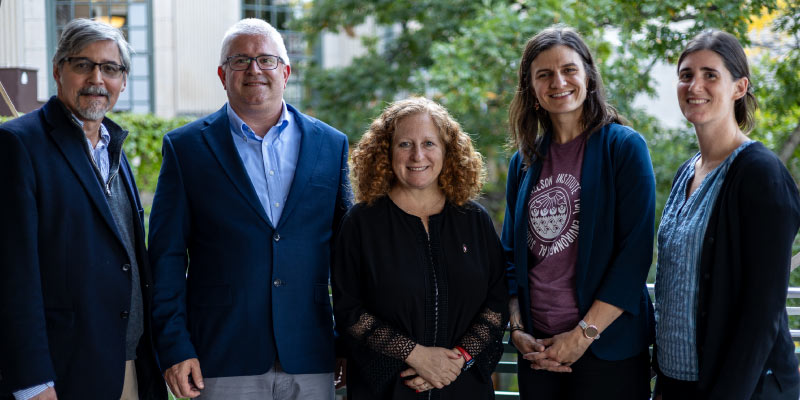 This year's Rendezvous event began on Thursday, September 28 with a Weston Roundtable lecture led by Lilian Pintea, Vice President of Conservation Science at the Jane Goodall Institute. Later that evening was the EnviroPros@10 Reunion, where alumni of the Nelson Institute's environmental professional programs were invited to catch up and reconnect with former classmates. The Rendezvous activities were continued on Friday, starting with three different EnviroPros@10 Panel Discussions: Natural Climate Solutions, Diverse People and Places, and Conservation Trends and Technology, which were all led by a variety of Nelson Institute alumni.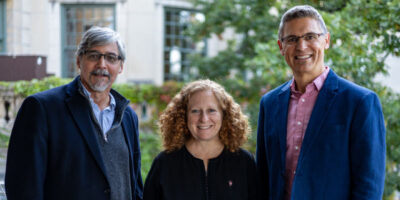 On Friday evening, faculty, alumni, and students of the Nelson Institute gathered at Memorial Union's Tripp Hall to honor the Nelson Institute's 2023 award recipients. Chancellor Jennifer Mnookin kicked off the event by praising the Nelson Institute's remarkable notoriety in the world of environment and sustainability. She went on to recognize the work and accomplishments of "new-to-UW" professor Tim Portlock (who has a dual appointment with the Nelson Institute and UW–Madison's Art Department), Civil and Environmental Engineering Professor — and newly named Reid A. Bryson Distinguished Professor — Paul Block, and Nelson Institute Associate Dean Steph Tai.
"We're the birthplace of environmental conservation, we're the place that showed the world how to bring swaths of land back to life and manage them properly… we're the birthplace of satellite technology, a pioneer in remote sensing and the use of data science to monitor the health of the environment… and, of course, we're the birthplace of the Wisconsin Idea."
– Chancellor Mnookin
Dean Paul Robbins initiated the award ceremony with Nathan Schulfer, environmental professional program director, who received the Inaugural Nelson Institute Outstanding Staff Accomplishment award. When presenting the award, Robbins applauded Schulfer for being "unfailingly committed to students and alumni." The awards continued with the announcement of the 2023 Alumni Award winners, which include both the Rising Star Alumni Awards and the Distinguished Alumni Awards. The 2023 recipients of the Nelson Institute Rising Star Alumni Awards are Francisco Santiago-Ávila, Travis Blomberg, and Cait Williamson. The Nelson Institute Distinguished Alumni Awards were given to Martha Goodell, Nicole Leotaud, and Kyle Tanger. Santiago-Ávila, Blomberg, Williamson, and Tanger, were all in attendance, and each gave brief speeches upon being recognized.
The awards capped off with the Reid A. Bryson Distinguished Professorship of Climate, People and Environment, which was presented to Civil and Environmental Engineering Professor Paul Block. Block made a few remarks about the award after jokingly advising the audience to "get comfortable." The celebration wrapped up with photos, conversation, and congratulations among attendees, and a celebration of the Nelson Institute's phenomenal team of faculty, affiliates, students, and staff. Perhaps best summed up by Chancellor Mnookin in her opening remarks, "We're the birthplace of environmental conservation, we're the place that showed the world how to bring swaths of land back to life and manage them properly… we're the birthplace of the Wisconsin Idea."