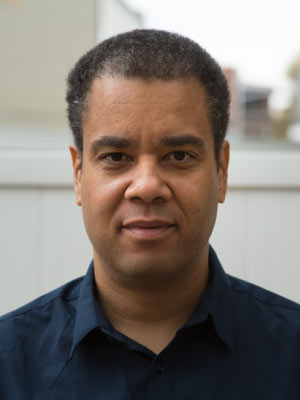 What links the environment and art? What medium is the most effective to inspire people to act? What does it mean for art to be accessible? These are some of the questions posed by Tim Portlock, a new professor in the Nelson Institute for Environmental Studies. Hired jointly between the Nelson Institute and the Art Department in the School of Education, Portlock comes to campus from the Sam Fox School of Design and Visual Arts at Washington University in Saint Louis, where he served as the chair of the undergraduate art program. He brings with him a world-renowned background as both an educator and an artist, having worked at l'Université Paris-Sorbonne and shown his work in galleries across the world.
"From a really young age I've always wanted to be an artist. I don't think there was really a time when I seriously thought of being anything else," Portlock says. He completed most of his formal training as a painter before shifting into digital art with the advent of the internet. Part of what drew him to digital art was the inherent accessibility of it: "Today we take it for granted, but when the internet became popularly accessible, it enabled people to access art from nearly anywhere in the world. You didn't have to physically be somewhere, and you didn't have to be part of an elite audience with special access," he says.
When it comes to the accessibility of his work, Portlock isn't talking just sheer numbers of viewers, he wants his art to be conceptually accessible, too. "I think ideas in contemporary art are frequently encoded in such a way that is difficult for the average person to relate to … but if I have ideas that I think are important, I want to share them with the broadest public," he says. "Oftentimes, thinking like this is contradictory to making good or thoughtful work. I try to do both things: make engaging work that appeals to people and gets them to consider serious issues."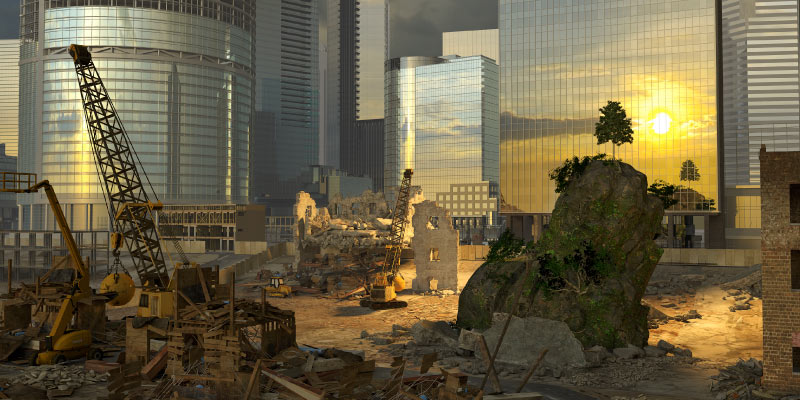 But as he explored the world of accessible, digital art, Portlock began to miss certain aspects of the "traditional" art world and his background in painting. "Digital image making is much more collage oriented. You can create original elements, you can incorporate pre-existing elements someone else has made, synthesize those things together, and then you can make an infinite number of multiples that are exactly the same," he says, compared to the "uniqueness" of painting where you create something brand new. "I started to synthesize things from the well-established history of art [with] things that were possible from this new medium of digital," he says. The results are painterly, digital compositions that combine imagined and real spaces — the latter often inspired by his previous home in Philadelphia.
Portlock's digital collages ask viewers to consider how contradictory environments overlap in both space and time. In "Nickels from Heaven," for example, we see a city that is both modern and aged, rising and crumbling. If work like this makes you wonder whether environmental art is supposed to simply raise questions versus inspire action, so is Portlock. More and more of today's art is focusing on the environment, Portlock explains, and investigating both the reasons why — and the effectiveness of art as a medium to talk about the environment —is why he came to the Nelson Institute. "Is this piece meant to ignite concern about the environment? Is this piece meant to treat the environment as more of a philosophical concern? What is the point of bringing up the environment?" Portlock ponders. "I'm interested in examining what that means in a more rigorous way and contributing to a vocabulary for discussing what it means when an artist talks about the environment and their work."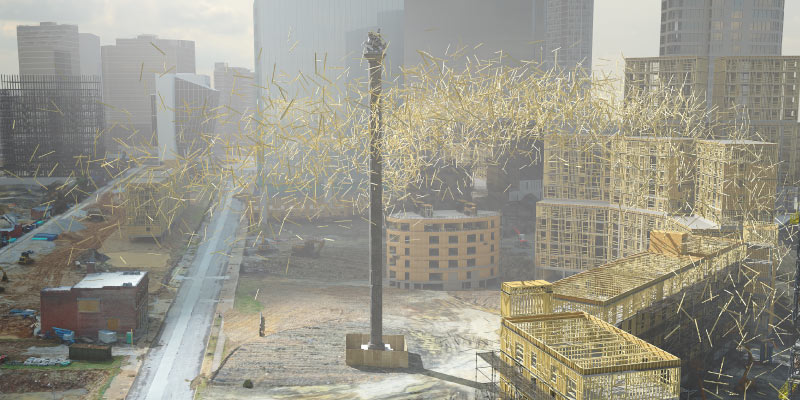 In the spring semester, Nelson Institute students will have the opportunity to explore these questions alongside Portlock through a new capstone class centered around art and the environment. The class will also explore how different artistic mediums can shape the work's message — and ultimately, the desired outcome for the audience. "Let's say you want to motivate people to take concrete steps. What is the most effective way of doing that? Through culture, like art? Is visual art the best cultural tradition to address these [issues]? Is film better? Are video games better?" he asks.
"There are a lot of different ways to communicate with people and convey urgency or knowledge. Science communication is one way, and culture is another," he adds. "It can illuminate our present in a more visceral way for some people."