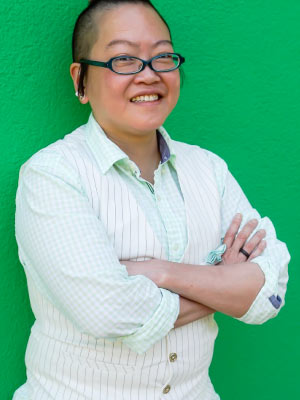 At the end of the spring semester, the Nelson Institute welcomed the newest member of the senior leadership team: Steph Tai, professor of law, who joined the institute as its associate dean for education and faculty affairs.
Tai steps into the role not just with an appreciation for the institute's emphasis on interdisciplinarity, but a background that's steeped in it. After studying chemistry and literature as an undergraduate at Massachusetts Institute of Technology, they went on to earn a PhD in chemistry from Tufts University where they studied the global warming potentials of different refrigerants. "During that time, I got more interested in science policy because I was concerned that people weren't actually listening to scientists," Tai says, so they decided to go to law school to pursue a career in science-based environmental advocacy. After earning their JD from Georgetown University, Tai spent some time in the governmental sector working for the U.S. Department of Justice's environment and natural resources division. Hoping to make even more of a difference, they shifted into academia — and a position at University of Wisconsin Law School where they've been since 2006.
With a background in environmental law, Tai immediately became a Nelson Institute faculty affiliate. Many of their classes are frequented by Nelson students: Tai regularly teaches courses on environmental and natural resources law, as well as a law and the environment class related to food systems. "I think students in general are more engaged than ever in terms of caring about both the environment in general and climate in particular," Tai says. "I've seen much more engagement both in law students, but also among grad students and undergrads than I have in a long time."
With their new Nelson Institute appointment, Tai will maintain a half-time teaching appointment at the Law School and shift the other half of their time to the Nelson Institute. The role of associate dean, as Tai explains, involves two key components: administrative and leadership. On the administrative side they'll help Nelson staff members with tasks like staffing teaching assistants, shepherding promotions, and overseeing annual reviews.
From a leadership lens, Tai will work closely with Dean Paul Robbins to help take the Nelson Institute to the next level. "I would love to expand the national profile of Nelson," Tai says, particularly looking at increasing the visibility of faculty and students in the national media. Tai themself used to be apprehensive about participating in media interviews but has grown more comfortable after years of practice. "I think I can take that [experience] and cheerlead others into doing it," they say. "We're in a climate emergency right now, and it's really important to get voices coming from scientists, social scientists, and humanists out there to advocate for the importance of caring for the environment."
Tai's other big-picture goal is to create an even stronger community and ideas-sharing network within the Nelson Institute. "Nelson has a small group of core faculty, and around 200 affiliates … but a lot of people don't know what each other are doing, and don't know that they might have overlaps," they say. "I'd like to try to do more matchmaking between faculty and between grad students from different groups." 
For Tai, the world of academia has never been solely about teaching, but also about service. Since arriving on campus, they've served on more than 20 committees, working groups, and councils, including the Nelson Institute admissions committee, the Graduate School Academic Planning Council, and the UW System Sustainability Waste and Procurement Working Group. "This is where my lawyer part comes in. I [also teach] administrative law, which is law regarding agencies and bureaucracy and all the processes that they have to follow. What that means, though, is that I love bureaucracy!" Tai laughs. "It's fun in this role that I get to learn even more about the weird eccentricities of the UW and how all the pieces fit together — and how to make those pieces work for Nelson."