During the 2020-21 school year, students from the one-year Wisconsin School of Business' Arts and Creative Enterprise Leadership program executed a meaningful consulting capstone project with the City of Wisconsin Rapids. In partnership with UniverCity Year (UCY), students collaborated to help develop a framework to help the city enhance cultural initiatives.
Six students worked together with the goal of supporting and elevating cultures within the Wisconsin Rapids community. The focus of the project is summarized by its title, "Celebrating Culture Summaries and Recommendations for Future Cultural Engagements in Wisconsin Rapids."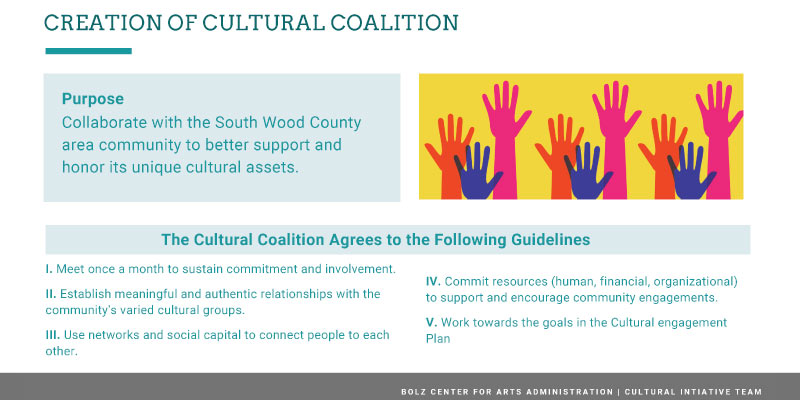 Student Leah Kolb reflected on her experience working on the project, "Our goal was to figure out how arts and culture could be mobilized to center the voices and experiences of underrepresented communities in Wisconsin Rapids."
The project corresponded to a core-curriculum class in the program titled "Impact Consulting for Arts-based Organizations and Communities." The class modality is split between classroom learning and a leadership project. Students learned the fundamentals of consulting practices while working closely with an organization.
"The course focused on how to empower the organization or group that you are working with to take ownership of and implement the steps needed to effectuate change," said Kolb.
Tori Seaver, another student working on the project, explained the structure of their semester.
"In the fall, we focused on building connections and having initial conversations with stakeholders in Wisconsin Rapids," said Seaver. "The spring semester focused on the project itself, meeting with stakeholders weekly to develop and execute our plans."
Students and community stakeholders devised a plan to analyze cultural wants and needs within the Wisconsin Rapids community via surveys and focus groups, which included individuals and local organizations. This data helped them to develop recommendations centered around three priority areas: community connections and outreach, public education and youth engagement, and civic engagement and leadership development.
Based off survey data, project members found an overwhelming preference for a sustained initiative within the community.
"The community didn't just want a one-off event for a specific cultural group," said Kolb. "The data made it clear that the people of Wisconsin Rapids are interested in sustained engagement and have a desire for people of different cultures to share their experiences."
Project members suggested the creation of a cultural coalition made up of local government officials and community leaders. Coalition members are representative of the cultural communities within Wisconsin Rapids and focus on continuing cultural engagement within the community.
Executive Coordinator to the Mayor and coalition member, Emily Kent, worked closely with the students to execute the project.
"We want to make sure anyone and everyone feels welcome here and the report the students created sparked a lot of meaningful work," said Kent. "This coalition would not have happened without the students work.
I saw the students learning from a different community than their own and saw how they were able to adjust their expectations and appropriately address our needs. It was great to learn from them and have their voice and experiences guide and teach us here in Wisconsin Rapids." Kent reflected.
"Being a part of the Hmong community, I was excited to hear about the students coming here to work with us and make change somewhere meaningful to me."
–Pa Khang
Coalition member and Community Benefits Coordinator at Marshfield Clinic Health Systems Pa Yiar Khang grew up in Wisconsin Rapids and is excited to see cultural progress in her hometown community.
"Being a part of the Hmong community, I was excited to hear about the students coming here to work with us and make change somewhere meaningful to me." Khang said. "It's been so great to work with the coalition and better the Wisconsin Rapids community."
Although the students' work has come to an end with the project, Wisconsin Rapids continues to use their findings to instill cultural initiatives through the coalition within their community.
Learn more about the UniverCity Year and Wisconsin Rapids projects here.