The City of Wisconsin Rapids recently underwent an assessment of branding, marketing, economic development, and the arts through a partnership with UniverCity Year and the Wisconsin School of Business' Arts and Creative Enterprise Leadership program course, Management and Human Resources 746/747: Impact Consulting for Arts-Based Organizations and Communities.
Designing a City of Wisconsin Rapids Arts Collaborative Initiative is one of the projects that resulted from this partnership where six students worked with community members in Wisconsin Rapids to enhance art and culture opportunities. At the end of the class, a report was produced that outlined the importance of collaboration, data on Wisconsin Rapids, and three recommendations for the city to implement.
"We all wanted to work together to figure out how to increase patronage to arts offerings and make more community members aware of their opportunities."
–Tim Young
As a part of the project, students worked with community leaders and polled the population to learn what was needed and how to effectively implement strategies to improve arts collaboration. "There were already some goals established and some that we got to come up with brand new," said Jessica Jane Witham, one of the students who worked on the project for the Management and Human Resources 746/747 class. "We were given a lot of information and told which direction to point." The rest was up to the students.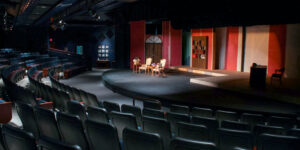 The students divided their research based on their own interests and examined demographics, current arts organizations, the local industry, and customer analytics of the Wisconsin Rapids community. "We put the definition of collaboration in the project to really reinforce why this is important, how it manifests, and what makes a successful collaboration," said Witham. "We wanted to emphasize that all different organizations and non-profits can benefit from working together.
Executive Director of the Wisconsin Rapids Community Theater, Tim Young said he was very excited to work with the students and other community organizations to develop a plan for collaboration. "We all wanted to work together to figure out how to increase patronage to arts offerings and make more community members aware of their opportunities," said Young. He hopes that this report will help Wisconsin Rapids develop a stronger arts community and ultimately higher attendances at Community Theater shows.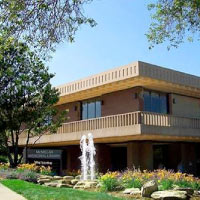 "We got involved with the UniverCity project because we felt as though this was a community need," said Andy Barnett, Wisconsin Rapids McMillan Library Director. The McMillan Library is fighting to come back after having to close its doors due to the COVID-19 pandemic and some recent renovations that took place over the summer.
"We're focused on being an outward facing library, so we're very interested in being an active place in the community," said Barnett. "That's why we have a coffee house, a theater, and meeting rooms. We want people to come here, to hang out here and see their friends. We are one of the areas that are trying to build a community."
Wisconsin Rapids, like many small communities, is challenged by a lack of local media sources. The Wisconsin Rapids Tribune primarily includes content from the larger regional cities of Marshfield, Stevens Point, and Wausau. "You can't find out what's happening at the library, or the Boy's and Girl's Club, or the YMCA," said Barnett. "When you have a lack of local information, it's hard to build a sense of community." One positive on this front is The River City Times, a weekly publication that has expanded from a buyer's guide to include more content. "They are our active partners," added Barnett.
The Arts Collaborative Initiative project created three different strategies designed to increase participation: a marketing collaboration between arts communities, a shared administrative/marketing position, and/or the creation of an arts network, all of which come with advantages and disadvantages that the report also lists.
Implementing the recommendations has been rough going as the city recovers from the COVID-19 pandemic, the library's construction wraps up, and a new mayor settles into office. "On our end we need to start meeting and working together to implement the project," said Barnett. "But I'm pleased with the project. They all did a good job, they listened, and they gave us a blueprint to work from."
"This report gives us fact-based findings to be able to work with one another and develop strategies that will benefit us all," added Young. "I do believe that the recommendations made will still be relevant by the time things get back to normal."
Learn more about the UniverCity Year and Wisconsin Rapids projects here.