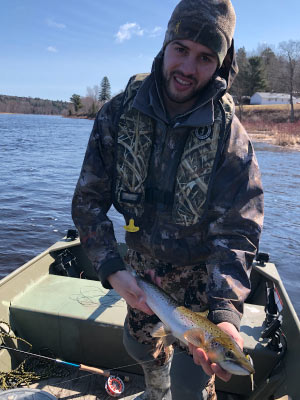 It was hard to keep Nelson Institute environmental observation informatics (EOI) MS grad Alex Ramos away from his hometown of Fredericton, New Brunswick, Canada when the opportunity to turn his passion into a full-time career came knocking.
Ramos currently works at Remsoft, an optimization software provider based in Fredericton, as a client manager for Northern America. The company focuses on software for forestry, infrastructure, and vegetation management. Ramos works on the sales team, where his role is to communicate with people all over the world ranging from forest industry companies to investment firms who have a stake in the environmental sector. Ramos looks to help these institutions work through optimization.
In early high school, Ramos knew that he wanted to pursue work in forestry and the environment. He grew up on a farm in New Brunswick working on his family's woodland property — hunting, fishing, and appreciating the outdoors. For him to pursue these passions, though, Ramos needed to transition to English speaking institutions. Ramos grew up in a francophone family and attended primarily French institutions. The transition took dedication to improving his English and making a slight cultural transition, but Ramos believes it was more than worth it.
"Though my job isn't as analytical as the work that I did in the EOI program, you find some interesting similarities in terms of AI, machine learning, and the programming we used at the Nelson Institute" Ramos said.
Ramos began the EOI program virtually in May of 2020 after graduating from the University of New Brunswick with a degree in forestry. After the last three months of his undergraduate transitioning to a virtual format, Ramos was not only comfortable with virtual learning, but learned to embrace it.
"Virtual learning allowed me to connect with people all over the world" he said. "My peers in the EOI program were located in different regions so it allowed me to communicate and work with people around the globe with vastly different backgrounds."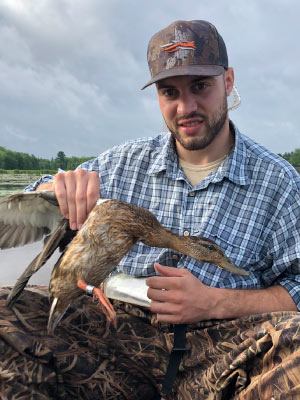 "We'd go from working with Indigenous land groups in northern Wisconsin one week to speaking with people located in Africa the next week" Ramos reflected. "I'm not sure we'd have that capability to communicate with thar range of people and expertise had things not shifted remote."
Ramos was particularly drawn to his remote sensing class with Assistant Professor Mutlu Ozdogon due to the vast number of tools he learned how to use. Though this class, Ramos was exposed to tools such as Python, Java, and R studio.
"Learning how to use these tools has provided me with a core understanding of using data in a way that is transferable across many disciplines."
Over the past year and a half working with Remsoft, Ramos has mixed his technical and analytical learning in the EOI program with business and his passion for forestry at Remsoft.
"I think there's a lot to learn from this opportunity with Remsoft" Ramos said. "Obviously my background is in forestry and remote sensing, but this sales aspect is new and interesting to me, and I want to use it to grow my knowledge of how I can help people and the environment."
Learn more about the environmental observation and informatics MS and how you can support the program.