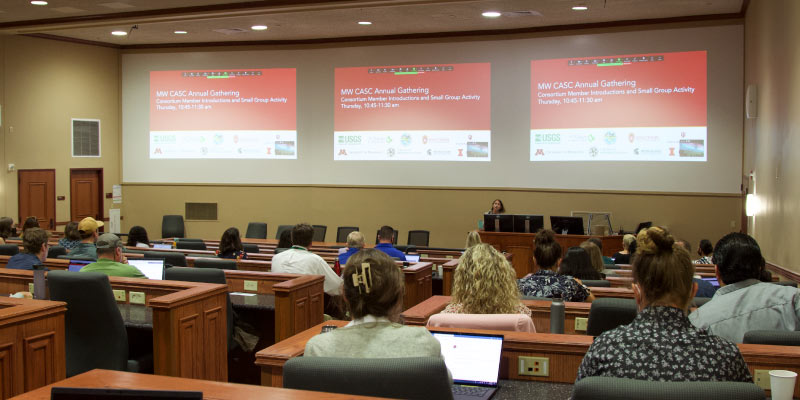 On August 26–27, 2022, the University of Wisconsin–Madison hosted the first annual gathering of the USGS Midwest Climate Adaption Science Center (MWCASC) where over 90 individuals from across the Midwest met to share research, discuss management priorities, and provide training and professional development for students and post-docs. 
"The Midwest CASC is important for the Midwest because it brings together scientists and natural resource managers to share ideas and practices that will help our region adapt to climate change," said Dan Vimont, director of the Nelson Institute's Center for Climatic Research. "I'm very excited that the first annual gathering was hosted by UW–Madison. It was a great way to show off some of the incredible research and partnerships that are such an important part of our university mission."
Held at the Mechanical Engineering Building, the gathering featured speakers, panels, small-group activities, field trips, and networking. These presentations and activities included a focus on the critical role that Indigenous perspectives play in Midwest climate adaptation, focusing on current research on the climate impacts to Manoomin (wild rice) and to wildlife management, as well as panel discussions that focused on Indigenous priorities for adaptation, and challenges and opportunities for adaptation for Indigenous communities. 
The afternoon allowed for a chance to explore the natural beauty of the UW campus from an immersive hike through the Picnic Point woods, to a morning 5k run through campus, to a relaxing evening at the Memorial Union Terrace. "We have an incredible history of ecological and climate research here at the Nelson Institute and at UW–Madison, and it was fun to celebrate that with friends and colleagues from around the Midwest," Vimont said.