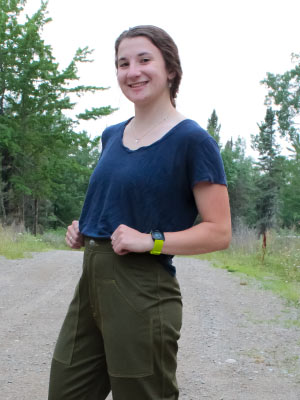 Helping to create a more sustainable fashion industry is a goal of Nelson Institute undergraduate student Grace Klein. A textile and fashion design and environmental studies major who is planning to graduate in spring of 2021, Klein is confident that her education and experiences will allow her to change the environmental impact of the fasion industry for the better.  
In preparation, Klein spent her summer at Wintergreen Nothern Wear, a small-scale family-owned outdoor wear company where she worked in the sewing studio to piece together garments. The company is unique, as all the clothing production is done on site, including design, cutting, sewing, and retail. Her experience working for this small business gave her insight into what ethical clothing production looks like in practice.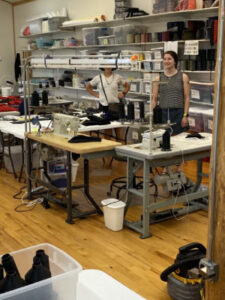 Noting the many environmental complications that stem from mass clothing production, Klein reflects on the importance of sustainable design. She believes that implementing better design and production practices could drastically decrease textile waste and pollution.  
"The fashion industry does not design (garments) with recycling or sustainability in mind. It is almost always an afterthought, oftentimes once it's too late and gets thrown out," she said.  
Toxic chemicals in dyes, large amounts of water waste, and the mass production of low-quality garments called 'fast fashion' are just a few examples of other major flaws clouding the industry.
Klein remarked that despite her strong love for sewing and knack for design, she was hesitant to pursue a career in an industry that harms the environment. 
"I knew the fashion industry was a terrible source of pollution and carbon emissions, so at first I wanted to stay away from it," Klein said. "I didn't want to be someone who's continuing to pump more product and pollution into this world,"  
Klein began sewing at a young age, first making clothing for her dolls and later making her own prom dresses in high school. Now, she sews and dyes functional clothing for herself and to experiment with ideas. She enjoys creating, as it offers her an outlet to exercise her problem-solving skills and implement functional design elements.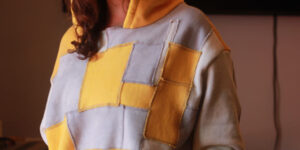 Lucky, hesitation about pursuing her passion quickly dissipated as she learned more about implementing sustainability into the fashion industry. The classes she took at both the Nelson Institute and for her fashion and textile design major helped push her into the sustainable fashion world
"I learned more about the (fashion) industry and ways I can help change it through my classes. That's how I started really getting into the sustainability side of things and ended up pairing my fashion and textile design major with environmental studies as well," Klein said. 
Her time in the environmental studies program opened her eyes to the many ways sustainability can be applied to her interests and Klein says she loved being able to apply her work to hands-on projects.
Klein shared, "I originally thought my environmental and sustainability studies would be a side piece to fashion, but now they are equally important to me."
Among the many influential classes she took, the capstone course for environmental studies left a lasting impact on what design and sustainability mean to her.
The course includes a final project, which allowed her to work with the Village of Waunakee to design cultural installations with efforts to promote community education and awareness about the Ho Chunk Nation.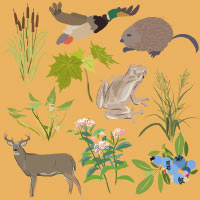 "I learned so much about indigenous cultural awareness, history, and land acknowledgement," said Klein. "It felt really great and worthwhile to use my design skills for an impactful project."
Now, Klein continues to make pieces as she completes her last year at the University of Wisconsin-Madison. Klein describes her current focus as making functional and durable pieces that are often inspired by the earth and nature.
"I care a lot about functionality, wearability, and longevity. Obviously artful design and aesthetic is important too, but I really focus on the functionality part because I want the pieces I make to be useable. I'm more on the practical side of fashion, but I still want it to look cool at least" she joked.
Klein can see herself working at a small business such as Wintergreen long-term. She highly values small businesses and buying locally, as she feels it better serves the community and environment. Even with these values, though, she doesn't feel like starting her own business in the future is needed. 
"I personally do not feel like I need to start my own company," she explained. "There are plenty of fantastic companies in the world that just need to revisit the way they structure their business and focus more on their environmental impact. I think I could help do that."  
Learn more about the Environmental Studies program and how you can support the Nelson Institute