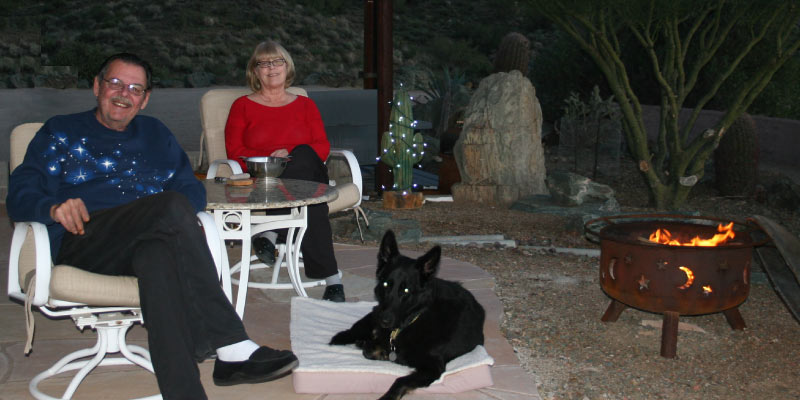 The Nelson Institute for Environmental Studies is honored to announce the newly established Sandi and Dan Heim Environmental Studies Scholarship, an estate gift that will annually support one future undergraduate Environmental Studies student.
This scholarship is made possible by a generous gift from Sandi and Dan Heim, both of whom are graduates of University of Wisconsin System schools, Green Bay and Madison respectively. Sandi Heim, a graduate of the University of Wisconsin-Madison School of Human Ecology, is particularly proud to support her alma mater and the interdisciplinary education that is at the core of the Nelson Institute mission.
"My degree at the UW was in home economics education and what drew me to that degree was the fact that it was the first interdisciplinary degree I was introduced to," Heim said. "I have a double-major in home economics education and science. That was the nature of that degree and it's very similar to the Nelson Institute in that you take all different disciplines and apply it to improving quality of life. I think that interdisciplinary education is what ensured my success."
In addition to supporting the interdisciplinary work at the Nelson Institute, Heim is also excited to be supporting students working on environmental challenges. Heim and her husband, Dan have long been supporters of environmental conservation efforts and actually moved from Wisconsin to Arizona to build a solar home.
"I taught for four years and that's where I met my husband," Heim shared. "I celebrated the first Earth Day back in 1970, but when I met Dan I got exposed to additional things. He had a real passion for solar and had this idea that he wanted to build a solar home, so we moved to Arizona."
After moving to Arizona to build their solar home, Heim started a new job in the insurance industry as her teaching license did not transfer. Although this career transition was a challenge at first, Heim quickly learned the ropes and became a leader in the industry. She credits her education and experience at UW-Madison for her ability to change careers fairly seamlessly.
"The most life changing thing I ever did was come to Madison. My whole experience at UW of working with people from different fields was probably the best preparation for me to have success later in life." Heim said. "I was exposed to so much more diversity. I just embraced it all. And so, I think that is one of the best things that ever happened to me is learning that people are different, but it doesn't make someone different good or bad. It really paved the way for me to do great things."
Now, Heim is hoping to support others as they embark on their journey at UW-Madison.
"The reason I'm giving back is because my education did so much for me," Heim said. "I don't think I could have ever dreamed of the success that I've had, so I just really credit that opportunity that I had at UW. The way I look at it is, no one owes me anything, but everyone deserves an opportunity. I just wanted an opportunity and I want to give that opportunity to someone else who has a passion around making a difference."
Heim believes that the scholarship recipients will make a difference for the environment and use this opportunity to create a real change in the world.
"I donated to the Nelson Institute because they believe in everything I believe in," Heim said. "They've positioned themselves to actually make a change. The ideas only go so far, but these students will be able to execute the ideas. I have confidence in the Nelson Institute because of their past record, but also because of the approach they're taking. They bring all of these points of view together to create change for the environment."