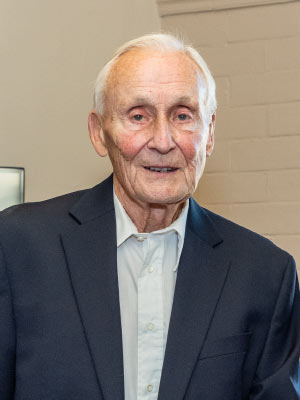 Lewis "Lew" Hanson, UW–Madison alumnus and devoted supporter of the Nelson Institute, passed away on November 23, 2022, at the age of 90. Alongside his multigenerational Badger family, Hanson helped pave the way for critical work in sustainability at the Nelson Institute through the Hanson Family Fund for Sustainability Research.
A born-and-raised Wisconsinite, Hanson graduated from Baraboo High School before earning both his bachelor's and MBA from UW–Madison. He followed his father's footsteps to the UW, continuing what went on to be a long line of Badgers. His sons, John and Jim, as well as his daughters-in-law, Bobbie and Nazli, all earned UW degrees, and one of Hanson's granddaughters, Gwen Kelley, just graduated from the College of Agricultural and Life Sciences.
Hanson's passion for the UW, combined with his family's interdisciplinary areas of study, led the family to house the Hanson Family Fund within Nelson. "The Nelson Institute was a good point for opening the fund to the entire university while ensuring that it supports sustainability efforts," said Jim Hanson in 2020 when the gift was finalized.
The Hanson Family Fund for Sustainability Research was established to support faculty and student sustainability-related research, as well as an annual sustainability-related public lecture. By creating an endowed gift, the Hanson family can support sustainability work in perpetuity, opening doors for future generations of Badgers. The family is proud to continue this legacy.
"The University of Wisconsin–Madison makes good use of their gifts," Lew Hanson said in 2021. "I think UW is one of the outstanding institutions of higher education that has generated a lot of giving, and they do a good job with it."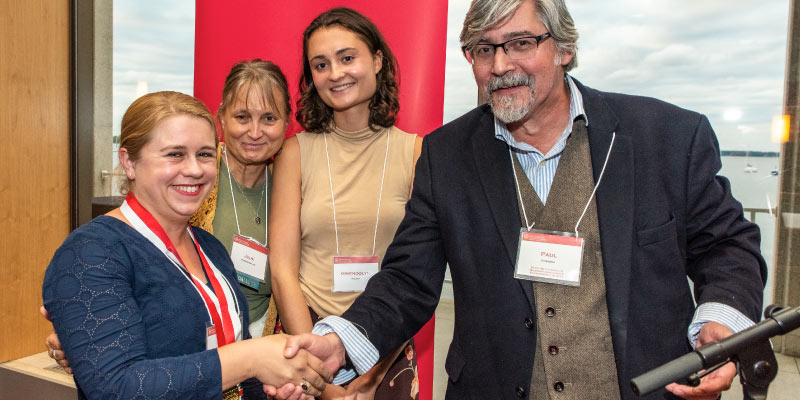 In 2021, the Hanson Family Fund created a faculty fellowship opportunity: the Hanson Family Fellowship in Sustainability, currently held by Andrea Hicks. Hicks is the director of sustainability education and research at the Office of Sustainability and a professor of civil and environmental engineering.
"I am grateful to be the inaugural Hanson Family Fellow in Sustainability," Hicks says. "The support from this fellowship allows me to do high-risk, high-reward sustainability research and teaching, which pushes the envelope of the field of sustainability and industrial ecology. The world needs new ideas and practices in sustainability now more than ever. Although I never met Lew Hanson in person, I am honored to have been able to attend his funeral. His family shared wonderful stories of him, and it was abundantly clear that he was well loved and will be missed."
In addition to his support of the university, Hanson was also a proud U.S. Air Force veteran and member of the American Legion, Peter Wollner Post #288. When he wasn't cheering on the Badgers at Camp Randall Stadium, he enjoyed biking, fishing, and treating his family to fun and exotic vacations.