The Nelson Institute for Environmental Studies is pleased to announce that Nelson Institute affiliate and assistant professor of Civil and Environmental Engineering Andrea Hicks has been named the inaugural Hanson Family Fellow in Sustainability. This fellowship is made possible thanks to a generous donation from the Lewis P. Hanson family through the Hanson Family Fund for Sustainability Research, a fund that supports faculty and student sustainability-related research as well as an annual sustainability-related public lecture.
"I'm tremendously grateful that we have this sustainability fellowship," said Hicks. "It's a really excellent way to recognize faculty who are doing sustainability work."
Hicks, who has a background in environmental engineering, works on a wide range of sustainability initiatives across campus. Recently named the interim director of Sustainability Education and Research for the Office of Sustainability, Hicks is tasked with enhancing sustainability-related research and education efforts across campus. Hicks also teaches several courses including 421 Environmental Sustainability Engineering, which is a community-based learning class where students work on community sustainability projects that are identified and shared as a part of the UniverCity Alliance, Univercity Year program. Community-based learning is a major focus for Hicks and her efforts in this area were recognized when she was awarded the 2020 University of Wisconsin Chancellor's Excellence in Community-Based Learning Teaching Award.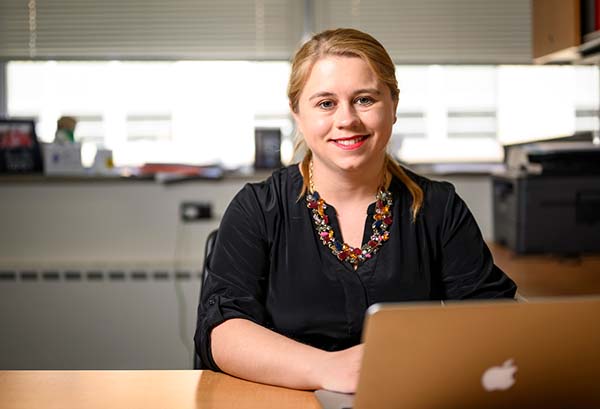 "Andrea is a terrific choice! As a faculty member, she brings expertise and experience to the Office of Sustainability," said Cathy Middlecamp, who retired as director of Sustainability Education and Research for the Office of Sustainability in January 2021. "Equally importantly, Andrea gets great reviews from the students who work with her and take her courses.  I am pleased to be among the many fans who are cheering in her direction."
In addition to her work with students, Hicks conducts her own research through her appointments with the Department of Civil and Environmental Engineering, the Nelson Institute for Environmental Studies, Geological Engineering, and Freshwater and Marine Sciences. Her current research explores the environmental impacts and sustainability implications of emerging technologies such as engineered nanomaterials, autonomous vehicles, and aquaponics. She looks at these technologies through the lens of the precautionary principle, which asks, is what we are about to do worse than what we've already done, or is it better? And, if it's worse, how do we fix it? And, if it's better, how much better is it?
Being named the Hanson Family Fellow in Sustainability will aid Hicks in all of her endeavors as it provides her with funding that supports everything from research to student engagement initiatives.
"This award helps in a couple of ways," shared Hicks. "I receive some summer salary support, which is incredible because I'm on a nine-month appointment and that gives me some extra time to think about sustainability. Plus, it's more time I can invest in my sustainability classes. The additional funding also allows me to apply to more high-risk, high-reward sustainability opportunities."
The Hanson family, who has had 12 individuals over four generations graduate from the University of Wisconsin-Madison, is thrilled to see their donation being utilized to further student and community engagement around sustainability efforts. Hanson Family Fund donor Lewis (Lew) P. Hanson of Cedarburg, Wis. along with his fellow donor and son, Jim Hanson, and his wife, Nazli Yesiller, were among several members of the Hanson family to attend UW-Madison.
"We are very pleased to hear that it's a woman professor that has been awarded this," said Jim Hanson. "It means a great deal to increase diversity in science and engineering and I'm very happy to see it aligned with the civil and environmental engineering department as that is my home department. I have two degrees from there, a BS and a PhD. Dr. Hicks is a most deserving recipient and we are pleased at her the selection."
Jim's niece and current UW-Madison student, Gwendolyn (Gwen) Kelley, shared that she is thrilled to see her family supporting sustainability work, particularly Hicks's work on community-based sustainability projects.
"As a student I really like to see how connected this is to the student body, including undergraduate and graduate students," said Kelley. "When I read about [Hicks's] work with community based learning it was great to see that students were able to take what they've learned and use it to benefit not only Dane County, but Wisconsin, which really fits into the Wisconsin Idea. Connecting with these students is super important because it will help with sustainability efforts later on."
Likewise, Lew Hanson is immensely proud to see his donation being used in a way that will not only further sustainability research, but also encourage students to become more involved in sustainability efforts.
"An important part of the fellowship is involving students and encouraging them to pursue sustainability," Lew said. "We want to say thanks to those who came up with this selection. The University of Wisconsin-Madison makes good use of their gifts. I think UW is one of the outstanding institutions of higher education that has generated a lot of giving and they do a good job with it."
Hicks and the Nelson Institute are thankful for the Hanson family's generous support and offer their thanks for supporting sustainability efforts on campus.
"The Hanson family has a vision for sustainability that is also a vision for scholarship, collegiality, student enrichment and community engagement," said Nelson Institute dean, Paul Robbins. "I love that vision. I'm also thoroughly pleased we could find an inaugural fellow who can actually fire on all those cylinders; Nelson is incredibly fortunate in both the Hanson family and Andrea Hicks."
Over the next three years, Hicks will utilize this funding to enhance sustainability research and education on campus. She shared that she is so thankful for the award and for the support of the Nelson Institute which facilitates and promotes interdisciplinary scholarship that aims to address environmental challenges.
"Sustainability is really an interdisciplinary field and it's wonderful that Nelson houses an award like this," said Hicks. "Nelson is a really interesting community that transcends traditional disciplinary boundaries. It's tremendous that they're offering this opportunity to expand the work we are doing."