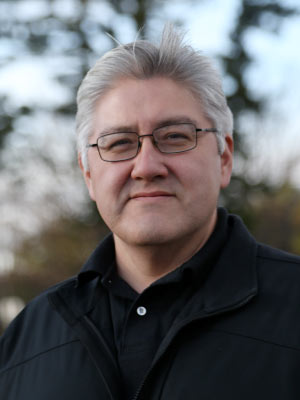 Nelson Institute graduate student and University of Wisconsin-Madison alumnus, Chris Caldwell has been named the third President of the College of Menominee Nation.
Caldwell, who is an enrolled member of the Menominee Tribe of Wisconsin, has been serving as the   Interim President since February 2020 and previously served as the director of the College of Menominee Nation Sustainable Development Institute (SDI).  While in these roles, Caldwell has not only identified ways to partner with the Nelson Institute and UW-Madison, but he has also been a student at the Nelson Institute.
"My focus has been on understanding how climate change impacts our language revitalization efforts," Caldwell said of his doctoral work in the Nelson Institute Environment and Resources (ER) graduate program. "Climate change is altering nature and our Menominee language was developed based on these relationships with nature, so we need to understand how changes will impact our language."
While Caldwell has completed all his required courses, he will continue to work on his dissertation while in his role as President. He hopes to complete his PhD by October 2022. Caldwell previously completed an associate degree in Sustainable Development at the College of Menominee Nation, a bachelor's degree in Natural Resources from UW-Madison, and a master's degree in Environmental Science and Policy from UW-Green Bay.
Caldwell said much of the inspiration for his graduate work at the Nelson Institute is the result of his time as the director of SDI. In this role, Caldwell worked with Indigenous scholars, students, community members, and practitioners on education and outreach efforts related to sustainability. Caldwell said that his graduate work and his new role as the President of the College of Menominee Nation are both important opportunities to elevate the work of SDI and to share what he has learned throughout his academic and professional career.
"I've attended graduate school, mentored students, and had experiences that I hope to share with the next generation, as we continue to support resilient and vital Tribal nations and Indigenous peoples," said Caldwell. "It was always a goal of mine to teach at the college and now I have an opportunity to lead, and share based on what I've learned from others."
Caldwell will be formally invested in a ceremony on Friday, October 22 at 1:30 p.m. Those interested in attending the event virtually are invited to learn more here.