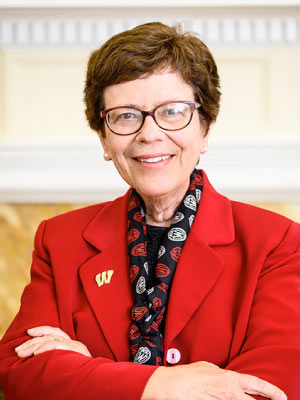 The Nelson Institute sustainability certificate and Nelson Institute affiliate, Andrea Hicks, were among the programs and people highlighted in the March 3 edition of "Blank's Slate". A column from University of Wisconsin–Madison Chancellor Becky Blank, "Blank's Slate" highlights important initiatives related to the university. This week, the column focused on sustainability.
As a Nelson Institute affiliate, director of Sustainability Education and Research, Hanson Family Fellow in Sustainability, and associate professor of Civil and Environmental Engineering, Andrea Hicks is a campus lead for sustainability efforts. The Chancellor noted Hicks' involvement with various campus initiatives including the Sustainability Advisory Council, the Zero Waste initiative, and the upcoming Climate Action and Adaptation Plan. 
The Chancellor also highlighted the Nelson Institute sustainability certificate, which has students from more than 48 majors enrolled. The program introduces students to suitability through courses that range from social and economic topics to environmental and system.