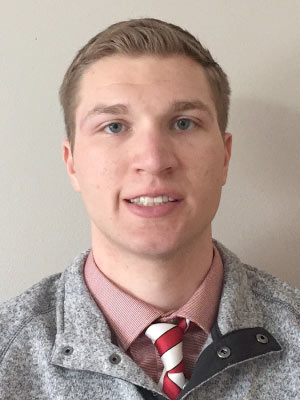 Growing up in Vilas County, Wis., Water Resources Management (WRM) graduate Robert Rosner said his interests have always revolved around being outdoors. Whether it be going fishing, reading a book, taking a hike, or playing sports, Rosner enjoyed spending time outside in the north woods of Wisconsin.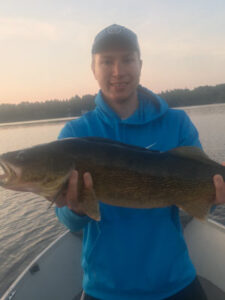 While studying biology at Ripon College for his undergraduate degree, Rosner's passion for the outdoors led him to apply for an internship with Clean Boats, Clean Waters in the county that he grew up in. "For two summers I worked at boat landings talking to the boaters about invasive species and basic natural resources management," Rosner said.
Rosner's internship experience opened his eyes to the issues facing water bodies. "I took it for granted as a kid having access to immaculate water bodies. Especially when I left and realized not everybody has that," Rosner said. This realization led Rosner to apply for the Nelson Institute WRM program during his senior year at Ripon College. 
The WRM program is a 45-credit Master of Science degree that prepares students to face the complexities of managing water resources. Students choose an area specialty and follow a core curriculum that reflects the diversity of knowledge and interdisciplinary experience needed in water resources planning and management. 
Rosner then began looking for internships in the Madison area to supplement his graduate studies. In May 2019, Rosner accepted a position as a student hydrology trainee at the U.S. Geological Survey (USGS) in Middleton, Wis. There, he worked on data collection for local waterways and helped determine water quality.
"I worked at USGS throughout my time in the WRM program," Rosner said. "It helped my coursework and guided my interest in water resources management."
A major component of Rosner's role with USGS is working with the Dane County Water Quality Monitoring program where he collects data through water quality monitoring stations that test for phosphorus, nitrates, suspended sediments and potential contaminants that flow into Lake Monona, Lake Mendota and the Yahara River Basin. The data collected is then used for water quality management decisions.
The hands-on experience Rosner gained from working at USGS carried over as he began the WRM interdisciplinary practicum, a two-year applied project focused on a contemporary challenge in water resources. Rosner's cohort, advised by assistant research scientist Eric Booth, focused their efforts on the Coon Creek Watershed of La Crosse County, Wis.
"The watershed experiences floods and our goal over the two years of the program was to look into it, work with stakeholders, do some hydrology-based work, and provide a report with recommendations of what can be done moving forward," Rosner said. The report analyzed the institutional challenges facing flood resiliency and offered recommendations on how to mitigate flood risks.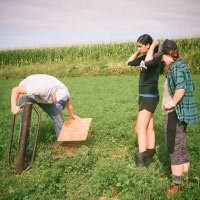 While completing the WRM program, Rosner enjoyed classes that focused on hydrology and water resource engineering. "The first intro course I took was Hydroscience with Dan Wright which was a great water resource engineering course," Rosner said. His work with Nelson Institute Assistant Professor Dan Wright continued outside the classroom as he worked a bit with Wright on the Coon Creek practicum.
Along with other field-based classes, Rosner took a policy-based course with Ken Genskow, associate professor of Urban and Regional Planning, water resources specialist with UW-Extension and director of UW-Extension Basin Education Initiative. 
"It was a really great overview of the policies and government surrounding how water bodies are managed," Rosner said. He continued by saying how the class opened his eyes to how policy brings action to data collection. "You can collect all the data and do all the science you want, but to make it work you have to turn it into actual policy that brings about change."
After graduating from the WRM program in December 2021, Rosner accepted a position as a full-time hydrologist at USGS. "I'm really happy with how everything turned out with the program and internship and I'm looking forward to continuing with USGS. It's a lot of the same work I've done as a student but with more responsibility," Rosner said.
Rosner encourages those with interests in water conservation and management to consider applying for the WRM program. "I think it's a really unique program and really flexible," Rosner said. "You can make the classes work for you. There's so many things you can do with it."
 Learn more about the Water Resource Management MS and how you can support the program.