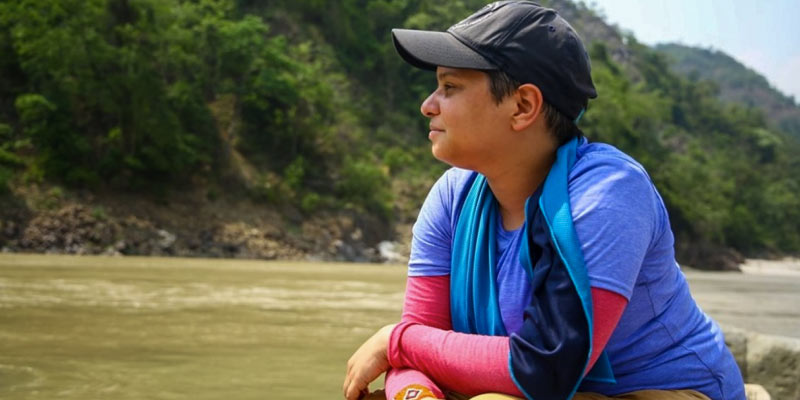 From the age of three, Nelson Institute environment and resources PhD student Gabi Fleury wanted to travel to Africa and be a conservationist. Fleury, who uses they/them pronouns, has a passion for human-wildlife conflict mitigation that's evident in everything they do. From finding ways for humans and carnivores to coexist across the globe to designing a predator and livestock conflict prevention video game, Fleury truly does it all.
Fleury describes what they do as "interspecies diplomatic work," or making sure animals, livestock, and carnivores can coexist. They specialize in human-wildlife interactions, working on carnivore and livestock coexistence in the wild and non-lethal deterrents, which are tactics to scare carnivores away from farms without harming them. These tactics can be through sound, light, scent, or other methods. 
Fleury is currently designing their PhD project, which will take place in Botswana. In collaboration with local nongovernmental organizations (NGOs), they're creating a carnivore-livestock conflict mitigation project to test new deterrents in efforts to reduce carnivore presence on farms in the Ghanzi District of Western Botswana. Cheetah Conservation Botswana (CCB) and Botswana Predator Conservation (BPC) will both play instrumental roles in helping Fleury conduct this project.
Prior to beginning their PhD, Fleury had formed strong relationships with partnering NGOs in southern and eastern Africa through other projects. They worked previously in Namibia— work that ultimately inspired elements of their PhD project. 
"When looking at locations and partnerships for my project, I was drawn to Botswana for many reasons, and CCB felt like a natural group to reach out to because we built a relationship over time," Fleury said.
They plan to begin field work in summer 2024, which includes a long process of grant applications, completing ethics and research permits, all while solidifying logistics for the project. As Fleury designs their project, their hope is to positively impact the local community and provide sustainable relief for carnivore and livestock loss.
"Because of my existing relationships and the fact that [CCB and BPC] are tied into ongoing carnivore-wildlife mitigation strategies, my work can hopefully be more sustainable and contribute to a larger conversation," Fleury said. "I want to avoid what is known as helicopter conservation: beaming in on a community, collecting your research and leaving. I'm trying to be as responsible as possible when it comes to having a sustainable and impactful project."
Carving Their Own Path
While beginning coursework for their PhD, Fleury published a paper in the Black Ecologist section of the Ecology Society of America under Frontiers in Ecology and the Environment, titled "Responsibility, equity, justice and inclusion, and dynamic human wildlife interactions." Fleury was empowered to work on the team and had admired the work of the project leader, Nyeema Harris, long before working together.
"It was a really cool team, because it was a group of Black ecologists working in the same space," Fleury said. "We'd connected previously though Twitter and past projects, and I thought it was really affirming working in an all-Black, female-led team."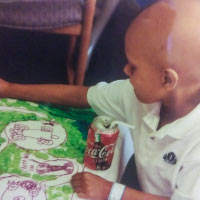 Fleury's father is of Sub-Saharan African descent, which helped spark their passion for African conservation from a young age. At age four, Fleury contributed quarters to a "Gabi Goes to Angola" fund. But unfortunately, Fleury was not always able to connect with and explore wildlife the same way other young children could throughout their childhood.
At age seven, Fleury was diagnosed with osteosarcoma. They endured 21 rounds of chemotherapy and 10 years of physical therapy to learn how to walk again. Their unwavering passion for the outdoors led them to experience wildlife and conservation from afar during their battle, primarily through reading books. Once not knowing if they were going to have the ability to walk again, Fleury is appreciative of the opportunities they've had as a conservation biologist and are empowered to make an impact in the field.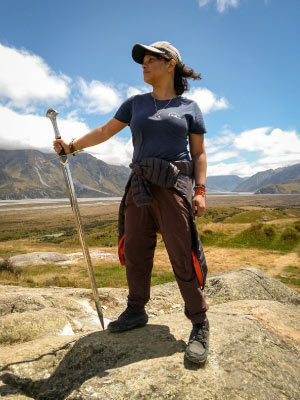 "My battle is one of the driving reasons that I'm so focused and passionate about what I do today," Fleury said. "I knew I wanted to do something cool and impactful because I realized from a young age that no one is guaranteed time here."
Fleury hopes to share with all students that opportunities come to those who create them.
"It's so important to create relationships with people, which will open doors you didn't even know existed," Fleury said. "Don't be afraid to put yourself out there, build skills, and get creative with what you do."
While in South Africa completing their masters degree, Fleury and a colleague had an idea for a video game. With no investors or money, they used a free game-engine and PowerPoint clipart to design a game that was used to teach non-literate Mozambican villagers about the ecosystem.
"This project opened doors for me and help me create a partnership with an NGO in Mozambique that I would have had no chance making without creating this game," Fleury said.
Returning to Academia
To deepen their understanding and experience in wildlife conflict mitigation, Fleury decided to return to school. They were fortunate to have many options of institutions to attend for their PhD, and ultimately decided on the Nelson Institute for Environmental Studies at the University of Wisconsin–Madison because of their gut feelings about their direct advisor and the flexibility the program offered.
"[Professor] Tim Van Deelan checked all of my boxes as the perfect advisor," Fleury said. "I knew I needed an advisor who would support me, have my back when things get difficult, and offer expertise in the field. When I finally arrived on campus and met with the lab, I knew all my gut feelings were correct."
Fleury enjoys the freedom and creativity in designing their projects within the Nelson Institute. Despite the freedom and latitude given, Fleury feels like they are supported in every aspect of their experience so far, and that there is always someone around to help.
"What I love about Nelson is how interdisciplinary everyone is," Fleury said. "Whenever I hang out with people from the Nelson Institute, they are inevitably doing something really interesting from all over the world." 
Learn more about the environment and resources PhD and how you can support the program.