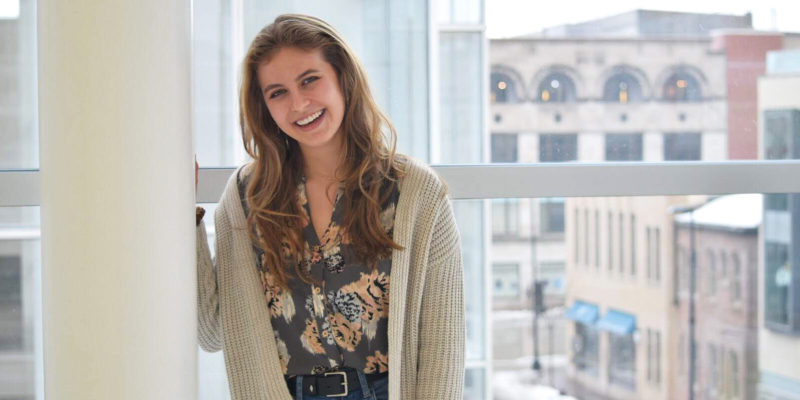 Undergraduate student Alayna Lotto began at the University of Wisconsin-Madison in 2018 with too many interests to choose from. After talking with her Student Orientation, Advising, and Registration (SOAR) advisor and learning more about the Environmental Studies major, Lotto said the choice for what to major in was clear.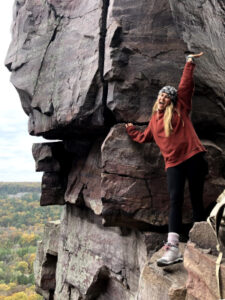 "I was passionate about the environment from my A.P. Environmental Science class I took in high school, and I've also been vegan for a very long time," said Lotto. "I found Environmental Studies to be something that I was good at, so I signed up for my four freshmen year classes and went for it."
During her sophomore year, Lotto chose her second major in interior architecture while also completing a certificate in design strategy. "Environmental Studies was a great place for me to start and I could apply it to any other major since it intersects with so many other topics," said Lotto.
The Environmental Studies major requires students to complete an additional major alongside the program to learn how to link environmental science, policy, literature, art, and philosophy to another chosen field of study.
Lotto said she found that both of her majors shared similar core constructs of dealing with people and being sustainable. "People are at the center of both majors and what I'm doing with the environment shouldn't come second to what I'm doing with design and people," said Lotto. "You're really focusing on your impact in both majors."
The class that brought both of Lotto's interests together was her Life Cycle Assessment (LCA) Capstone with Nelson Institute affiliate Tim Lindstrom. "It was such an amazing class, so practical, and such a great skills-based class that combined how you can look at materials and their environmental impact and evaluate them for what materials you might choose for a product you're building." Lotto said that the class also learned about Environmental Product Declarations (EDPs) that measure a company's commitment to reducing its environmental impact.
"The overarching goal is to introduce students to the method of life cycle assessment by performing their own in a semester-long project on a campus product or process," added Lindstrom. "It's a capstone course for the Nelson Institute so it's open to Environmental Studies majors who are juniors and seniors and is designed for smaller enrollments of 10-15 students."
Lindstrom remembers Lotto as a very capable and thoughtful student. "As a group member in her LCA project, she was reliable and supportive along with producing great work. I've since written a letter of recommendation for her and think of her quite highly! I know she'll go on to do really great things for this planet and its inhabitants."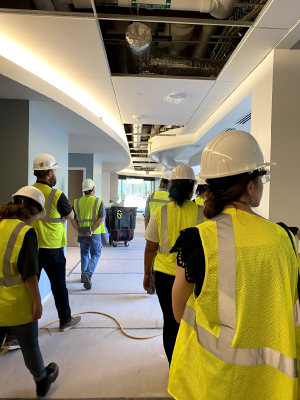 Lotto furthered what she learned in her LCA Capstone by starting at HGA Architects and Engineers, a firm based in Minneapolis, Minn. where Lotto grew up, as a sustainability intern. "A large part of what I've been doing is running life cycle analysis programs," said Lotto. "Thinking of where we can reduce quantities and where we can make a sustainable alternative work that will really help reduce those embodied carbon numbers structurally."
Another class Lotto said stood out to her while completing her Environmental Studies degree was Global Environmental Issues with Department of Geography Senior Lecturer Bill Gartner. "It was such a great class learning about all these different intersections of where the environment interacts with all these different subjects. It was super helpful as an evaluation of capitalism which is a huge part of the architecture industry," said Lotto. "That was a class I really felt overlapped between my majors. I left that class everyday thinking, 'wow, I'm really going to think about that content for an hour afterwards, just for fun.'"
Gartner provided further comments on the Global Environmental Issues course. "The primary goal is to show that the pathways and transactions of everyday life have social and ecological consequences around the world in the modern-day world system," said Gartner. "Purchase a to go cup of coffee at Starbucks and you affect societies and ecologies of 19 countries around the world. Purchase a pair of Levi jeans and you affect societies and ecologies of 12 countries. And so on. People and places are interconnected around the globe."
The class also looks into the history of conservation and its response to the development of the modern world system along with the relationships between population, resources, and technology, social and environmental issues, and global climate change. Gartner also said that technological solutions exist but emphasizes the need for "a new equitable world system, one that nurtures all life and provides opportunities and rights of self-determination for all people."
Besides her studies, Lotto is a part of the Interior Design Organization (IDO) on campus, The Women's Network, and creates content for a faith-based podcast called "Working at the Wheel." Lotto said that her involvement with faith-based communities helped her navigate her life and figure out what she was doing between Environmental Studies and architecture.
Lotto plans on graduating after the 2022 summer semester and hopes to continue at HGA Architects and Engineers. "But if not there, at least at a similar firm with a similar drive for sustainability and innovative design practices," said Lotto.
Lotto encourages anyone who is interested in the Environmental Studies major to go for it. "I would say it's extremely manageable for your schedule," said Lotto. "You'll just get so much out of it because the professors are really passionate about what they're teaching and there's just a lot of great discussion that has really formulated me as a human being."
Learn more about the Environmental Studies major and how you can support the program.