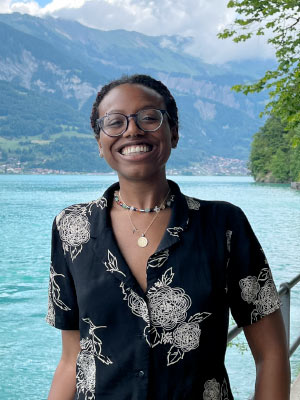 "Madison in the summer is beautiful," says undergraduate Kendi Aaron. "That's the one thing I will die on a hill for."
The winters? Now, that's a different story.
Aaron came to the UW from Maryland. She's majoring in conservation biology and environmental studies but started off as an astronomy and biology student. "I ended up taking an environmental studies class my freshman year, and it just switched my perspective on life and how I interact with science in general," Aaron said.
She doesn't consider herself particularly outdoorsy, but she soon realized that doesn't particularly matter with environmental studies. "There's so much diversity in the definition of environment and how people can interact with that," Aaron said.
The environmental studies major offers unique opportunities for undergraduate students to broaden their studies through interdisciplinary coursework related to the environment, the program website says. Paired with another major, students not only learn about current environmental issues, but also how to link environmental science, policy, and humanistic approaches to another chosen field of study.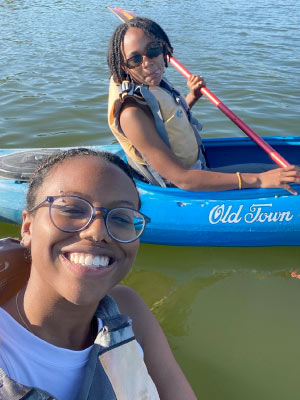 Her majors are similar — she often jokes with others that she's only taking one major because of how much they overlap — but Aaron notes that her environmental studies classes are more geared toward the intersection between human and environmental interaction, including those taught by Lisa Naughton, a Nelson Institute affiliate and professor of geography.
With Naughton, Aaron has taken a seminar course and Environmental Conservation — her "favorite classes ever." The classes focused on the nuances of conservation projects in various parts of the world, including analyses of how social, historical, and economic context shapes how those projects take form. For Aaron, these topics only strengthened her interest in environmental conservation, which she attributes to Naughton's skill. "I really appreciate her as professor. If you haven't taken a class by her, I highly recommend it," Aaron said.
Aaron is interested in environmental advocacy, which she has built upon through the Community Environmental Scholars Program (CESP), an opportunity designed for students who want to link their passion for the environment with their commitment to community, according to the program website. The program partners undergraduate students with community-based environmental organizations where they can obtain hands-on practice while fostering some good in the world.
Aaron first heard about CESP her freshman year and applied for the program her junior year after CESP faculty associate Rob Beattie encouraged her to apply. "And then I got in, which I was really surprised about," Aaron said.
In her first CESP year, Aaron worked with the Food Recovery Network on campus where she helped with social media along with procuring and serving food. As her senior year starts, Aaron is now partnered with the UW Divestment Coalition and will start to get involved as the school year continues.
Along with her studies and involvement with CESP, Aaron has worked for the UW's Center for Limnology and the horticulture department over the course of her undergraduate career. At the Center for Limnology, Aaron visited urban ponds throughout Dane County, measured water quality, and analyzed aquatic species and their greenhouse gas emissions. For the Department of Horticulture, she measured the calcium concentrations of Wisconsin's cranberry bogs to determine what will produce the firmest fruits.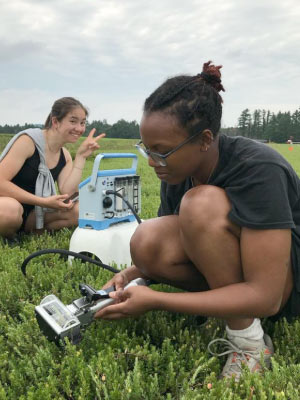 Through CESP, Aaron takes what she learns in her environmental studies classes into the communities that she works with. While she puts forward her passion for environmental advocacy, her environmental prowess strengthens. "Many of the things that I am interested in now are because of people from CESP," Aaron said. "It's just a really great community of how to be better when we go back out into the real world."
She emphasized that the environmental studies major has only enhanced her conservation biology degree and believes it can do the same with any other major. "There's something for everyone. I think you can bring environmentalism into any discipline. Everything is interconnected."
Aaron will graduate in the spring of 2023 and is interested in applying to graduate school. She hopes her future connects her with communities she cares about … and she looks forward to escaping Wisconsin winters.
Learn more about the environmental studies major and how you can support the program.