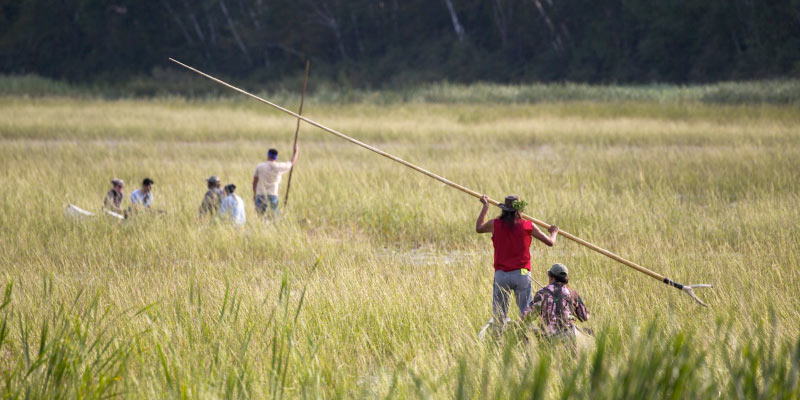 The Center for Culture, History, and Environment (CHE) is excited to welcome you to gather with CHE students and faculty on March 25 for our annual Graduate Student Symposium. Each year, this event offers a collaborative and supportive space for an interdisciplinary group of scholars to gather and discuss their newest ideas. 
This year, the symposium is organized around the concept of "watersheds" — places where water flows to a single point before converging. Watersheds gather and expand, dissolve and define, blur and separate, filter and create, fill and transform. The study of these ecosystems brings to the forefront the intersections of essential ecological, hydrological, and geomorphological processes that, in turn, provide critical social, economic, and ecological benefits.
But the CHE Graduate Student Symposium is inviting research beyond the study of watersheds as an ecosystem. The idiom of a "watershed moment" evokes a crossroad, a defining occasion, a paradigm shift, or a milestone. In addition to environmental landscapes, the term is used to refer to monumental events that have altered cultural, artistic, social, and political spaces.
With both physical and conceptual watersheds in mind, we'll ask questions like: 
How does conceptualizing watersheds give us an opportunity to reflect on past, present, and future shifts that reroute the trajectory of individual and collective ecological positions? 

How do watershed connections, interruptions, and convergences offer speculative spaces of modeling, embodiment, and figuration? 

How might turning points, whether of water or of wedge issues, flows or philosophies, become sites of generation, curiosity, and resilience?
In addition to student presentations and discussions from a variety of disciplines, CHE is excited to welcome Frank Bibeau as our keynote speaker. Bibeau is an enrolled member of the Minnesota Chippewa Tribe who has been living on Leech Lake Reservation in Ball Club, Minnesota, most of his life, where he processes wild rice and smokes whitefish. As a tribal attorney, he works extensively with Chippewa treaty rights, civil rights, and sovereignty — on and off reservation.
Bibeau has long worked with Honor the Earth, a native-led nonprofit environmental protection group run by Winona LaDuke. He's also developed several legal defense strategies based on the Rights of Manoomin. Bibeau serves as executive director for the 1855 Treaty Authority and represented Manoomin (wild rice) and the White Earth Band of Ojibwe in Manoomin v. DNR in White Earth Tribal Court and DNR v. WEBO and Chief Judge DeGroat in the Eighth Circuit Court of Appeals (2021–22).
Bibeau will discuss wild rice from the time of creation and migration stories, where the Anishinaabe were looking for the place where the food grows on the water, as well as food sovereignty, sustainability, and protection of natural resources in the present.
Additionally, all attendees are welcome to attend a post-conference "field trip" to the Center for Limnology to see water in action. While the presenting slots are for graduate students, anyone is welcome to attend throughout the day. We look forward to seeing you there!