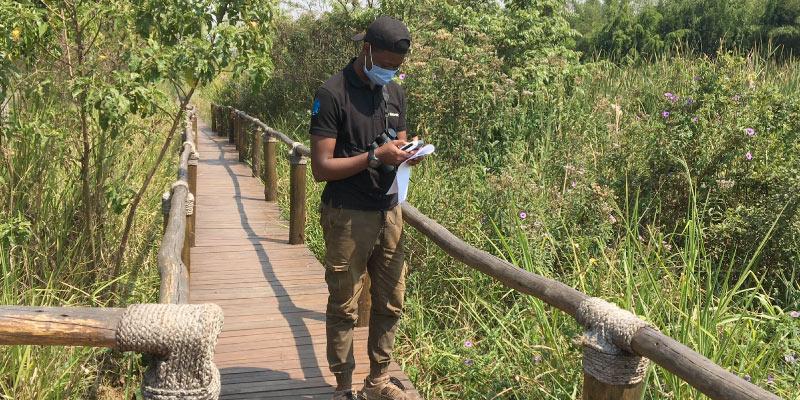 Maintaining clean, sustainable water resources for future generations is a personal and professional goal for Nelson Institute Water Resources Management student Daniel Igirimbabazi, who experienced water scarcity as a child.
His own experiences, coupled with his interest in science, inspired him to seek a career in water resource management and community engagement, which he hopes will positively impact the lives of those around the globe.
Igirimbabazi began his academic journey at the University of Rwanda, where he studied biology. After graduation, he sought an internship with the Center of Excellence in Biodiversity and Natural Resource Management (CoEB), a center hosted at the University of Rwanda that strives to enhance knowledge of biodiversity and natural resource management for sustainable development. During his time there, Igirimbabazi had the opportunity to interact with scientists and lead seminars before being named a research fellow. In that role, he took part in two projects including- one involving the Rwandan Biodiversity Information System (RBIS) and a second involving the African Biodiversity Challenge (ABC). During this time, Igirimbabazi became interested in pursuing a graduate degree and his mentor pointed him to the University of Wisconsin-Madison. 
"I had heard about the University of Wisconsin-Madison (UW-Madison) from my undergraduate mentor Professor Beth A. Kaplin [Director of the Center of Excellence in Biodiversity & Natural Resource Management at University of Rwanda] who did her master's and PhD at UW-Madison. I put this amazing university on my bucket list." Igirimbabazi said. "After deciding to pursue my master's degree, the UW-Madison was my number one choice, and I knew I had to learn something to do with water, wetlands, and marine resources management. Water Resources Management (WRM) caught my interest since it involved practicums and hands-on portions of the program where students work with real world clients to solve water-related issues in the community."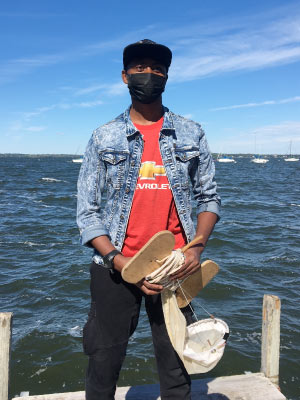 Igirimbabazi was accepted to the WRM program, and he says he was thrilled to have the opportunity to gain new insights.
"Having skills in watershed science and management with some courses in limnology-conservation of aquatic resources, ecotoxicology, GIS, land use control, global health, etc. could equip me with the necessary cutting-edge skills to be able to tackle environmental issues, specifically water-related ones, that are posing risks towards the well-being of humans and animals. With all that being said, I realized WRM program was a place to be," Igirimbabazi said. 
As part of the WRM program, students gain these skills through a variety of courses and hands-on experiences, including a cohort practicum project that focuses on a community client. 
"The most meaningful project so far is the practicum of our current WRM cohort, the Wisconsin InterTribal Lake Winnebago Connectivity Project, where we will seek to provide management strategies for restoring wild rice populations within the upper Lake Winnebago system," Igirimbabazi said. "These strategies will be developed in partnership with the Brothertown Indian Nation. I am very excited to contribute to the restoration of wild rice (Manoomin), a very important food resource for many Midwestern tribal nations and, the Brothertown Indian Nation in particular."
In addition to hands-on, community-based experiences, Igirimbabazi has also enjoyed his classroom experiences, which have given him an opportunity to meet fellow graduate students and professors who share his passion for water resources. 
"At the Nelson Institute, I have incredible support to be able to bring the best version of myself," said Igirimbabazi. "I have learned so much so far on how to navigate through graduate school life, thanks to Environmental Studies 901, a graduate orientation seminar course taught by the Nelson Institute Dean and professor, Paul Robbins. This course provides incoming graduate students with an introduction to the history, current research, and resources of the Nelson Institute. I learned crucial information that came in handy for me as a new graduate student. Part of this course includes making connections with peers in the Nelson Institute who are also doing great things in environmental field, learning about co-curricular training opportunities available, and making the best use out of it." 
By applying what he has learned and engaging with the Nelson Institute community, Igirimbabazi says that he has had many opportunities to connect and grow as a water resources management professional, and as a person. 
"Being part of Nelson institute broadened my horizons in different ways. Nelson Institute is made up of individuals with diverse interests in science with an aim of understanding and taking care of the environment," Igirimbabazi said. "This interdisciplinarity has helped me to find useful resources, ideas, and support from different people's perspectives on the best practices that are shaping the environment. I am using this interdisciplinary approach to contribute to the Wisconsin InterTribal Lake Winnebago Connectivity Project alongside my cohort members to solve the environmental issues in the community, part of the Wisconsin-idea concept, and I am thankful to the Nelson Institute and the UW-Madison in general for the skills and knowledge I keep receiving from them which will help me make the world into a better place."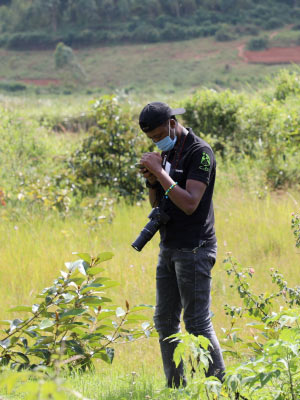 Igirimbabazi is particularly excited to have the opportunity to be a teaching assistant (TA) for a biology undergraduate course in the Integrative Biology Department at UW-Madison. 
"This has absolutely been an amazing opportunity for me to develop my teaching skills and get to interact with a diverse student body in this department. It is a challenging accomplishment but worth the efforts since I have been able to have professional and personal growth from being a TA," said Igirimbabazi. "This role comes with leadership responsibility which for me is a favorite part of being a TA. In addition, we learn about cool topics that impress students such as DNA extraction, rat dissection, and more. It gives me a sense of satisfaction when I see students really engaged in lab activities and their happy faces when they learn something new."
Whether working with students, the community, or finalizing his requirements for his master's degree in WRM, Igirimbabazi remains inspired by the power of water and all those suffering from the impact of water scarcity and water pollution. 
"Water is a basic requirement for survival of almost every species on earth. This makes the access to water essential for life. However, the access to water does not have to be limited to just water supply; instead, efficient quality and quantity of water supplied is important in determining the health of individuals and communities as a whole," Igirimbabazi said. "Understanding water quality and the impact of pollution on water resources is vital to worldwide public health. I aspire to be part of solution, contributing towards a healthy world where access to clean and sufficient water supply will not be a challenge." 
To learn more about the Water Resources Management program and how you can support the program.