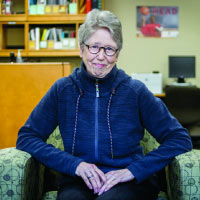 Sharon Dunwoody, a faculty affiliate, and friend to the Nelson Institute, died February 4, 2022, after undergoing treatment for cancer in recent months.
Dunwoody served as the Evjue-Bascom Professor Emerita of the School of Journalism and Mass Communication and was deeply involved with the Nelson Institute for Environmental Studies as a faculty affiliate, Academic Programs Chairperson, and numerous initiatives, including Earth Day, the Wisconsin Initiative on Climate Change Impacts (WICCI), and more. 
She was well-known for her pioneering work in the field of science communication, spending more than 30 years focusing on questions ranging from how science news is constructed to the effects of those messages on knowledge and attitudes. Dunwoody also co-authored or authored more than 50 peer-reviewed articles, more than 25 book chapters, and five books. 
The Nelson Institute faculty and staff extend our condolences.