A cohort of graduate students within the Nelson Institute's Water Resources Management (WRM) program recently published a report that provides key insights on protecting the Waubesa Wetlands, a 371-acre state natural area located on the southwestern shore of Lake Waubesa in Dane County, Wisconsin. The report serves as the culmination of a two-year project aimed at assessing land use impacts and promoting community engagement of the Waubesa Wetlands Watershed. Now, the report is being used as a resource to inform current and future wetlands management.
Initiated by the 2017-18 WRM cohort, the project was developed in response to a proposal made by the city of Fitchburg to construct three new residential developments within the Waubesa Wetlands Watershed. As one of the most diverse wetland communities in Southern Wisconsin and a center for research and outdoor education for decades, there was concern that residential development could impair the Waubesa Wetlands ability to perform critical ecosystem functions, resulting in harm to wildlife and humans alike.
Addressing these concerns, the WRM cohort worked on behalf of the Capital Area Regional Planning Commission (CARPC) and the Wisconsin Department of Natural Resources (WDNR) to investigate the possible impacts of residential development within the Waubesa Wetlands Watershed.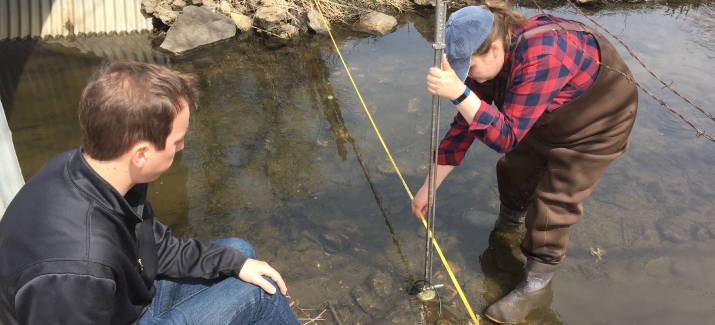 Joy Zedler, professor emerita of botany at the University of Wisconsin–Madison and an expert on wetland restoration and ecology, said that the WRM cohort "provided critical data" by monitoring the water quality of Swan creek, which feeds the Waubesa Wetlands.
"I say 'critical' because the WRM team sampled during the construction of a huge housing development in Swan Creek watershed – a time when DNR did not require monitoring of land use impacts," said Zedler.
The cohort sampled water monthly between May and October 2018, testing for contaminants including nitrogen, phosphorus, chloride, and total suspended solids. The results showed current levels of pollution that exceeded water quality limits, while future projections indicate that urbanization in the watershed will increase the risk of water contamination.
"Their work provides evidence that monitoring needs to occur before, during, and after development in order to document impacts," said Zedler, who has a long history advocating for the conservation of the Waubesa Wetlands.
Throughout the project, Zedler shared her expertise, much of which is compiled in a Waubesa Wetlands book that draws from her own wetlands research, as well as research from Cal Dewitt, a Nelson Institute professor emeritus and one of Wisconsin's most prominent wetlands biologists.
Despite decades of Waubesa Wetlands research, Zedler said the WRM cohort contributed new insights and data that will help guide future management of the area. Over the course of two years, the cohort performed an ecosystem assessment and water quality monitoring, while also conducting land use and climate change modeling to guide future management of the wetlands. Novel contributions included describing and mapping unexplored upstream areas, providing new data on surface water, and designing a hydrological model to predict runoff from urbanized areas and to forecast impacts of climate change.
To this day, Zedler said that the CARPC and WDNR continue to meet with local residents and Fitchburg staff to improve management of surface-water runoff and to conserve downstream wetlands. But perhaps most importantly, Zedler said the WRM cohort engaged with community members in ways that increased awareness of the Waubesa Wetlands, which she sees as essential to its continued preservation.
"Local publicity helps gain the interest of local people," said Zedler. "Cal [Dewitt] and I were both pleased to have WRM students interested in this wetland gem … It would be terrific to have UW students involved in perpetuity."
The cohort concluded that residential development within the Waubesa Wetlands poses threats to critical ecosystem services, with repercussions that could include excessive stormwater runoff, flooding, loss of habitat, and the spread of invasive species. Through several management recommendations included in the report, along with community engagement initiatives, the cohort worked to help prevent these harmful outcomes.
But this wasn't the first time WRM students had formed community partnerships to address a local need. Instead of individual research projects, the WRM program requires students to engage in a collaborative practicum that concentrates on a local water management issue. Spanning across their two years in the program, the students must work collaboratively with others in their cohort, as well as local stakeholders and community members, to tackle the problem through interdisciplinary research and fieldwork.
For Rachel Johnson, a student in the 2017-18 WRM cohort, this emphasis on place-based research and local problem-solving is what drew her to the WRM program.
"When I started looking at graduate schools I was really drawn to programs where I would have the opportunity to do applied projects," said Johnson. "I wanted to be working with people on a real-world problem – using science to answer a question within an organization."
Almost immediately upon entering the program in 2017, Johnson and six other students in the cohort began working on the proposal for the Waubesa Wetlands project. With a diversity of backgrounds and skillsets, each member offered their own expertise, making way for an interdisciplinary project that addressed the technical, ecological, and social aspects of water management.
"One thing that I think really sets this program apart is that you're working on this project as a team," said Johnson. "It's really cool that we all came to the table with different backgrounds, but then also through the project we had the opportunity to cultivate skills that we were really interested in or excited about."
Whether it be experience in water quality monitoring, wildlife ecology, technology, or community engagement, each member of the cohort had something to offer. And for many members of the cohort, working collaboratively with other students is what makes the WRM program both enjoyable and valuable to a future career.
"It's so much more like the real world, where you're on a team of different people and you're all working together," said Kyle Pepp, another student in the 2017-18 WRM cohort. "Everyone is super cooperative and helpful and always wants to do the right thing. It just made for an awesome experience altogether."
Throughout the project, the cohort was charged with continually considering the needs and concerns of local stakeholders. From the beginning to completion they consulted with various stakeholders including wetlands ecologists, water quality specialists at the DNR, members of CARPC, and concerned citizens to help guide and inform their project.
"Stakeholder interaction was something that was really special and something that I really enjoyed," said Johnson. "We got to learn about the issues in the area from these local leaders and experts and through that we figured out what our project objectives were."
Working with stakeholders often involved a "back and forth" dynamic, and Pepp said the cohort had to adjust their project plans to meet stakeholder needs, adding to the real-world nature of the project.
Helping coordinate the process was Anita Thompson, professor of biological systems engineering at UW–Madison and chair of the WRM program. Thompson served as the cohort's adviser, along with co-advisor Sharon Long, emeritus professor of applied environmental microbiology at UW–Madison. In these roles, Thompson and Long connected students to resources, facilitated weekly meetings, and helped keep the students "on track" throughout the project.
While Thompson was responsible for reminding students of their obligations to the clients, she said she also strived to give them the flexibility to explore their own topics and ideas of interest. Through this close working relationship, Thompson said everyone stood to benefit.
"I think these are really great opportunities for the students, and for faculty too," said Thompson. "This was a super amazing group. They worked really, really well together… I learned as much, probably more, from them [as they learned from me]."
The WRM practicum requires teamwork, problem solving, community engagement, and multidisciplinary tactics – all things that students felt prepared them well for a career in water management. But even more, the practicum demonstrates what can be achieved when students come together, work hard, and collaboratively work together to achieve a common goal.
"It is an intensive 15 to 18 months that these students are working together," said Thompson. "They really push themselves, and do a great job."