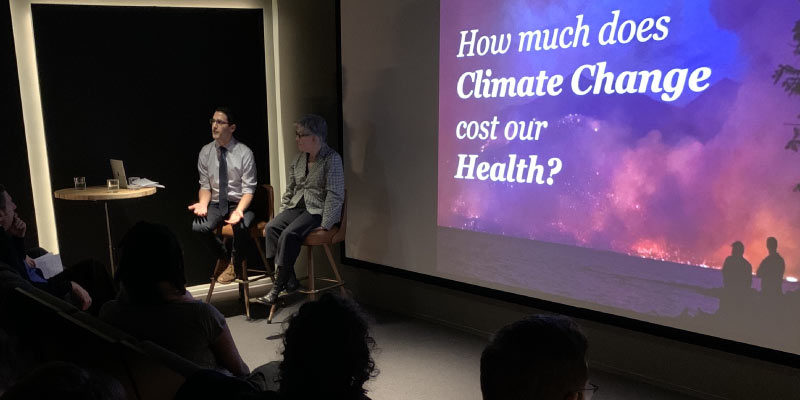 PhD Environment and Resources and Epidemiology (2015)
Making the climate crisis more tangible, relatable, and local is an urgent goal for Nelson Institute alumnus, Vijay Limaye. As a climate and health scientist at the Natural Resources Defense Council (NRDC), Limaye utilizes his joint doctorate in Environment and Resources and Epidemiology from the University of Wisconsin-Madison to inform his efforts to quantify, communicate, and reduce the public health risks associated with climate change.
In particular, Limaye conducts research on climate and health issues in the United States and India, and he works to improve climate change preparedness through evidence-based health and environmental policy. Communication is a large part of Limaye's job as he regularly works with the press to explain the complex health ramifications of fossil fuels and climate change, including growing risks from wildfires, extreme heat, and air pollution.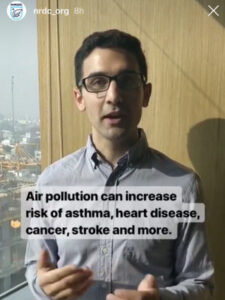 "At NRDC, I work closely with other scientists, policy experts, and lawyers to help to advance climate and health protections that can benefit people here and now while also safeguarding a livable future for all," Limaye said.  "NRDC is a fast-paced, challenging, and invigorating place to work—and I am guided in my work there by Dr. Kim Knowlton, a leader in the climate and health field and a truly phenomenal mentor."
While Limaye is thankful for the support of his current colleagues and mentors, he remains grateful for the experiences he gained and the people he met during his time as a Nelson Institute student.
"My experience in the Nelson Institute prepared me well for a career in scientific research and science-based environmental and public health advocacy. The academic training and independent research I pursued as a joint degree student allowed me to carve out expertise in an area that is becoming increasingly urgent—namely, the interconnections between fossil fuel energy sources, climate change, and public health," Limaye said. "The unique research projects I shaped in the Nelson Institute have helped to inform my understanding of the pressing public health challenges faced by communities here in the United States, but also in many areas around the world that are unprepared to deal with the significant health threats posed by a rapidly changing climate."
In particular, Limaye recalled his work on his dissertation as well as his efforts to establish weekly graduate student seminars to further facilitate the sharing and improvement of research. He said these experiences helped him to hone his communication skills and his ability to work with others.
"I got a lot of experience in working with different types of teams in the Nelson Institute and in the Department of Population Health Sciences, as both a team leader and team member, and I became much more comfortable receiving constructive criticism and feedback through my coursework and research experiences—something that has allowed me to mature and thrive as a scientist at NRDC. My passion for addressing linked environmental and public health challenges was nurtured in the Nelson Institute," said Limaye. "I was fortunate to complete my studies with enormously supportive and perceptive co-advisors Professors Jonathan Patz and Tracey Holloway, and our collaborative research effects on this topic were particularly rewarding and meaningful to me. Our work together reflects the Nelson Institute's interdisciplinary ethos, and I honed my skills in cross-discipline communication, analysis, and application through our NIH-funded work on the interconnections between climate change, heightened summertime energy demand for air conditioning, and downstream implications on extreme heat and air pollution risks."
Although Limaye works at the NRDC and is a former U.S. Environmental Protection Agency scientist, he continues to forge opportunities to work with Nelson Institute colleagues, having published the recent paper, "Developing a Definition of Climate and Health Literacy" with Nelson Institute alumna and University of Wisconsin-Madison post-doctoral researcher Valerie Stull, Nelson Institute affiliate and director of the Global Health Institute at the University of Wisconsin–Madison, Jonathan Patz, and Department of Family Medicine and Community Health at the University of Wisconsin–Madison researcher, Maggie Grabow. That study draws attention to the lack of teaching of climate change as a health problem in K-12 settings and suggests a new literacy framework that can better support students and educators as they explore the health ramifications of a changing climate.
Vijay Limaye and fellow 2021 Alumni Award recipient Jessica Price talk about their work.
Limaye also shared that he and NRDC colleagues published a study in 2019 in GeoHealth that estimated about 10 billion dollars in health-related costs from a small sample of climate-sensitive events across the U.S. in just one year—including a devastating heat wave across Wisconsin that killed 27 people and sent more than 1,600 to the emergency room for heat exhaustion.
"We hear a lot about how climate change harms property and infrastructure, and how much it is costing to repair and rebuild communities destroyed by disasters worsened by climate change. But we hear much less about the profound, and sometimes irreversible damage to human health inflicted by these events—including a significant financial burden for people to deal with health problems exacerbated by climate change," Limaye said. "As a result, we are, as a society, significantly underestimating both the costs of inaction on this global crisis as well as the major health and economic benefits of cutting fossil fuel pollution and investing in climate change adaptation in ways that ultimately prevent health harms and the costs that come with them. My work sought to answer the question of how much these climate-driven events cost us, as a society, in terms of emergency room visits, hospitalizations, lost work days, prescription medications, outpatient care, and premature deaths."
This research has been utilized on a national level, having been featured in the Wisconsin Governor's Task Force on Climate Change Report,  a recent report from the U.S. Senate on Climate Change Risks, in Congressional testimony, and in a recent Washington Post Op-Ed.
"It is my hope that our policy-relevant scientific work on the interconnections between climate change, health risks, and health costs will jumpstart additional work to better understand this problem and address it comprehensively," Limaye said.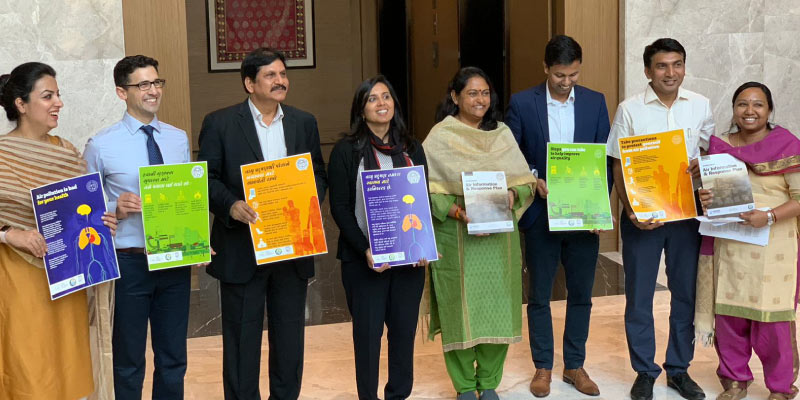 Additionally, Limaye is also helping to lead a new research project in India aimed at understanding linked climate-energy-air pollution-health issues in India. This project is poised to help identify the health benefits of climate change mitigation and adaptation efforts at the city level in India. That project is aimed at expanding the US-based investigation Limaye and team members conducted at UW-Madison to consider the unique environmental and health situation in a country at the forefront of unprecedented climate and public health challenges. Professor Patz is a technical advisor on the India work.
Limaye added, "I have family roots in both south-central Wisconsin and in western India, and I have been captivated by the challenge and promise of bridging those two distinct worlds and identifying common threads of humanity, struggle, and perseverance through my work with vulnerable communities in both countries."
For Limaye, this is just the beginning. In fact, he says that receiving the Rising Star Alumni Award is an honor and something that motivates him to continue his work well into the future.
"I am proud of what I have accomplished so far, but in many ways, I feel like I'm just getting started: there is so much to do, on both the climate change mitigation and adaptation fronts, to better protect ourselves, our loved ones, and generations to come—and policy-relevant science can help to improve people's lives in that respect," said Limaye. "This recognition boosts my enthusiasm to continue to learn, grow, and help lift up future leaders on this front. I am particularly thankful to those who nominated me for this award, it is especially gratifying to be recognized by people for whom I have so much respect and admiration for."
And, his colleagues share that respect and support. As one nominator noted, "Vijay Limaye is, without a doubt, a rising star…he is a dedicated public servant. Nelson alumni are needed as pillars of reason in places where science is being silenced and profits are put before people. Vijay is working for a better tomorrow, and he has excelled at all he has done in the early stages of his career. I can't wait to see what he does next."
Overall, Limaye says he is grateful and humbled by this recognition and the support he has received from his family, friends, and colleagues who continue to lift him up personally and professionally.
"I am proud to have completed my academic training on this campus, and I feel privileged to have been able to merge my interests in environmental science, math, writing, and foreign language through my course of study on campus," Limaye said. "I strive to be a role-model for tomorrow's leaders who will need to help society to understand, cope with, and respond to unprecedented, converging environmental and public health threats."