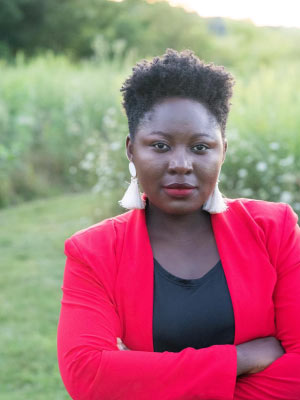 PhD Environment and Resources (2015)
From the heartland of the United States to the heart of sub-Saharan Africa, Nelson Institute alumna Linda Vakunta is leading efforts to improve environmental education and prepare the next generation of leaders. A three time graduate of the University Wisconsin-Madison, Vakunta holds an undergraduate degree in Psychology, a M.A. in Rehabilitation Psychology, and a PhD in Environment and Resources from the Nelson Institute, which have propelled her to become a Rising Star Alumni Award winner just a few short years after graduation. In fact, she has already co-founded a non-profit in Sierra Leone, served as program director for an anti-trafficking organization, and is currently serving as Deputy Mayor for the City of Madison.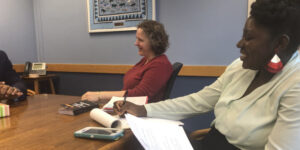 Throughout all of her roles, Vakunta says she remains thankful for her Nelson Institute experience and the lessons she learned about expansive thinking and interdisciplinary work.
"The one thing from Nelson that runs across all my career choices is the expansive thinking about what the environment encompasses and how that impacts quality of life," Vakunta said. "At the time when I was doing my doctoral studies, the majority of the world was still looking at the environment from a physical lens, but the Nelson Institute was changing the narrative in highlighting the people and social issues components."
For Vakunta, it is the people and the way that they interact with their environment that she finds most interesting. As a doctoral student with the Nelson Institute, Vakunta focused her dissertation on exploring the ways in which the environment impacted youth in Sierra Leone.
"My dissertation looked at young people's environmental perception in rural Sierra Leone, their future orientation and how education incorporated those to prepare them for the future," Vakunta said. "At the time, I had been working in Sierra Leone as an executive director of an NGO and was really concerned about the rural to urban migration happening in Sierra Leone and much of the world. I wanted to understand if young people really wanted to leave the rural environment for the urban environment and if that was the case, why? Furthermore, I wanted to understand if the education they were receiving was preparing them to succeed in whatever physical space they were in."
Linda Vakunta talks about her work.
Ultimately, Vakunta discovered that many young people preferred not to move to urban areas because they liked the serene environment of the rural areas, but they felt compelled to move to urban areas for opportunities, especially educational opportunities.
"What I found is we need to align the education with the needs of the youth and how they want to see their future so they feel prepared and can be stewards of their place," Vakunta said.
During this time, Vakunta was also working to expand youth education and empower them through her role as executive director and co-founder of the non-profit Project 1808. This program was started by Vakunta and a fellow UW-Madison post-doctoral fellow Alhaji N'jai, as a way to "address the quality of education as a tool for sustainable community development." The project supports cohorts of students in primary and secondary schools throughout Sierra Leone. It also includes a student organization at UW-Madison.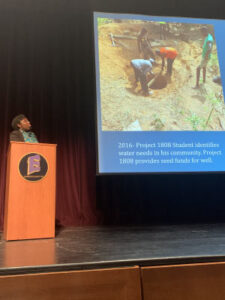 "The professional accomplishment I am proudest of is my work with Project 1808," Vakunta said. "I was the executive director for ten years and I helped to recruit the first cohort, provided kids with guidance and resources that have propelled many to graduate high school and are currently pursuing post-secondary education. For me, that's a very notable accomplishment to have worked very hard to help those kids and grow the organization to a place where it could help more than 250 people. I'm proud of the ripple effect it will have in the region and Sierra Leone."
While Vakunta stepped down as executive director in 2019, she remains proud of the work which continues to promote education, sustainable development, health, environment, community outreach, science and leadership.
Since graduating from the Nelson Institute, Vakunta has also been involved with the Heartland Alliance International, Anti-Trafficking Program, which "works to advance human rights and champion human dignity by providing services and promoting solutions to achieve a more just global society." Specifically, Vakunta led project implementation in Nigeria, Swaziland, and Cameroon.
From 2018 to 2019, Vakunta joined Sustaining Natural Circles as a research consultant where she investigated the systemic cause of opioid disorders in Dane County. Throughout this work, Vakunta was reminded of the systems approach she learned while at the Nelson Institute. She discovered that the environment, whether it be physical or social, played a large role in opioid disorders.
"People's environment, what is available and not available in the environment, has a large impact on opioid use. For example, participants spoke about alcohol being sold on every corner of their neighborhood and how difficult that made recovery. The quality of housing was also important for their recovery," Vakunta shared. "My study at the Nelson Institute helped me understand that the environment is beyond physical and that systems approach and holistic thinking was very helpful in my work."
That is part of the reason that Vakunta is so honored to receive the Rising Star Alumni Award.
"This award to me is a win when we talk about expansive thinking in terms of sustainability issues," said Vakunta. "My committee and advisors saw that we can think about environment and sustainability issues in a holistic way. So, this award is a win for that movement and I know people see that everything is related and we have to talk across sectors to find solutions."
Today, Vakunta is continuing her interdisciplinary work, serving as the Deputy Mayor and focusing much of her efforts on ensuring equality in terms of housing and human services.
As one nominator said, "[Vakunta] is the very model of what servant leadership embodies, and she is already changing the world with the projects that she has initiated and led."