It is estimated that about 60 percent of the plastic produced in the last seven decades is in a landfill or natural environment. This sobering statistic is part of what motivates Barbara Hendrie, the Director of the United Nations Environment Programme (UNEP) North America Office, to create change. As a UN Director, Hendrie leads a variety of initiatives aimed at tackling environmental issues, but the growing crisis of plastic pollution in freshwater and ocean systems has been a particular focus of her office's work. As a part of these efforts, Hendrie will be speaking at the Nelson Institute Weston Roundtable Lecture on March 24, where she will share more about this growing crisis as well as her journey to becoming an environmental leader.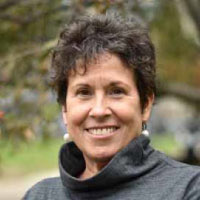 In fact, Hendrie describes her career path as circular. Having pursued English Literature as an undergraduate, Hendrie then turned her focus to social anthropology, pursuing a master's degree followed by a doctorate. As a part of her educational journey, she spent two years living in a village in the north of Ethiopia, which, Hendrie says, was life changing. 
"I wanted to be a documentary film producer for public television, originally, and spoke to a producer at WGBH in Boston, who said "That's okay, but do you have anything to say? You're a fresh out of college graduate? Go get some life experience, and then you might have something to say," so I moved to the Horn of Africa to do famine relief, and it kind of took off from there in terms of my international work," said Hendrie. 
After her experience in Africa, Hendrie expanded her work into international development and poverty reduction, as well as humanitarian crises. For many years, she lived in London and worked as a senior official of the Government of the United Kingdom, on a variety of international development initiatives. She was then invited to return to the United States by the Obama administration, to become a presidential appointee in the U.S. Agency for International Development where she worked on international poverty reduction. 
When the administration changed, Hendrie was looking for a new opportunity and was offered the job with the UN working on environment issues. 
"I hadn't really worked on the environment agenda as a focus. This was the first time that I became aware of some of the massive environmental challenges we have," Hendrie said. "I knew about them as you do when you're an informed citizen, but the scope and the depth and the criticality was new to me when I joined UNEP four and a half years ago."
When Hendrie became aware of the crisis, she immediately went to work developing a plan to collaborate with policymakers to tackle the plastic pollution problem in North America.
"Plastic is made out of fossil fuel, so we're also contributing to our climate problem," Hendrie said of the multilayered issues associated with plastic pollution. "Most of the 70 to 80 percent of the plastic that we find in the ocean and in the environment is what we call single use plastic. It's a wrapper or a plastic bottle that we use for two minutes and then throw away. Only about seven percent of that globally ever gets recycled. The rest of it leaks into the environment, from landfills, rivers, drainage systems. That's the sort of plastic we have to tackle. It's the water bottle, it's the plastic bag, it's the candy wrappers, or the cigarette butt, which is made of plastic fibers. It's all that stuff that we use and throw away and there's no need."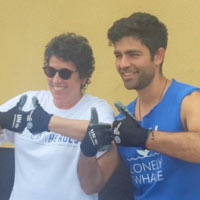 To address these issues, Hendrie is working with mayors and other local actors who are focused on reducing plastic waste. A key initiative of her North America Office is in partnership with over 100 mayors along the full length of the Mississippi River.  The Mississippi River is a major drainage system for plastic waste into the Gulf of Mexico and from there to the Atlantic Ocean. The Mississippi River Plastic Pollution Initiative. aims to create the first ever plastic pollution map of the river. With this information, communities can plan how to reduce their waste and, collectively, contribute to massively reducing the flow of plastic from the river into the ocean.  
"We're working with mayors and local communities to create the first ever plastic pollution map on the shores of the Mississippi River and we're doing it just using ordinary people," Hendrie said of the project. "We're enlisting them as "citizen scientists" to go out with their mobile phone. They load a free app called The Marine Debris Tracker, and they log every bit of plastic they see. The effort of lots of individual people is creating a detailed data base of the river, the first of its kind in the world".
Hendrie is happy to see that the map is generating more awareness for the problem, and she is also proud to see that mayors and individuals from all political parties are involved. 
Hendrie shared, "What I love about it is I don't even know which mayor is a Democrat and I don't know which one is a Republican, and it doesn't matter because they're completely focused on solving the problem," Hendrie said. 
Hendrie plans to share more about this project and other UN efforts at the Weston Roundtable. She says she hopes that attendees will be inspired as they learn more about what ordinary people can do. She hopes people will attend for the conversation, but that they will leave ready to take action.
"I want them, every time a supermarket offers them a plastic bag, to say "Don't offer me this plastic bag. Do you realize this plastic bag is toxic?" You know, the more people say that the more people tell their managers and then their managers tell their managers and actually, you know, consumer power," Hendrie said. "If we all speak up, it has a big impact."
Hendrie's lecture "Tackling Environmental Challenges (Including Plastic Pollution) Globally and Locally: A Conversation with the UN Environment Programme, North America" will take place March 24 from 7-8 p.m. CT in room 1106 Mechanical Engineering, 1513 University Ave, Madison, WI 53706. 
The Weston Roundtable is open to the public and designed to promote a robust understanding of sustainability science, engineering, and policy. Made possible by a generous donation from Roy F. Weston, a highly accomplished UW-Madison alumnus, and co-sponsored by the Center for Sustainability and the Global Environment (SAGE), the Department of Civil and Environmental Engineering, and the Office of Sustainability, these lectures are interactive and allow for questions and conversation. 
Learn more about this and other Weston Roundtable Lectures.