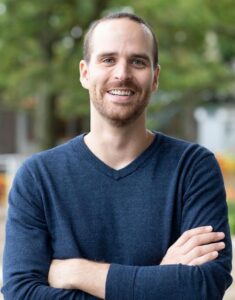 Nelson Institute Center for Sustainability and the Global Environment (SAGE) scientist Tyler Lark is sharing his research into grassland ecosystems through a variety of publications and presentations.
Lark, who leads research on U.S. agricultural land-use change and its impacts on our nation's land and water resources, has spent a great deal of time studying grassland loss and its impact on ecosystems. This research was recently featured in an article in National Geographic. The research, which was conducted by Lark and his colleagues Seth Spawn, Holly Gibbs, and Matt Bougie in the Nelson Institute's Center for Sustainability and the Global Environment is "helping bring light to the issue of grassland losses in the United States and ways we can help mitigate the impacts of land conversion on wildlife, biodiversity, and climate change," Lark shared.
Lark is also quoted in the article "Pulse of the Heartland" which was recently published in National Wildlifemagazine. The article also highlights grasslands and their importance in sustaining wildlife and storing carbon.
Additionally, Lark is quoted in the The Guardian's feature on the United Nations Climate Change Conference of the Parties (COP 15) talks. These talks will determine how governments will halt the loss of nature. In the article entitled, "The five biggest threats to our natural world … and how we can stop them," Lark outlines his research into land use and grassland and how this is impacting the loss of nature.
Lark also participated in National Clean Energy Week in September. The Wisconsin Energy Institute and Great Lakes Bioenergy Research Center hosted a panel discussion of how bioenergy can benefit society and Lark participated in the panel, offering perspectives on the interactions among bioenergy, land use, and the environment.  More information and a recording of the full event with public Q&A session can be viewed online.