Can clean energy solutions like solar power and electric cars help us breathe easier? New research at the University of Wisconsin—Madison shows how our energy choices can benefit public health, from longer life expectancies to fewer kids have checking into the emergency room with respiratory issues. Led by Professor Tracey Holloway and her group in the Nelson Institute Center for Sustainability and the Global Environment (SAGE), this new initiative quantifies win-win situations for public health, the air we breathe, and the global climate.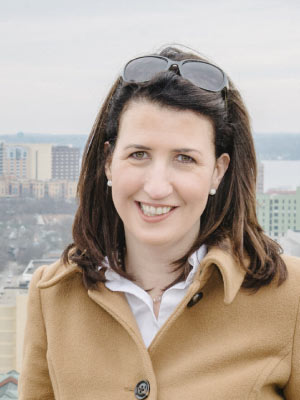 Professor Holloway has spent nearly twenty years at the Nelson Institute for Environmental Studies and the Department of Atmospheric and Ocean Sciences researching the effects of air quality and its relation to energy, climate, and public health. Now, she is partnering with energy and environmental non-profits in the upper Midwest, to "identify policies focused on state-wide carbon reduction goals and assess changes in energy use and emissions."
The goal of this initiative is to quantify how clean energy policies can benefit local air quality and health, as well as greenhouse gas emissions affecting the global climate. "Air pollution is the strongest link between energy systems and public health, and that's because most of our energy comes from fossil fuel burning," said Holloway. "Some of these gasses affect climate like carbon dioxide, but many of the others affect health. They lead to asthma attacks, cardiac disease, or decreased life expectancy."
Through funding provided by the Joyce Foundation and the McKnight Foundation, Holloway works with a team including Dr. Paul Meier, Nelson Institute PhD student Ciaran Gallagher, Nelson Institute M.S. student Xinran Wen, and undergraduates in a style that Holloway describes as a mix between a traditional research lab and a small consulting company. "We work with partners on time-sensitive analysis, so we need to be to nimble and responsive," says Holloway.

The team evaluates air quality and health outcomes of proposed and current policies in Wisconsin, Illinois, and Minnesota, with measurements and models, especially those developed at the U.S. Environmental Protection Agency to support air quality planning and management. From simple screening tools to state-of-the-art mathematical models, Holloway and her colleagues analyze the factors that go into air quality and share their results via presentations and reports with state agencies, regulators, and public-interest stakeholders.
One of their projects evaluates the air quality and health benefits of electric vehicles to reduce the burning of fossil fuels in passenger vehicles. "If we clean up our vehicles, we see cleaner air in cities where cars and trucks are a larger source of pollution. We receive those health benefits, and they occur immediately. You don't have to wait ten years to experience the rewards of clean energy," said Holloway. Electric vehicles also expand options for how that energy is generated including alternatives like solar or wind power.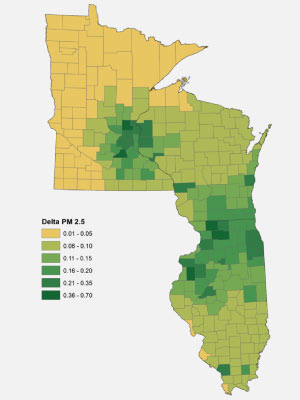 Holloway says that the switch to electric vehicles also opens up economic opportunities for states like Wisconsin that don't mine for coal, drill for oil, and have no natural gas. "All the fossil fuels we use in Wisconsin are being imported from other states. So, there's potential economic benefits from keeping those resources in-state to grow our own economic opportunities."
Additionally, the changes the Midwest makes to decrease carbon emissions will have a global impact. "From a climate perspective, the Midwest is one of the largest carbon emitters in the United States," said Holloway. "We're a center for industry and electricity generation so we matter in terms of what our policies are doing. They're really impactful on a national stage."
The Holloway Group also quantifies the impact of clean energy policies on communities that have suffered the most from poor air quality. "Historically, people of color and under-represented minorities have been disproportionately affected by industrial, transportation, and other air pollution that has known adverse effects on health," said Holloway. "So, as we're thinking of new solutions, we want to make sure that the solutions being proposed are not furthering those historic inequities."
Learn more about the health benefits of the clean energy project on the Holloway Group's website.