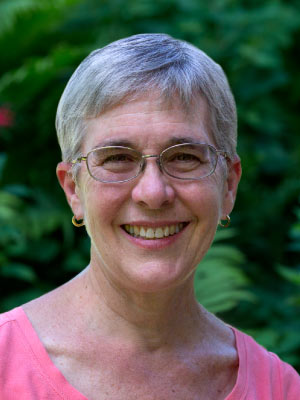 Margaret Krome finds connections everywhere. Even in casual conversation, she draws lines between completely unrelated things to make points so clear that you wonder why you haven't always seen it that way. For instance, to Krome, University of Wisconsin–Madison as an estuary. It's a space of transition where different streams meet, their exchange creating some of the most nutrient-rich habitats on earth, before flowing out to the open sea.
If the UW is an estuary, then Krome navigated quite the river to arrive here. Her headwaters were in Virginia, where she grew up and went to college. She'd always had an interest in the environment; as a young girl, her family spent Christmases downstream in Florida in her grandparents' avocado groves and informal botanical conservatories.  And though she majored in English literature, it only took a few just-for-fun botany and forestry classes for Krome to know that, eventually, she wanted to work in natural resources management. But first, she meandered north to Washington, DC, to work as a lobbyist for poverty and legal aid issues.
After a few years in DC, Krome joined the Peace Corps. She enjoyed the work, but realized she wanted something more permanent — something where her passion for sustainability could take root in a community. And so, from a hut in northern Cameroon, she started applying to graduate schools and was accepted to the UW's Nelson Institute for Environmental Studies. Her estuary. In its interdisciplinary waters, Krome soaked up every piece of information she could. "I was allowed to pick and choose from different departments, different disciplines, and get the information that would be helpful to me," she says. "That was a very important gift from the Nelson Institute. "
While on campus, Krome put some of her DC-era skills into practice. With the mentorship of then legislative liaison for Wisconsin's agriculture department, Jim Arts, and advice from UW–Madison and UW–Extension administrator Ayse Somersan PhD'69, Krome led a campaign to create the College of Agricultural and Life Sciences' Center for Integrated Agricultural Systems, which still exists today.
Krome has spent her career coordinating grassroots efforts to support sustainable agriculture. How? Through connections. She finds the right people to get the right message to the right policymakers. "I see it as something of an art form," she says. "I live the life of working with farmers, connecting them with members of the legislature, with members of Congress, and having their voices carry the day." It's rewarding work, and something that gives her immense hope for the future. "People can be empowered to advance an agenda that they did not think they could advance — and to succeed."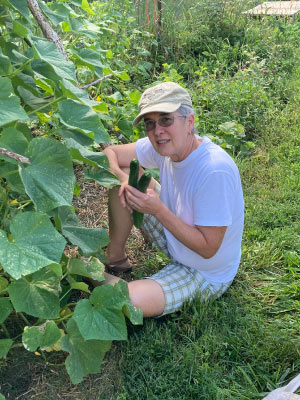 Today, Krome works as the policy director for Michael Fields Agricultural Institute, a small nonprofit in southeastern Wisconsin focused on food and farming systems. Much of her work has been in federal appropriations and "earmarks," or congressionally appropriated funding for longer-term research and outreach projects. In the past two years, she worked with Wisconsin Senator Tammy Baldwin to restore partial funding to the Grazing Lands Conservation Initiative, a USDA program that provides technical assistance and grazing education to farmers nationwide — everything from developing paddock systems for livestock to checking income flows.
This year, Krome helped get a bill through the Wisconsin State Legislature with unanimous, bipartisan approval. It includes a cover-crop incentive program: farmers who plant fall cover crops can receive $5 per acre reduction in their crop insurance premium. These small-grain crops — oats, barley, wheat, rye — are critical, but underused. They pull up important nutrients from low in the soil profile, hold soil and capture water, plus they serve as a nurse crop, protecting smaller crop seeds like alfalfa while they take root. In addition to seeing the bill through the legislature, Krome is also studying why more Midwestern farmers don't plant cover crops. "Wisconsin farmers currently only grow about a fifth of what we grew 50 years ago," she explains. Increasing that percentage will not only diversify Wisconsin farmers' production, but also improve the state's soil and stream health — and further downstream, the livelihood of shrimpers in the Gulf of Mexico.
What connects Gulf fishermen and Wisconsin's farmers, two industries removed by 1,000-plus miles? "They inherit our water," Krome explains, and when she does, the connection seems obvious. "They inherit bad water quality, and they also inherit too much water." She's referring to the dead zone, a stretch of the Gulf that, due to heavy nutrient loads from the Mississippi watershed, is low in oxygen, making it inhabitable for marine life. In 2016, Krome recognized this connection and forged a cultural relationship between the fishermen and southwestern Wisconsin farmers.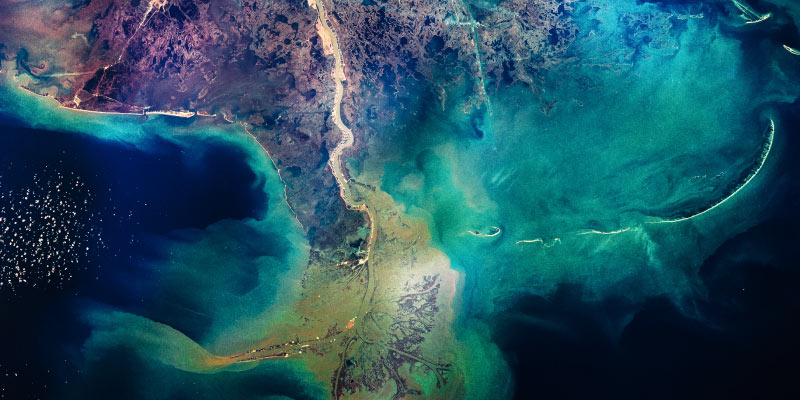 The two groups travel and visit each other's operations. When it's Wisconsin's turn to host, Krome houses the fisherman not in hotels, but on the actual farms. The two seemingly disconnected groups have shared their homes, experiences, and meals — the fisherman bring fresh Gulf seafood with them to serve alongside Wisconsin's famed bratwursts. "We serve Gulf shrimp at our field days as a way of pointing out the relationship between what we're talking about here [in Wisconsin] and the livelihoods of people we don't see, but whom we now know," she says. The connection is working. "The nutrients running off our fields are contributing to the dead zone in the Gulf of Mexico," said farmer Michael Dolan after a 2017 trip to Louisiana's bayou country. "I feel more of a connection to the people down here, and I really don't want to negatively impact their lives."
Krome doesn't just find connections, she creates opportunities. She's proudest not of her own wins, but the successes of those around her. She calls out two programs that her staffers saw to fruition and that Wisconsinites will be familiar with. The first is Buy Local, Buy Wisconsin (BLBW), a grant program introduced in 2008 to help increase the sales of local food products. There's also the Wisconsin Farm to School program, launched in 2009, which promotes the use of local food in school meals.
Both programs are still going strong today and have had significant impact to the state. A 2020 BLBW impact reportshows that the program had created 138 jobs and increased the sale of Wisconsin products by more than $12.69 million. In October 2021, Governor Tony Evers named October as Wisconsin Farm to School Month to celebrate the program's impact. "I'm proud that it was not I working with the Legislature, but my staff person who led. That's something on their resume for the rest of their lives. I'm proud of cultivating other people's capacities."
As she looks to the future, Krome reflects on what's most important. Climate change and the environment are paramount, of course. "But where I feel our work needs to build is toward deeply respectful engagement with people of color and marginalized communities to give them agency to advance their agenda with the most support and fewest strings attached possible." She's proud to work at an organization that has had an "unambiguous and long-standing commitment" to racial equity and justice in agricultural work.
In her personal life, Krome is taking some of that work to her local community by doing what she does best: connecting. She connected with Filiberto, a Michigan blueberry farmer whose Latinx growers group was being squeezed out of their market by white farmers. She connected with Amber, who works with Black vegetable and pecan growers in southwest Georgia who were offered them $12 per box less than their white counterparts. And then, she connected Filiberto and Amber with several hundred Madisonians interested in direct-buying their produce. Twice a year, Krome's garage turns into a distribution center for blueberries, pecans — and yes, Gulf shrimp.
Margaret Krome MS'89 is one of six Nelson Institute Alumni Award winners. Their stories are featured throughout this magazine and online.