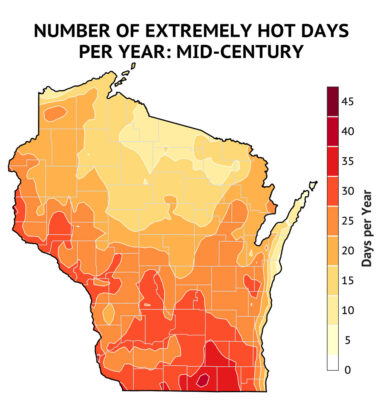 The Nelson Institute Issue Brief is a quarterly publication that summarizes and conveys up-to-date scholarship from across the UW–Madison campus on key issues of environmental concern. The latest edition focuses on extreme heat and drought. As the Earth's climate changes, so do occurrences of extreme heat events: in the next 50 years, the state of Wisconsin is projected to see an additional 20-30 days of 90-plus degrees Fahrenheit. In this issue of the Nelson Issue Brief, learn how the effects of urban heat islands disproportionately affect marginalized groups; how technology can help avoid preventable heat-related deaths; and how an increase in droughts is affecting Wisconsin's agriculture.
Featured in this issue:
The Urban Heat Island Effect in Dane County: Nelson Institute's Elizabeth Berg and Christopher Kucharik
Building a Heat-Health Warning System for Southern Wisconsin: Laurence Kalkstein; Nelson Institute's Elizabeth Berg and Gavin Luter; and Jonathan Birkel
Water for Potatoes, Water for You: Sustaining the Wisconsin Central Sands Ecosystem and Economy: Nelson Institute's Ankur Desai
Flash Droughts in a Changing Climate: Jason Otkin, Nelson Institute's David J. Lorenz, and Yafang Zhong
Read the latest issue (PDF), or browse past issues.