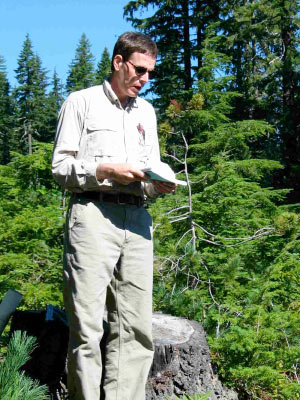 When Robert Ribe was 17 years old, his mother handed him a book. It was Design with Nature, published in 1969 by Scottish landscape architect, Ian McHarg. The book itself was ground-breaking — it helped catapult the fields of landscape architecture and environmental planning into the mainstream. And for Ribe, it set his future in motion. "That was when I decided to become an environmental planner," Ribe says. Which is exactly what he did.
As the field of landscape architecture flourished, so did Ribe's career. His expertise has taken him across the globe — from Tasmania, where he helped design ecological timber harvest methods, to Zurich, where he studied planning methods to overcome public opposition to new wind-farm designs and locations. He even played a role in resolving the spotted owl controversy of the 1990s by leading research to implement the Northwest Forest Plan in a way that would sustain public support, maintain the endangered species' population, and allow for timber harvest.
Traveling the world was part of Ribe's upbringing. His father, a nuclear fusion researcher, often took the family on trips. "He was super energetic at taking us all over the world and all over the country to see places," Ribe recalls. "I got to see the world and all kinds of people and places. I was fascinated by that." At the age of eight, his family spent a year living in Europe — Switzerland, Austria, and Bavaria. "That's the perfect, impressionable age when you decide you want to help keep the world that way."
One of the Ribe family's travels in the 1970s— stateside, this time – was to an energetic college in the Midwest: Madison. Ribe was in high school when his father attended a conference on nuclear fusion. "He took my little brother, me, and my mom, and we lived in Madison for two weeks — in Witte Hall!" Ribe remembers. While Dr. Ribe attended the conference and Mrs. Ribe met with friends, the brothers explored. They ate at Gordon Commons and the Memorial Union, walked all over campus, and even rented a sailboat from Hoofers. "After you do that," Ribe says, "you think, 'this is a really cool place to go to school.' That's probably what got me to Madison, was the time I spent there as a kid."
The campus clearly left an impression, as Ribe came back after completing his undergraduate degree at the University of California–Riverside. He became a triple Badger, earning his MS in landscape architecture, MA in agricultural and applied economics, and PhD in land resources from the Nelson Institute for Environmental Studies.
Ribe's time on campus left lasting effects on the state — or at least, he "likes to pretend" it did, he humbly quips. Ever ridden on the 40-mile Military Ridge State Trail? In Ribe's first design studio, led by former landscape architecture professor Phil Lewis, the class was tasked with recommending which abandoned railroads should be turned into bike paths. Military Ridge was one of Ribe's recommendations in the final report.
Projects like this, coupled with mentorship and expertise from Nelson faculty, set Ribe up as an expert in his field. "The main work I've done in my career is helping communities of people and policymakers understand and identify solutions to very complex problems that the public would support," he explains, armed with a list of UW faculty whose interdisciplinary expertise helped him along the way: "Tom Bonnicksen taught me the whole framework around which public policy and landscape planning interact. Rick Chenoweth taught me how to do public survey research. Don Kaneltaught me how economic issues play into public policy. Mark Hansen and Joe Buongiorno taught me how to perform and critique policy analyses. Don Crawford taught me how aesthetic perceptions are often powerful and central to public perceptions. Tom Lamb and Bruce Murray taught me about public participation. Stanley Temple and Jeff Steir taught me how conservation and forest ecology relates to environmental planning. That mix of interdisciplinary skills that they taught me was invaluable."
Today, Ribe considers Eugene, Oregon, home. He's been on the faculty at the University of Oregon since 1988, teaching environmental studies, public policy and management, and landscape architecture. He also served as director of the university's Institute for a Sustainable Environment. He tells his current students that the field of environmental studies isn't just interdisciplinary, it's a discipline. "How do you produce things for the public that don't produce themselves? It's a complex, multitopic discipline," Ribe says. "I have always felt that way from the time I got to the Nelson Institute. It really is a discipline to make good things happen that are very hard to make happen. Nobody else can do that but people who are doing environmental studies."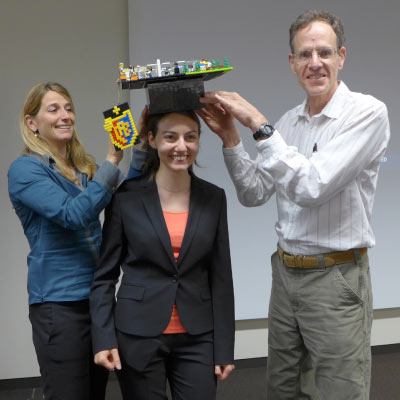 When it comes to teaching the next generation of environmental stewards, Ribe advises his students to take classes that "don't look like you should take them." He recalls taking a UW class in econometrics, taught by Rubin Busse. As Professor Busse took attendance, he paused at Ribe's name: "You're an environmental studies major?" he asked. "Those skills that I learned in that class, I use every day. I'm using them today," Ribe says, gesturing at the stack of papers across his desk — work that includes a National Science Foundation project (that has an impending deadline) to understand why land owners in western states aren't reducing wildfire fuels on their land, as well as a Pacific Northwest National Laboratory grant (that also has an impending deadline) to write new zoning and building codes that will create more urban niches for solar panels.
In the 30-some years since earning his PhD from the Nelson Institute, Ribe has garnered quite the collection of feathers in his cap. But he emphasizes that he's not a solo act. "Everything is teamwork," he says. "I've been deep in richly collaborative processes." One of those collaborative processes also happens to be one of his proudest moments so far. In 2015, New Mexico's Valles Caldera National Preserve was transferred from a private trust into the National Park System, and then in 2019, added to the Bandelier National Monument. Around that time, Ribe served as the primary expert witness in a case that built support for preservation and, ultimately, prevented a 300-kilovolt power line from running directly through the landscape. Ribe went through a full deposition, was on the stand for four days, wrote legal briefs against the other experts (something he credits UW professor Ben Nieman with teaching him) — and did it all pro bono. "The activists should get all the credit," Ribe interjects. "I couldn't have succeeded toward that National Park without the Pueblo peoples and other stakeholders. They deserve as much credit as anybody."
As Ribe looks ahead — perhaps to retirement, perhaps out of university administration and back to theoretical work — he tries to hang onto hope for the future. And to do that, he does what he does best: thinking about the complex relationships between people and the environment. "Understanding how the world works is more important than understanding how the environment works," Ribe believes. "People are the main obstacle to solving environmental problems." It seems like an insurmountable problem, but it doesn't have to be. "You can find solutions, you can make progress, if you're sensitive to [people's concerns] and actually touch the grassroots organizers and public officials in robust and nuanced ways," Ribe says. "I've made a living just learning how to listen to and work with all kinds of people of all political ideologies and attitudes. I can appreciate them and understand them. There is hope if more people will do that."
Robert Ribe MS'81, MA'87, PhD'90 is one of six Nelson Institute alumni award winners. Their stories are featured throughout this magazine and online.