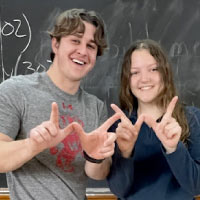 A documentary of the F. H. King Students for Sustainable Agriculture. Paintings that address food waste and incorporate paint made from food scraps. A wood-burned map that describes the impact of land use change on trout streams. A hand-drawn guide to foraging.
These are all projects that students have created in Geography 309: People, Land and Food, taught by Nelson Institute Center for Sustainability and the Global Environment (SAGE) and Department of Geography Professor Holly Gibbs. The class explores food sustainability through topics like tropical deforestation and farming systems. As part of the course, students embark on their own projects related to sustainability.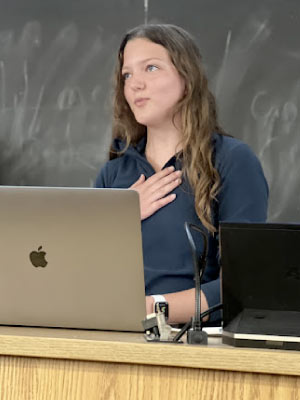 "One of the strongest points of my class and the thread that holds it all together are these food sustainability projects. They're semester-long projects … [in which] students are grappling with an issue that they pick out, an issue that they internalize and think about how they want to make change," Gibbs said.
Students in the course enjoy having the creative freedom to pursue topics that are interesting to them. "That's I think one of the coolest parts about it," said Caroline Crowley, a student in the class. "As long as the project mostly relates to food or honestly just sustainability, they're kind of just like, 'Run with it, see what you can do.'"
Crowley, a second-year student majoring in Journalism with a certificate in Environmental Studies, created a blog with vegan recipes tailored to athletes. A food writer for the magazine The Dish, and a vegan herself, Crowley wanted to make a website that would be accessible to college students.
"I really like making websites and I think that it's easier to reach more people with them," Crowley said. "I just felt like the website was a good use of my skills from the [Journalism] School and all my time I've spent doing website stuff to reach more people."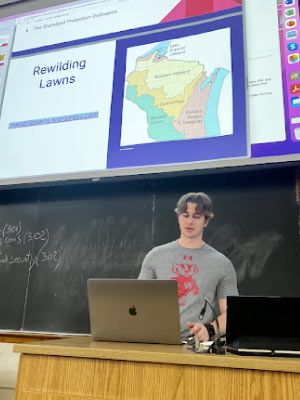 Grady LaJeunesse, a junior majoring in Biology and Environmental Studies, also built a website that provides information about rewilding lawns with native plants. He remembered playing in his lawn as a kid, but noticed the whole yard being used less as he got older.
"I feel like it's something everyone could do with relative ease, just plant some stuff here and there," LaJeunesse said. "Basically, you spend less time taking care of your lawn and it's more like you let stuff grow."
Other students worked with organizations like the Appleton International Airport and the Friends of Koshkonong Creek. The class has received grants from the Office of Sustainability, the College of Letters & Science, and the Kemper K. Knapp Bequest, and it is now partnering with the UniverCity Alliance.
The Kemper K. Knapp Bequest "allowed us to have an additional TA in the classroom that can help facilitate relationships with stakeholders for the students," Gibbs explained. "Having that extra TA really allows us to go a step farther in supporting the students."
As the end of the semester approaches, students are working on final papers about their projects and will present their work to the class. Crowley and LaJeunesse hope to share their work via social media or have it featured on other websites.
Gibbs said students are inspired by the idea of their work living on and said future capstone classes in Environmental Studies or independent studies could allow students to keep their projects going.
"I wanted the students to kind of embody this idea that undergraduates are able to make change now," Gibbs said. "That was one of the motivating forces behind these projects, to help the students learn to grow these networks, to practice these skills, but also to actually make change, to matter in our community and make our community better."