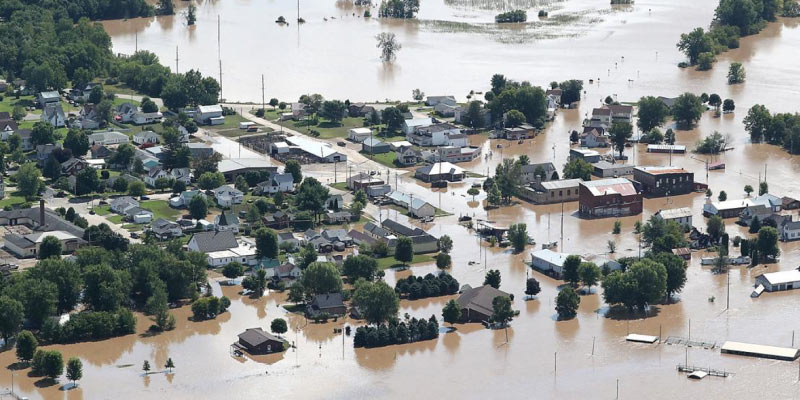 A cohort of graduate students within the Nelson Institute's Water Resources Management (WRM) program recently published a report that took an interdisciplinary approach to researching flood resilience in the Coon Creek watershed, an over 90,000-acre area in the unglaciated Driftless Area that crosses three Wisconsin counties and is considered the birthplace of modern soil conservation.
Initiated by the 2019-21 WRM cohort, the project was developed in response to a severe rain event that fell over the Coon Creek Watershed in 2018, resulting in the failure of three dam structures and inundating areas downstream with floodwater. The report serves as the culmination of a two-plus year project focused on the watershed of Coon Creek in Monroe, La Crosse, and Vernon Counties, Wisconsin.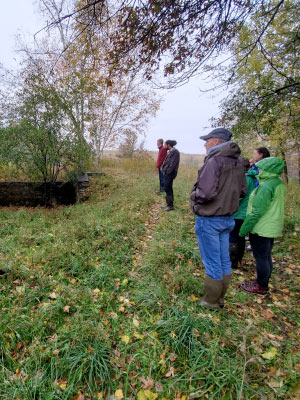 The six-member practicum cohort had a multi-pronged hands-on approach to the project including taking infiltration measurements across different land uses in the watershed, assessing the changes in land management practices through GIS and determining the economic impacts of changes in land use, conducting interviews with watershed managers and members of the general public, analyzing the institutional landscape as it relates to flooding, and identifying indicators of resilience within the community.
Bob Micheel, director of the Monroe County Land Conservation Department and key partner on the project, has led many discussions in his community in recent years about the connections between land management, climate, and flooding. "It's one thing for me to have a notion about some of these changes and drivers of flooding in our region, but it's really valuable to have those changes analyzed and documented by UW researchers so that we can use them for our programming purposes," Micheel said.
The report serves to inform municipal and community stakeholders in the five different but overlapping areas of interest that culminated in tailored recommendations including creating a Joint Powers Board, promoting good land management practices such as contour strips and managed grazing, increasing funding for local government staff, expanding the role of infiltration in state agricultural programs, and developing better public-facing flood mitigation and response resources.
Eric Booth, associate scientist in the Departments of Agronomy and Civil & Environmental Engineering and lead advisor on the project, decided to have the students focus on the Coon Creek Watershed after hearing Micheel give a presentation back in February of 2019. "It really seemed like a great opportunity for the students to study and engage with a watershed community on the frontlines of climate change adaptation and for them to provide valuable information to help the community plan for the future," Booth said.
Water Resources Management (WRM) is a Master of Science degree program housed within the Nelson Institute for Environmental Studies at the University of Wisconsin-Madison. WRM graduate students complete 45 credits of interdisciplinary coursework across categories such as the natural sciences, engineering, social sciences, planning, and water management. Instead of conducting individual research, students participate in a collaborative practicum that extends across their two years in the program.
The WRM practicum concentrates on a relevant water management issue facing a local community, and students form partnerships with organizations and institutions to develop project objectives and ultimately deliver management recommendations.
Learn more about the Water Resources Management program and how you can support the program.