As a Geospatial Software Engineer with the Pacific Wildland Fire Sciences Laboratory, Nelson Institute graduate Stuart Illson turns data into models and tools that help scientists to better understand forest fires, smoke, air quality, and so much more. While creating these models has become a dream job for Illson, he says he didn't have a vision for how his career would unfold until a few years ago when he joined the Nelson Institute Environmental Observation and Informatics (EOI) program.
Prior to joining the program in 2018, Illson had received his undergraduate degree in biology and psychology from Chico State and had been working for several years at a variety of jobs related to software engineering, a skill he had learned through a few classes and some on-the-job learning. Although Illson enjoyed software engineering, he said that he felt compelled to find a way to bridge his interest in data and engineering with his love of the natural world.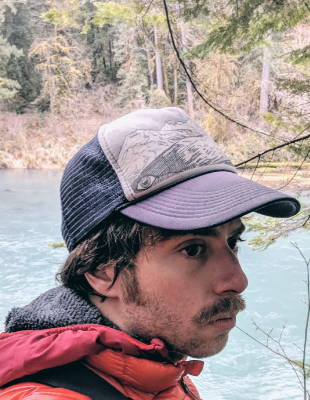 "One day I was reading an article about funding cuts being made to the Natural Resources Conservation Service (NRCS). They produce snowpack maps that are important to understanding the upcoming water season in the West, but with the cuts, they were no longer going to be able to make the maps" said Illson, who is interested in water policy. "I ended up calling the guy from the NRCS who was interviewed in the article and I asked him if I could help to produce the maps. I told him I didn't need to be paid, but just wanted some experience and maybe a good reference from him."
The NRCS accepted Illson's offer, a partnership that allowed him to dip his toes into geospatial analysis while working on a project that fit his personal interests and passions.
"The NRCS project was a lot of fun, so I joined a listserv and started introducing myself to people who were in the same field," said Illson. "Through the list I ended up finding [EOI program coordinator] Sarah Graves. She introduced me to the Nelson EOI program, which sounded perfect and exactly like what I wanted to do, but coming from the west, I didn't really equate the Midwest with forestry. But, after I spoke with Sarah I was impressed. It's a credit to Sarah and how good she is at her job. The EOI program felt genuine and I felt like they understood what I was excited about and were willing to allow me the freedom and input to explore that."
Illson decided to apply for the program and was on his way to Madison, Wisconsin by May to join his co-hort for the 15-month professional master's program, which integrates Earth observation and informatics technologies with big data analytics. The program includes two semesters of in-person learning, a semester of online learning, and a final semester that includes an internship and professional project. Through these unique learning opportunities, students gain technical expertise and leadership skills that prepare them to be leaders in remote sensing and integrated technology, modeling and analysis, and strategic thinking.
"I am so happy Stuart was a part of the first EOI cohort," said Graves. "When he first contacted me it was clear he had a passion for the environment and was ready to push himself to doing something new. I think his big motivation to joining this program was because he recognized there were things he could learn better in a structured environment from experts and with peers. It was refreshing to hear this from him, especially in this era of having lots of opportunities to take online courses at your own pace from the comfort of your home."
Although Illson had to leave his job in Bend, Oregon, to join the program, he wanted to stay engaged in the field so he took a data science job while in Madison. Illson says that the program supported his decision to work and that the flexibility of the program allowed him to continue to do both, even integrating some of his work experience into his school projects.
"The EOI program really helped me to learn to talk about remote sensing in an intelligent way and be a part of that conversation," Illson said.
In fact, before graduating from the EOI program, Illson had secured a job with the Pacific Wildland Fire Sciences Laboratory, where he now works.
"EOI helped me to know what I wanted to look for in a job," said Illson. "I ended up getting an incredible opportunity out of this scenario and I wouldn't have even been considered for the job had I not been a part of the EOI program."