Jim Schleif, BA '87 French and international relations, and Bill Morley pledged a $10,000 gift to establish the James A. Schleif and William H. Morley Undergraduate Study Abroad Travel Award. The purpose of this scholarship is to provide support to full-time undergraduate students pursuing a Certificate in Environmental Studies or an undergraduate major in environmental studies with the Nelson Institute. Natalie Brunner, the inaugural recipient, received a $3,000 award in spring 2019.
An Excerpt from a Post-Trip Email from Natalie
Dear Jim and Bill,
My oh my does time fly! I have been back in the states for about a month now, readjusting to being back at my old jobs, catching up with friends and preparing to move! That being said, I have had plenty of time to reflect on my experience in Denmark and Norway and wanted to share it with you!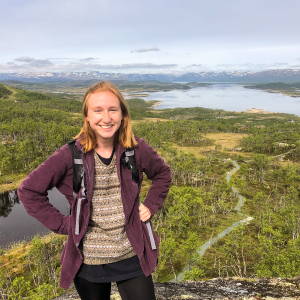 As I mentioned to you when we met at the Nelson Institute's Commencement, I was taking a course on sustainable development in Northern Europe. During my first week in Copenhagen, myself and my classmates spent our time in the classroom learning about everything that Denmark has done to advance sustainability in their country, including abiding by the sustainable development goals set by the United Nations, expanding carbon offsetting programs, investing in education, perfecting their biking infrastructure, and much more! Their goal is to achieve zero emissions by 2020 and to be carbon neutral by 2030.
In my second week, my class and I traveled together, by boat, to Oslo, Norway and then by bus to the remote Southern town of Rjukan. In Oslo, we toured the biodiversity rich Frognerparken sculpture park, the Opera House overlooking the harbor to learn about the sustainability of its building materials and ate the most delicious 100% vegan buffet dinner. In Rjukan, we had the opportunity to tour small- and large-scale hydropower operations, hike and learn about the history and maintenance of Norway's largest national park, Hardangervidda, and have an exclusive visit with the creator of the startup carbon offset company, Chooose. Not only did my classmates and I further our understandings of the intersectionality of sustainable technology and the natural world but were surrounded by beautiful scenery that reminded us all of the incredible, life giving planet we are devoting our lives to protecting.
For the third and final week of my program, we returned to Copenhagen to learn about more niche areas within sustainability, focusing on urban planning, agriculture, renewable energy markets, the garment industry, and other seemingly separate systems, in an effort to understand how both individual and institutional choices influence the choices that decision makers in these areas make. We worked on our final projects, which involved choosing a sustainable development goal and developing a ready to implement plan on how to achieve that goal in our hometown. My partner was from Atlanta, Georgia, which has some of the most severe traffic congestion issues in the country, second only to Los Angeles. We proposed economic incentives and policy changes to improve the efficiency and accessibility of the city's poorly funded public transit system to boost the economy, lower carbon emissions and improve wellness among member of the metropolitan area. Hopefully someone will take our advice!
My experience in Denmark is one I will never forget. The knowledge, friendships and insight I gained there have transformed the way I think about sustainability holistically and have inspired me to pursue graduate school for urban and regional planning in the future! I owe it all to you two for supporting my study abroad and I am forever grateful that I was able to make this dream of mine a reality. Thank you so much once again, I hope we will be in touch!
Many thanks,
Natalie