Combining hands-on technical training with a strong support system of fellow students, alumni, staff, and faculty is a hallmark of the Nelson Institute Professional Master of Science programs. With two distinct programs including Environmental Conservation (EC) and Environmental Observation and Informatics (EOI), the programs prepare students to become future environmental leaders, while connecting students with a network of current environmental professionals and organizations around the world. Some of these connections come through informal events such as the "Where are they now? Alumni Panel," held in early 2022.
During this event, current and prospective students had the opportunity to virtually meet four EC and EOI alumni who shared their Nelson Institute experience as well as how the program has impacted their current professional role. 
"The opportunity for current students to connect with our program alumni who have walked their same path and are now successfully applying their expertise is one that's richer than we pictured it could be," said Meghan Kautzer, who is the EC program coordinator. 
"Through alumni events, our students become integrated into a global network of conservation professionals, and they receive advice on how to get the most of their time in the program while connecting with mentors that have an impact far beyond their time on campus," added Sarah Graves, the EOI program coordinator.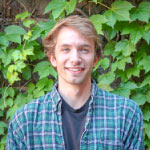 The four alumni who presented at the event included Josh Daniels ('19) who works as a freelance data scientist/consultant for Stratos Spatial LLC and does cybersecurity for Epic Systems, Sharanya Madhavan ('21) a data scientist at Greenlink Analytics, Adrienne Marvin ('17) who is a program officer and senior facilitator with Foundations of Success, and Adam Pereira ('20) who is serving as the conservation director for the Royal River Conservation Trust. These individuals are among the 200+ program alumni who are working on a vast range of environmental specialties. 
Throughout the event, the alumni shared their advice for academic and professional pursuits as well as some of their most relevant experiences at the Nelson Institute. 
Marvin, who works at the intersection of conservation and human development, shared that she was thankful for the leadership seminar and conservation planning courses. 
"What I found is that it's usually people who more or less agree with one another, we just can't quite get on the same page, which actually makes it more difficult in some ways. One of the first things they taught us was the importance of having a common language so that everybody is using the same terminology for the same things. I don't think I fully internalized how important that was until I started to talk about conservation with groups…learning to sort of bridge the gaps between related fields and have meaningful conversations about things that we all care about, while thinking differently has been really important."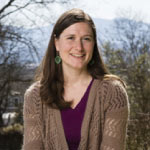 Marvin shared that she utilizes these lessons in her current role with Foundations of Success, an organization that provides conservation practitioners with "the skills and tools needed to be more effective and efficient in their efforts". In her role, Marvin supports the planning, implementation, and growth of projects designed to produce both human well-being and conservation outcomes. She has been directly involved with efforts to combat wildlife trafficking and has helped teams design projects using the best practices in adaptive management. She hopes that her work has a lasting impact for biodiversity and the communities that depend on it.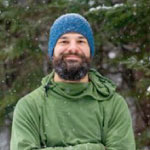 Fellow alumnus and speaker Pereira echoed Marvin's sentiment, stating that the courses have provided him with skills he continues to use in his career. "With GIS, I had no experience until I came into EC and we took a semester long class. I really, you know, was drawn to it and excelled in it…working for a small nonprofit you'd be surprised how quickly you become the expert in something [like GIS]."
In addition to the technical skills, Pereira appreciated the program's emphasis on communication skills and navigating interactions with stakeholders. This has been particularly useful in Pereira's role with the Royal River Conservation Trust in Maine. There he focuses on planning and acquisitions and is in the process of writing the land trust's first conservation plan in twenty years.
"In conservation, it's all about people and it's all about negotiating and playing with individual dynamics," Pereira said. "People are so different, every landowner's different, you really have to cultivate a relationship with each person."
During the event, the alumni also shared some of their professional challenges and offered advice to students who may also face these challenges in their leadership projects or as future professionals. One challenge the EOI alumni noted is that it's easy to get carried away with data and big ideas and communicating data limitations can be tricky. Another challenge voiced by several alumni is communicating the data in the right way to the right user.
Daniels, who works with environmental "big data" and has experience on more than 30 projects as a freelance spatial data scientist, noted that working with clients who aren't as knowledgeable about the data space can bring about many of these challenges. He also shared that there are lots of ambitious people, so it can be challenging to set reasonable goals and expectations.
The alumni also noted their appreciation of the individualized attention that small cohorts allow. They acknowledged the sense of community they felt while in the program as well as the community they gained while participating in their final leadership project, which requires students to engage with an outside organization. The alumni noted these projects resulted in robust network connections and even jobs. Additionally, some alumni have gone on to serve as on-site project host supervisors to students currently in the program, a particularly significant full-circle outcome for those who developed the programs.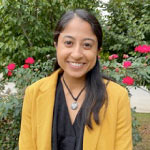 "Don't be afraid to reach out, if you think an organization looks cool," shared Madhavan, who now works for her project organization, Greenlink Analytics in Atlanta, GA. "Don't be afraid, because some of these organizations are smaller than you think or you might have expertise that they're looking for, especially if you are in the geospatial field. It's much needed, everyone's looking for you."
Madhavan, who has experience as an engineer and now utilizes geospatial data science techniques to assist cities with combatting equity related issues, also advised students to use the leadership project as an opportunity to gain new skills and to let that desire to learn guide the project. 
Overall, the alumni shared that the Nelson Institute Professional Programs offer students unique opportunities to explore topics through workshops and courses and to build friendships and professional networks that will last beyond graduation. 
"We're lucky to have so many alumni who want to give back to our programs through interactions like this with current students," said Nathan Schulfer, director of international and professional programs at the Nelson Institute. "We also could not be prouder of the incredible work our alumni are doing, around the world, to help solve really big environmental challenges."
To learn more about the professional programs and the rich network and mentorship opportunities that come with being a student visit https://nelson.wisc.edu/graduate/professional-programs/