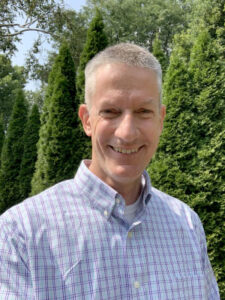 As a section chief with the Wisconsin Department of Natural Resources, Ben Callan has seen the impact that flooding and water quality issues can have on a community. With more than 30 years of work experience in the sciences, he has honed his professional skills, but in an effort to do more to help his community, and fulfill his dream of continuing higher education, Callan has joined the Nelson Institute Water Resource Management (WRM) master's program. 
The Nelson Institute Water Resources Management (WRM) program provides students with the knowledge they need to manage this critical natural resource. This is done through a combination of courses and hands-on education that includes a practicum where graduate students work on an issue facing a local community. Callan was drawn to the program as it has an interdisciplinary approach with a community focus. 
"The Water Resources Management Program seemed like a really good fit," Callan said. "It is not a research and thesis based program. It is a practicum project, which I think is a very good skill to have no matter what profession you want to go into. Working with other people with diverse backgrounds to achieve a common task or objective is an extremely valuable asset."
Callan also appreciates that the program is supportive of returning students and that it provides individuals with the opportunity to apply their skills and interests in a way that helps the cohort and the community. 
For Callan, his years of professional experience and unique educational background offer him many ways to contribute to his cohort. In fact, Callan's journey to the WRM program began in 1987 when he graduated with his undergraduate degree. From there, he immediately went on to graduate school at San Francisco State University with the intent of studying marine biology, animal behavior and marine mammals. For financial reasons, he decided to leave the program and return to Wisconsin where he worked for a while before returning to graduate school to focus on animal behavior, studying captive primates. Callan says the project was not a good fit, so he left the program and went back to being a professional. During this time, he got married and had a family, which he says became his top priority. 
"That's about the time I started my professional career with the Department of Natural Resources," Callan said of his next steps. "Fast forward to my kids wrapping up their college careers, and that's when I realized there was a little bit of extra time and funds available for me to go back and check a box on my list. So, my perspective is, I think, a little different than most students."
Callan is happy to say that the WRM program has been a good fit and he is excited to be moving forward with his dream to earn a graduate degree.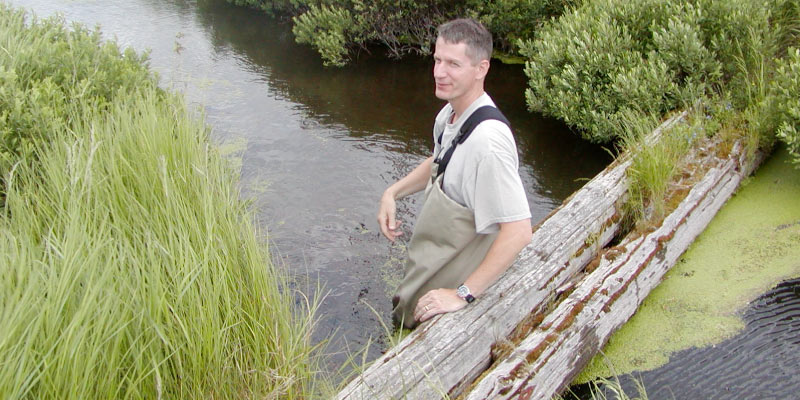 "UW and the Nelson Institute really focus on how to support students so that they can get the most out of their educational experience and utilize that experience to do great things down the road, no matter what it is, whether it's continuing academic pursuits, or, nonprofits, government, private sector," Callan said. 
He is also thankful for the support the DNR has shown him as he continues his education.
"The Wisconsin Department of Natural Resources has a long history of supporting the professional development and continuing education of our employees, and Ben's enrollment in the Water Resources Management program is as much an investment in the department's organizational effectiveness as it is in his own professional development," said Greg Pils, the director of the Bureau of Environmental Analysis and Sustainability and Callan's supervisor. "As manager of some of the department's most complex and high-profile programs and supervisor of eight technical professionals statewide, the challenge of concurrently fulfilling his academic and professional commitments is pretty substantial, but Ben is an excellent time manager and skilled communicator, and the experience has been emphatically positive for all of us."
Callan is currently a part-time student in his second year of the program, with plans to graduate in spring 2023. He and his cohort are working on their applied project, which is a two-year project that culminates in a report that provides water management recommendations to community leaders. 
"There's six of us and we function like a lot of other professional teams I've participated on," Callan said of his cohort. This WRM team is focused on improving water quality in the Lake Wingra watershed by promoting effective green infrastructure (GI) projects. "So far, we've talked with a number of stakeholders that have been working on that very same objective in order to find a niche for us to support their efforts. There are governmental organizations, neighborhood associations, nonprofits that all have an interest in and have been working toward that very same objective and what we've tried to do is develop a project that supports all of those efforts without taking any of the responsibilities away from those other entities. It's really looking at trying to enhance those efforts and yet gain the knowledge and experience to feel like you're doing something productive as a cohort to accomplish that goal."
In the coming months, Callan and his cohort will be finalizing their survey results and data analysis, then compiling their report, but Callan is also thinking about how he can apply this to his current role with the DNR. 
"Professionally, I'm very happy with where I'm at. My team of experts has diverse responsibilities and often deals with high-profile and controversial projects," Callan said. "I'm trying to take advantage of all the different experiences, through coursework, this practicum project, and other activities to gain new knowledge. I would say that it's really kind of expanded my perspective. A lot of what I do professionally is so focused on meeting statutory requirements, overseeing the regulated community, and making sure projects are completed in compliance with those requirements. It's difficult sometimes to pull back from that focus, to really ask questions like are we doing the right work, or is it or is there a better way to do what we're doing? Can we get better results or make better decisions? And so, I think that's where kind of this educational experience has opened up some additional opportunities to gain insights." 
For professionals or undergraduate students considering returning to graduate school or taking another big step in their life, Callan says, if there's one thing he's learned during his journey, it's to not shy away from a challenge. 
"I think oftentimes people get intimidated and tend to shy away from really difficult tasks." Callan said. "It's something that took me a while to learn, that you want to take advantage of those really challenging situations when they present themselves because they offer the most opportunity for fulfillment and satisfaction."
Learn more about the WRM program and how you can support the program.