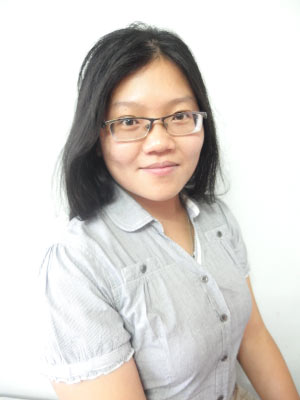 Nelson Institute and Department of Anthropology dissertator Pearly Wong has been named a Public Humanities Fellow through the A.W. Mellon Public Humanities Fellowship program. As a part of this fellowship, Wong will spend nine months working with Odyssey Beyond Bars (OBB), a University of Wisconsin-Madison program that teaches credit and noncredit courses to incarcerated individuals in Wisconsin.
"I was really excited when I found out about this opportunity, and I was really happy to get accepted," Wong said. "I knew about the Odyssey Project because it's somewhat similar to the educational work I was doing before coming to the university. So, when I saw this fellowship with OBB, I was really excited."
Wong's current PhD research focuses on community development in semi-rural Kathmandu Valley, Nepal. She remains interested in opportunities that connect her academic research with social justice programs such as the OBB.
"My research interests include looking at how people in Nepal mobilize resources using a variety of means for community development. In a way, I am studying how they talk about development and sustainability and how that impacts the ways they mobilize," Wong said. "While I'm very interested in teaching and research in this area, I'm also interested in service positions in a higher education setting. Before my graduate career with UW-Madison, I was a program manager with UNESCO in Nepal and that's how I came to know the community I am working with. At the time, I was working to provide non-formal education through pilot programs and policy work. Now, I want to do a bit of both worlds. I want to be able to make actual change and support people on the ground, but I also want to be critical and aware of the larger structure and study this."
Wong, who was also named a 2020 University of Wisconsin-Madison Planetary Health Scholar, hopes that this Mellon fellowship will help her to fulfil this goal of combining her passion for helping people with her interest in academics.
"I was studying biology and working in labs during my undergraduate years, but then I had the opportunity to travel to many places and learned that I'm really into discovering and understanding people's lives. I like learning the ways we are different but also similar," Wong said. "So, it's great that the university is doing something like this. Doing academic work is exciting, but doing this gives me a different kind of excitement because it allows me to make tangible progress in terms of impacting other people's lives."
In addition to the opportunities provided by this fellowship, Wong is also grateful for the opportunities she has received as a graduate student within the Nelson Institute.
"My background makes it difficult to go into a traditional discipline, but Nelson seems to be a perfect place for people like me," Wong said. "Nelson is giving me the freedom to focus on any topic I want so long as it is related to using resources and the impacts around it. The interdisciplinary aspects of Nelson and having so many different people on my committee is great as they are the different audiences that I want to be addressing. Nelson keeps me with one foot in the real world where problem-solving requires interdisciplinary and transdisciplinary insights."
Wong is particularly thankful for her Nelson Institute advisor, Department of Community and Environmental Sociology professor, Michael Bell.
"He's just so supportive and he really embodies student-centered supervision," Wong said, "I think he really fits into Nelson and allows you to do what fits your interests. He has also been really important in terms of emotional support and paying attention to what I want and what I need."
Bell shared that he is equally thrilled to work with Wong.
"Pearly is a scholar about whom I have great expectations. She is – no exaggeration – extraordinary," Bell said. "Since she arrived here at the University of Wisconsin-Madison in the fall of 2017 I've been utterly delighted to serve as her advisor for the environmental studies side of her joint degree with anthropology.  I'm especially taken with her passion and insight for issues of environment development and community well-being for the global poor."
Wong, who is in the fourth year of her PhD program, is looking forward to working with Bell and her advisor from the Department of Anthropology, Maria Lepowsky to finalize her dissertation as well as discuss next steps for her future. She is hopeful that through their mentorship and the work with OBB, she will find new ways to bridge her interest in community outreach and academic research.
"I'm really looking forward to this position with OBB," Wong said, "And, I would imagine that if I could have something like this in the future, that would be a perfect career for me."